SWB-10L-2 | Stirring water bath with two built-in magnetic stirrers and polycarbonate lid, 10 L capacity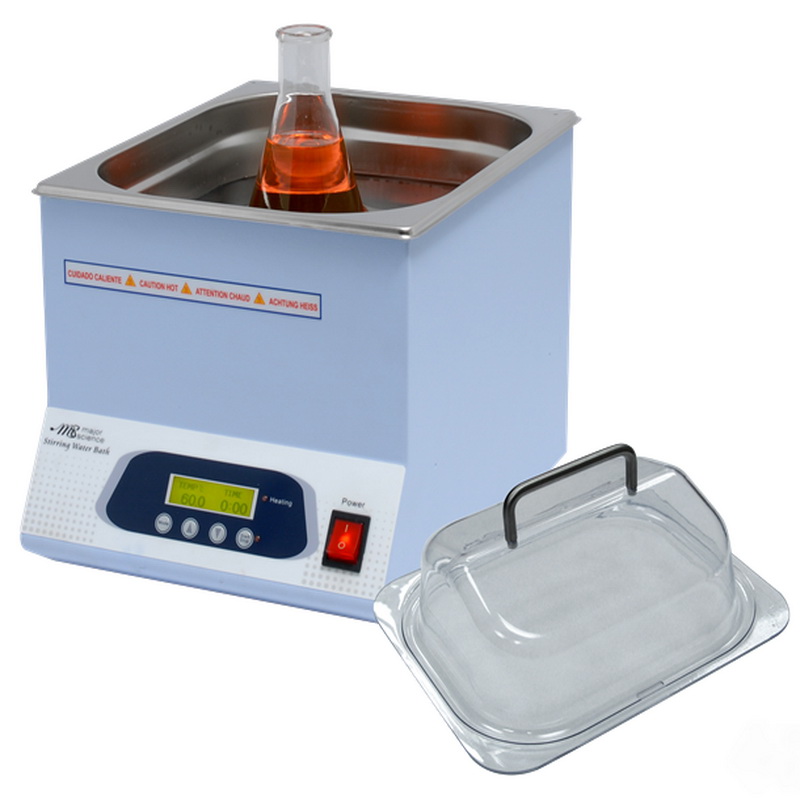 Key Features
Microprocessor control for precise and accurate performance
Built-in magnetic stirring mechanism ensures outstanding temperature uniformity
Stirring speed control
LCD screen shows temperature and time simultaneously
User temperature calibration
Warning indicator and automatic shut down to avoid overheating
Clear concave polycarbonate lid directs condensation back into the bath
Optional data logging software available
Description
This microprocessor-controlled stirring water bath from Major Science provides precise temperature control and excellent mixing performance for a wide range of laboratory applications. The built-in stirring mechanism not only provides outstanding temperature uniformity throughout the bath but also provides a stirring function for mixing samples.
Additional features of the stirring water bath include a variable stirring speed control and an LCD screen to display bath temperature and time simultaneously. The concave polycarbonate lid is designed to direct condensation back into the bath and a shutdown mechanism warns of overheating and automatically turns off the bath.
Optional data logging software (SWB-DLSW-R) is available for real time data recording through a PC.
Specifications
Manufacturer
Major Science
Model number
SWB-10L-2

No. of stirring mechanisms

2

Stirring speed

400 - 1500 rpm (measured by percentage)

Bath volume

Up to 10 L

Maximum capacity

6 x 250 mL flasks: 4 x 500 mL flasks

Water circulation function

Yes

Display

LCD

Heating power

600 W

Controller

Digital microprocessor control

Bath temperature

5ºC above ambient to 99ºC

Temperature increment

0.1ºC

Temperature accuracy

±0.2ºC at 37ºC

Temperature calibration

Yes

Timer

99 hr:59 min / Continuous

Safety device

Warning indication on screen with alarm and automatic shutdown

Operating temperature

Ambient to 40ºC

Bath inner dimensions
(W x D x H)

240 mm x 300 mm x 150 mm

Overall dimensions
(W x D x H)

255 mm x 355 mm x 240 mm (without polycarbonate lid)

Bath external material

Painted iron metal

Bath tank material

304 stainless steel

Lid material

Polycarbonate with stainless steel handle

Rear Drainage Port

No

Weight

9 Kg

Rated voltage

110 V/ 220 V

Communication port

RS232

About Us
Advance Scientific Products Pty Ltd is based in Queensland and is focused on delivering high-quality products and service to our customers in the life, chemical and analytical sciences across Australia.
The company was established in 2013 by experienced instrumentation specialists to provide full distribution and customer support capability to manufacturers seeking to expand their activities in Australia without having to create their own sales and marketing infrastructure.
Contact
PO Box 746
Moffat Beach, QLD, 4551, Australia