167203A | Vacuum filtration system with VF6 filtration flask set, maximum vacuum 150 mbar, maximum flow rate 17 L/min (VF203A)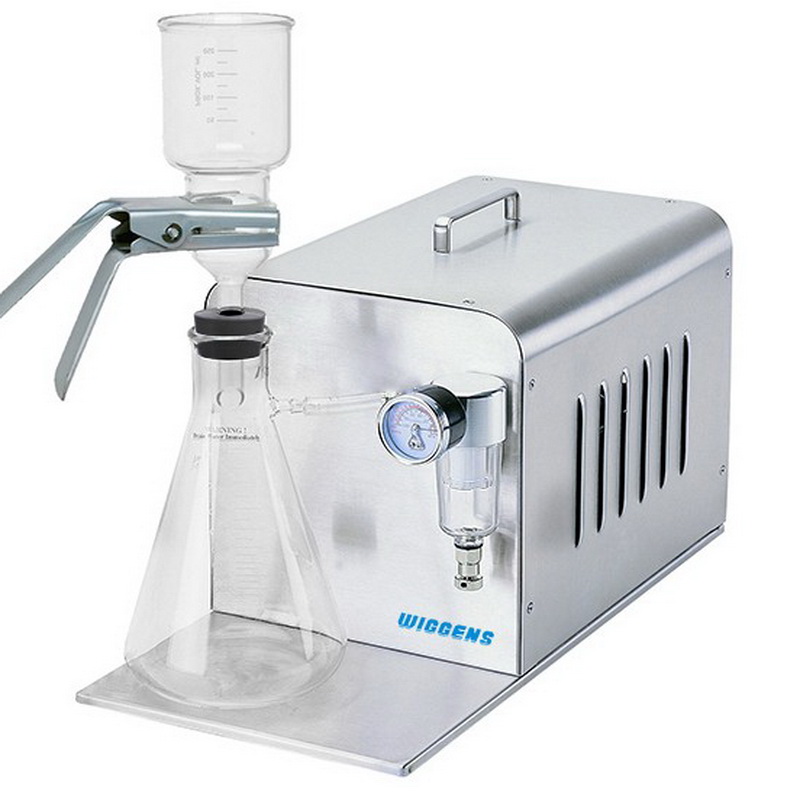 Key Features
Compact and portable design
Combines all necessary items for filtration including oil-free vacuum pump and VF6 glass filtration set
Easy maintenance
Low noise level
Vacuum gauge and manual vacuum pressure regulator
Description
The compact and portable VF203A vacuum filtration system combines a low maintenance oil-free vacuum pump with the VF6 filtration glass set and a fibreglass filter membrane to provide an all-in-one system for applications such as suspended solids measurement.
The low noise pump is fitted with a vacuum gauge and a manual regulator for vacuum pressure control.
More Information
Please note that this instrument is not chemically-resistant and should not be used with corrosive substances. If a chemically-resistant system is required then the VF204 and VF214 have been designed for this purpose.

The following components are included with the purchase of the VF203A filtration system:
Oil-free vacuum pump with vacuum gauge and manual vacuum pressure regulator
VF6 filtration flask set with fiberglass filter membrane (47 mm diameter: 0.1 μm pore size)*
High pressure-resistant tubing
0.2 μm water-blocking filter
* The VF6 filtration flask set consists of:
250 mL glass filter holder
250 mL glass funnel
Anodised aluminium clamp
Receiver flask support base
Silicone stopper
1000 mL receiver flask
Specifications
| | |
| --- | --- |
| Manufacturer | Wiggens |
| Model number | VF203A |
| Power | 60 W |
| Motor speed | 1450 rpm |
| Maximum vacuum | 150 mbar |
| Maximum flow rate | 17 L/min |
| Ambient operating range | +5°C to +40°C |
| Humidity | Maximum relative humidity 80% for temperatures up to +31°C with linear decrease down to 50% relative humidity at a temperature of +40°C |
| Outlet connector | 9 mm |
| Weight | 7.1 Kg |
| Noise level | 50 dB |
| Filtration glass set | VF6 |
About Us
Advance Scientific Products Pty Ltd is based in Queensland and is focused on delivering high-quality products and service to our customers in the life, chemical and analytical sciences across Australia.
The company was established in 2013 by experienced instrumentation specialists to provide full distribution and customer support capability to manufacturers seeking to expand their activities in Australia without having to create their own sales and marketing infrastructure.
Contact
PO Box 746
Moffat Beach, QLD, 4551, Australia