900701 | Portable electrical aspirator pump, maximum flow rate 36 L/min with two suction lines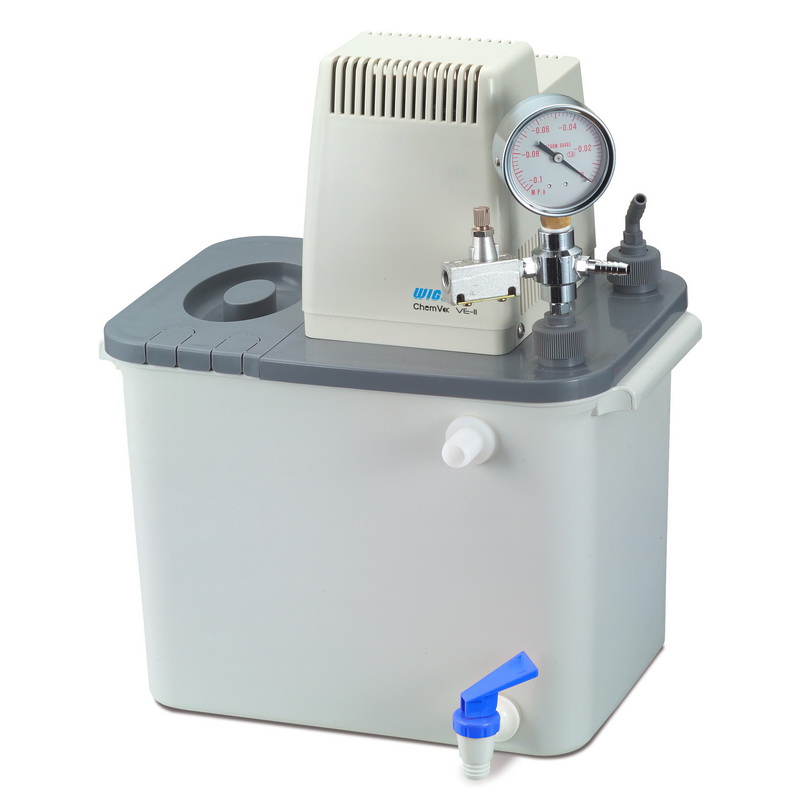 Key Features
Ideal for rotary evaporation, vacuum drying and vacuum filtration
Built-in circulating pump and water tank makes this unit portable and eliminates water waste
Low noise circulating pump continuously forces water across two metal aspirators to create the vacuum
Vacuum regulation between 20 mm and 74 mm Hg with optional vacuum gauge/ regulator
High flow rate of up to 36 L/min
Polypropylene housing to enhance operating life
Integrated check valve to prevent back flow of water into the aspirator pump
Submerged parts manufactured from 304 stainless steel, polypropylene silicone or nickel-coated brass
Tank features ports for filling or draining the tank for easy water changes
Description
The Wiggens VE-11 portable electrical aspirator pump has been developed for applications such as rotary evaporation, vacuum drying and vacuum filtration. A built-in circulating pump and water tank makes this unit portable and eliminates water waste. The low noise circulating pump continuously forces water across two metal aspirators to create a vacuum and an integrated check valve prevents back flow of water into the aspirator pump.
The VE-11 can create a flow rate of up to 36 L/min and vacuum regulation can be adjusted between 20 mm and 74 mm Hg. The aspirator pump is contained in a polypropylene housing for enhanced operating life and all submerged parts are manufactured from 304 stainless steel, polypropylene silicone or nickel-coated brass.
Purchasing Information
The following items are included with the purchase of the VE-11:
Water tank, aspirating pump and water tank enclosure
Two aspirators
Two 6 mm diameter silicone rubber tubes of 20 cm in length and an additional 6 mm diameter silicone rubber tube of 100 cm in length
Optional Accessories
A vacuum gauge/ regulator is available to monitor and control the vacuum pressure between 20 mm Hg and 74 mm Hg and a cooling coil can be purchased to prevent the vacuum from decreasing as a result of a temperature increase.
| | |
| --- | --- |
| Part Number | Item Description |
| 900701-1 | Vacuum gauge/ regulator |
| 900701-2 | VC-10 cooling coil |
| 900701-3 | ET-02 aspirator |
Specifications
Manufacturer

Wiggens

Model number

VE-11

Flow rate (two suction lines)

36 L/min (18 L/min x 2)

Water tank capacity

9.5 L

Motor power

150 W

Water tank material

Polypropylene

Water tank inner dimensions
(W x D x H)

298 mm x 210 mm x 227 mm

Instrument dimensions
(W x D x H)

330 mm x 265 mm x 390 mm

Absorption nozzle

9.5 mm external diameter

Overflow nozzle

17 mm diameter

Safety features

Fuse, check valve and overheat protection

Weight

5.7 Kg

Electrical requirements

230 V: 50/60 Hz: 0.7 A

About Us
Advance Scientific Products Pty Ltd is based in Queensland and is focused on delivering high-quality products and service to our customers in the life, chemical and analytical sciences across Australia.
The company was established in 2013 by experienced instrumentation specialists to provide full distribution and customer support capability to manufacturers seeking to expand their activities in Australia without having to create their own sales and marketing infrastructure.
Contact
PO Box 746
Moffat Beach, QLD, 4551, Australia