PL524 Pro-Stir | Temperature and stirring controller with adjustable safety temperature for mantles and other heat and stirring applications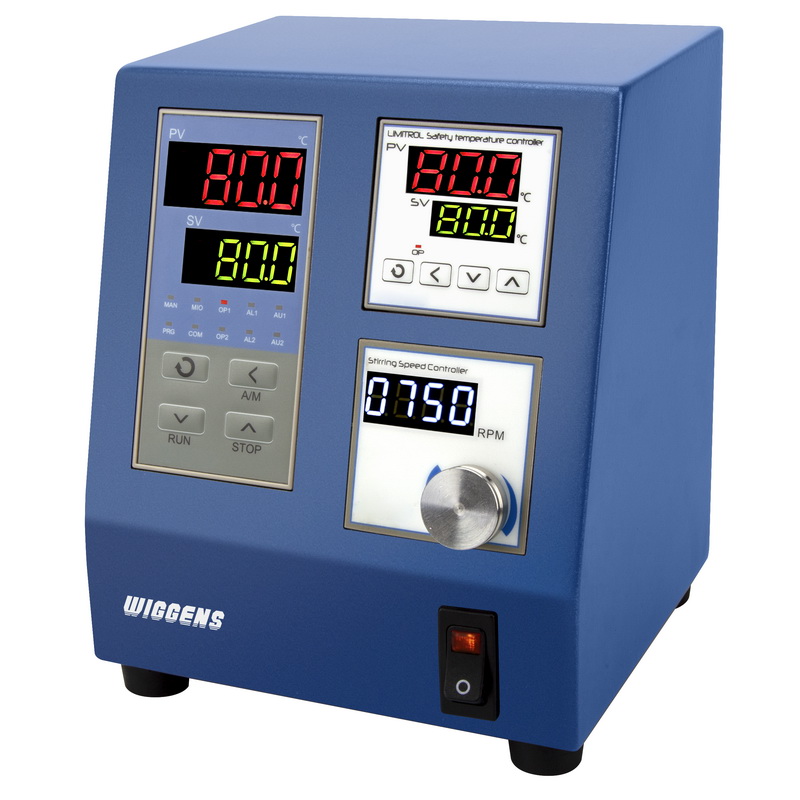 Key Features
Independent control of temperature and stirring speed
Temperature control range from ambient to 550℃
Variable stir bar stirring speed from 50 rpm - 750 rpm
LED touch screen displaying actual and set temperatures
Adjustable safety temperature range with separate LED control panel
RS232 interface
Alarm signal
Description
The PL524 Pro-Stir is a high precision controller that uses an advanced PID algorithm to minimise variability and overshoot of the heating mantle temperature. The unit also includes a self-adjustment function to monitor product temperature with feedback being provided to the controller through a PT100 sensor or a K-type thermocouple.
The PL524 Pro-Stir uses electromagnetic functionality to provide a stir bar stirring speed range from 50 rpm - 750 rpm. Speed is adjusted by a single dial and the controller features "Synchrostart" that maintains linkage between the magnetic field and the stir bar. The mantle-controller connection cord allows the controller to be placed outside a fume hood to protect it from corrosive atmospheres.
The PL524 Pro-Stir also features an adjustable safety temperature range that can be set through a separate control panel.
Specifications
| | |
| --- | --- |
| Manufacturer | Wiggens |
| Controller model number | PL524 Pro-Stir |
| Adjustable temperature range | Ambient to 550ºC |
| Adjustable safety temperature range | Up to 500ºC with 1ºC resolution |
| Temperature control | Automatic PID algorithm control |
| Measurement and control sensor (standard) | PT100: four lead method |
| Measurement and control sensor (optional) | K-type thermocouple |
| Interface | RS232 |
| Display accuracy | ±0.1% |
| Temperature stability | ±0.03% or better |
| Resolution | 0.01ºC |
| Ambient temperature operating range (controller) | -10ºC to +35ºC |
| Humidity operating range | ≤90% |
| Power supply | 100 VAC to 240 VAC | 50-60 Hz |
| Power consumption | ≤4.5 W |
| Maximum current | 10 A |
| Weight | 2.5 Kg |
Subscribe to our newsletter so we can keep you informed about new product releases and industry insights.
About Us
Advance Scientific Products Pty Ltd is based in Queensland and is focused on delivering high-quality products and service to our customers in the life and analytical sciences across Australia.
The company was established in 2013 by experienced instrumentation specialists to provide full distribution and customer support capability to manufacturers seeking to expand their activities in Australia without having to create their own sales and marketing infrastructure.
Contact
PO Box 746
Moffat Beach, QLD, 4551, Australia