HP9010 | Portable pH, mV/ORP and temperature meter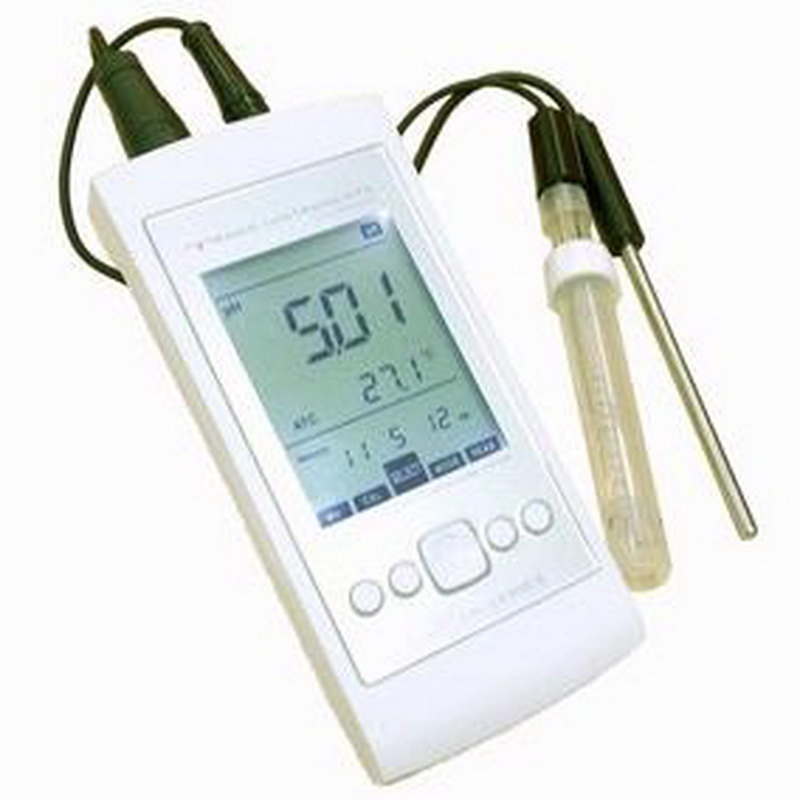 Key Features
Large LCD with multiple parameter display
Measures pH, mV/ORP and temperature
Auto-lock and auto-end point reading
Multi-point calibration with NIST, ISO or custom standard
Electrode status indicator
Data memory with real-time clock and date
PC link ready (requires optional USB cable and software)
Uses standard AAA batteries or can be charged from a PC when connected by a USB cable
Description
The WalkLAB pH90 is a portable, highly accurate and full-featured meter that can measure pH, mV/ORP and temperature. It has a large LCD that can display pH, temperature and time simultaneously and uses a standard BNC connector that accepts a variety of other electrodes for special measurement needs.
The pH90 features an Auto Lock Measurement function that can sense when a stable endpoint is reached and then locks that measurement to ensure accuracy and consistency. Accuracy is also assured through multi-point calibration that allows the pH90 to be calibrated at up to five different points.
The pH90 also features an electrode status indicator that displays the percentage of slope of the electrode after successive calibrations. This allows the end-user to determine if the electrode should be replaced due to wear and tear.
The pH90 is able to save up to 99 data points simultaneously with date and time. This data can be downloaded by USB cable to a PC and viewed with an optional software package (please see below).
Purchasing Information
The following items are included in the purchase of the pH90:
pH meter (pH90)
Plastic body combination pH electrode (PP5003)
Stainless steel temperature probe (PT9010)
pH 7.00 standard pH buffer solution 90 mL (SP0701N-CAL)
pH 4.01 standard pH buffer solution 90 mL (SP0401N-CAL)
Hard carrying case
Operating manual
Optional Accessories
| | |
| --- | --- |
| Part Number | Item Description |
| SP1001N | Buffer solution, pH 10.01, 90 mL |
| PO5106 | Plastic body combination platinum ring ORP electrode |
| AX9010U | PC Link USB cable and software |
Specifications
Manufacturer

WalkLAB

Model number

pH90

Measuring range

pH: -2 to 16 pH
mV/ORP: ±700 mV / ±2,000 mV (auto range)
Temperature: 0 to 120ºC

Resolution

pH: 0.01 pH
mV/ORP: 0.1 mV / 1 mV
Temperature: 0.1ºC

Accuracy

pH: ±0.02 pH
mV/ORP: ±0.5 mV /±2 mV
Temperature: ±0.5ºC with class A PT1000 thermistor

Calibration

Minimum of 2 points and maximum of five points

Offset recognition

±70 mV at pH 7

Slope

70% to 130% at pH 4 and pH 10 (electrode status in percentage of slope)

Power supply

4 x AAA batteries

About Us
Advance Scientific Products Pty Ltd is based in Queensland and is focused on delivering high-quality products and service to our customers in the life, chemical and analytical sciences across Australia.
The company was established in 2013 by experienced instrumentation specialists to provide full distribution and customer support capability to manufacturers seeking to expand their activities in Australia without having to create their own sales and marketing infrastructure.
Contact
PO Box 746
Moffat Beach, QLD, 4551, Australia