DB-FTNM1000 | Ultrapure hydrogen gas generator, flow rate 1000 mL/min, 99.99996% purity (NMH2-1000 Plus)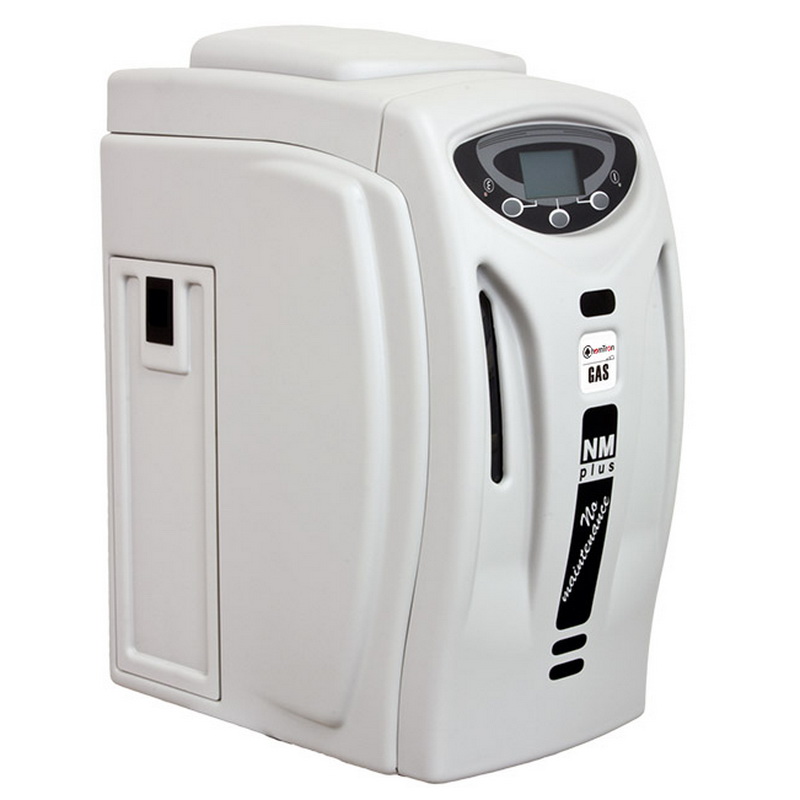 Key Features
Maintenance-free purification system generates carrier grade hydrogen gas to 99.99996% purity
No pipeline or bottle changing requirements
No acid or alkaline solutions used in the hydrogen generation cycle
Improved chromatographic results. Use of hydrogen as a carrier gas allows lower temperature elution and extended chromatograph column life.
Advanced software control and safety alarm systems protect personnel. Limited internal volume (<50 mL) provides safer operating conditions compared to cylinders.
Up to 32 units can be linked together for high volume output
Automatic flow compensation
Continuous operation for critical applications
Description
The NMH2-1000 Plus hydrogen gas generator produces carrier grade gas of 99.99996% purity for gas chromatography and other critical applications. The use of hydrogen as a carrier gas for gas chromatography provides more rapid separations than with other gases and with a minimum loss in chromatographic efficiency.
The NMH2-1000 Plus produces hydrogen by forcing distilled or deionised water through an advanced Swiss-made titanium electrolytic cell. Electrolytic dissociation separates the water into its two main components: hydrogen ready for analytical use and oxygen that is released into the air. No acid no alkaline solutions are used in the hydrogen generation cycle and the patented automatic drying system ensures the maximum level of hydrogen purity.
Safety is a major concern when using hydrogen so substituting the NMH2-1000 Plus for bottle or pipeline sources significantly increases the protection level. Advanced software control and safety alarm systems also protect personnel and a limited internal volume (<50 mL) provides safer operating conditions compared to gas cylinders.
The NMH2-1000 Plus integrates systems for automatic flow compensation and continuous operation for critical applications. Up to 32 units can be linked together for facilities requiring high volume output.
Specifications
| | |
| --- | --- |
| Manufacturer | Wiggens |
| Flow rate | 1000 mL/min |
| Purity | 99.99996% |
| Display | Touch screen displaying operating parameters, system status and alarms |
| LED indicators | Power ON/OFF, system ready and errors |
| Membrane | Polymer electrolyte membrane |
| Dryer | Cold dual dynamic regeneration system |
| Maximum outlet pressure | 11 bar (160 psig) |
| Internal volume | <50 mL at maximum pressure |
| Water quality | Deionised or demineralised (<10 uS) |
| Instrument integration | Up to 32 units can be connected in series for high volume gas output |
| Connections | 1/8" Swagelok |
| Power requirements | 220 - 240 V/ 50 Hz |
| Dimensions (W x D x H) | 230 mm x 355 mm x 410 mm |
| Weight | 22 Kg |
| Interface | RS232/RS485 and USB: PC control |
| Certifications | CE, CSA and FCC |
About Us
Advance Scientific Products Pty Ltd is based in Queensland and is focused on delivering high-quality products and service to our customers in the life and analytical sciences across Australia.
The company was established in 2013 by experienced instrumentation specialists to provide full distribution and customer support capability to manufacturers seeking to expand their activities in Australia without having to create their own sales and marketing infrastructure.
Contact
PO Box 746
Moffat Beach, QLD, 4551, Australia