W6055250 | Low Temperature Incubator, 250 L capacity (WH-21C)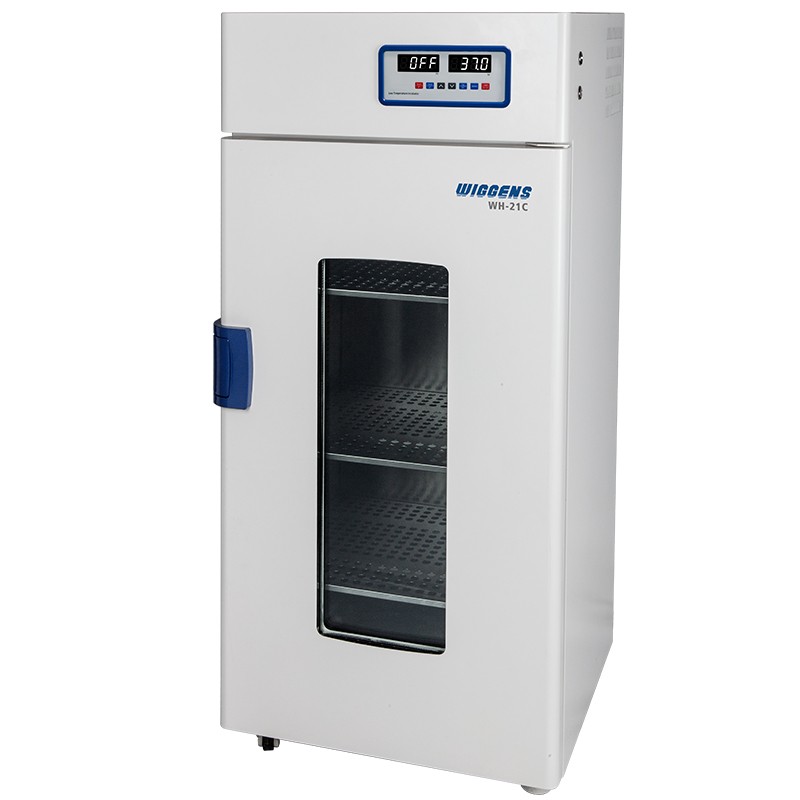 Key Features
Digital temperature display and control
250 L capacity
Advanced PID controller for temperature stability and safety protection
Programmable temperature control
Constructed from materials that make the incubator easy to clean and decontaminate
Start/stop operation and timer from 1 min - 99 hours and 59 minutes
Stainless steel shelves
Adjustable shelf height
Tempered glass observation door
Outer door with magnetic closing and gasket with excellent sealing characteristics
Over-temperature function sounds an alarm if the set safety value is reached and automatically cuts off power and stops incubation process
Alarm sounds if outer door left open for 60 seconds or more during incubation
Internal lamp activated when outer door is opened and fan and incubation process turned off
Description
The WH-21C low temperature incubator features a broad temperature range that makes it suitable for many applications in areas such as microbiology and haematology. The incubator interior is constructed of stainless steel and the door features a tempered glass insert that allows for easy sample observation. The outer casing is made of spray-coated steel plate for easy cleaning and the height-adjustable shelves are made of polished stainless steel.
The WH-21C incubator utilises advanced PID control for temperature stability and safety protection and feature a digital temperature display and touch control. The incubator can be operated in start/stop mode or by timer with a range from 1 min - 99 hours and 59 minutes.
A number of safety features have been incorporated into this incubator including over-temperature alarm and cut-off and an alarm that sounds if the outer door is left open for 60 seconds or more when the unit is in operation. An internal lamp is activated when the outer door is opened and the fan and incubation process are turned off.
Specifications
| | |
| --- | --- |
| Manufacturer | Wiggens |
| Model number | WH-21C |
| Temperature control method | Heat transfer |
| Temperature controller | Digital display and touch control with PID automatic regulation |
| Temperature range | Ambient temperature plus +4°C to 60°C |
| Temperature accuracy | <±0.1°C |
| Temperature stability | ±1.5°C at 37°C |
| Capacity | 250 L |
| Exterior dimensions | 660 mm x 605 mm x 1415 mm (W x D x H) |
| Interior dimensions | 550 mm x 500 mm x 1000 mm (W x D x H) |
| Timer | Start/stop setting | 1 min - 99 hours and 59 minutes in 1 minute intervals |
| Heating capacity | 450 W |
| Cooling capacity | 350 W |
| Power requirements | 220 V-240 V: 50 Hz-60 Hz |
| Construction | Interior: Stainless steel | Shelves: Polished stainless steel | Observation window: Tempered glass| Casing: Spray-coated steel plate |
| Shelves (included/maximum) | 3/7 |
About Us
Advance Scientific Products Pty Ltd is based in Queensland and is focused on delivering high-quality products and service to our customers in the life, chemical and analytical sciences across Australia.
The company was established in 2013 by experienced instrumentation specialists to provide full distribution and customer support capability to manufacturers seeking to expand their activities in Australia without having to create their own sales and marketing infrastructure.
Contact
PO Box 746
Moffat Beach, QLD, 4551, Australia