400402.01 | Hot plate and magnetic stirrer with stainless steel top plate, K-type thermocouple sensor and advanced PID temperature control (WH210)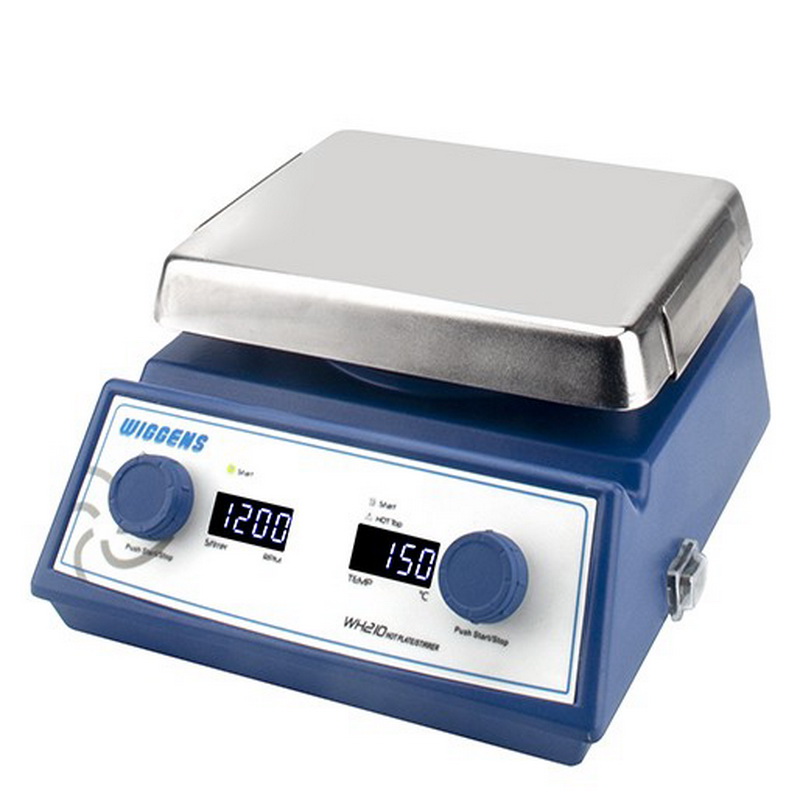 Key Features
Advanced microprocessor-controlled heating system ensures reliability and temperature stability
Easy-to-clean anti-corrosive top plate made of stainless steel
Bright and clear LED displays instrument operating parameters
Sealed outer shell and isolated critical parts enhance longevity even in harsh operating conditions
Drainage system above control board to prevent liquids accessing instrument interior
Direct connection for thermocouple sensor for precise control of the actual temperature (K-type thermocouple sensor included with purchase of instrument)
High temperature indicator for operator safety
Description

The WH210 microprocessor-controlled hot plate and stirrer from Wiggens features an easy-to-clean anti-corrosive top plate made of stainless steel and a bright, clear LED that displays the instrument's operating parameters.
The WH210 has a sealed outer shell and isolated critical parts to enhance longevity even in harsh operating conditions and a drainage system above the control board to prevent liquids accessing the instrument's interior.
The instrument has a connection for a thermocouple sensor to allow for external temperature control. A high temperature indicator enhances operator safety during operation.
More Information
The following items are included with the purchase of the WH210:
Part Number

Product Description

400402

WH210 magnetic stirrer with stainless steel hot plate

600.170.1
K type thermocouple sensor:
Length: 170 mm
Diameter: 4 mm
Material: Stainless steel
Operating range: 0 to +500°C

PT100-05

Holder and clamp for K type thermocouple sensor
Specifications
Manufacturer

Wiggens

Model number

WH210

Display mode

LED

Top plate material

Stainless steel
Maximum hot plate temperature

250ºC

Maximum solvent temperature
(thermocouple sensor)

200ºC

Temperature stability
(thermocouple sensor)

±2ºC

Safety temperature
280ºC

Stirring speed range

100 rpm - 1500 rpm

Heating capacity

500 W

Maximum stirring capacity (water)

2 litres

PID parameters

1 set of PID

Interface

USB
Top plate dimensions (W x D)

180 mm x 145 mm

About Us
Advance Scientific Products Pty Ltd is based in Queensland and is focused on delivering high-quality products and service to our customers in the life and analytical sciences across Australia.
The company was established in 2013 by experienced instrumentation specialists to provide full distribution and customer support capability to manufacturers seeking to expand their activities in Australia without having to create their own sales and marketing infrastructure.
Contact
PO Box 746
Moffat Beach, QLD, 4551, Australia