900514 | Solvent recovery system (CSH 610) with chemically-resistant diaphragm vacuum pump, maximum vacuum 2 mbar, maximum flow rate 34 L/min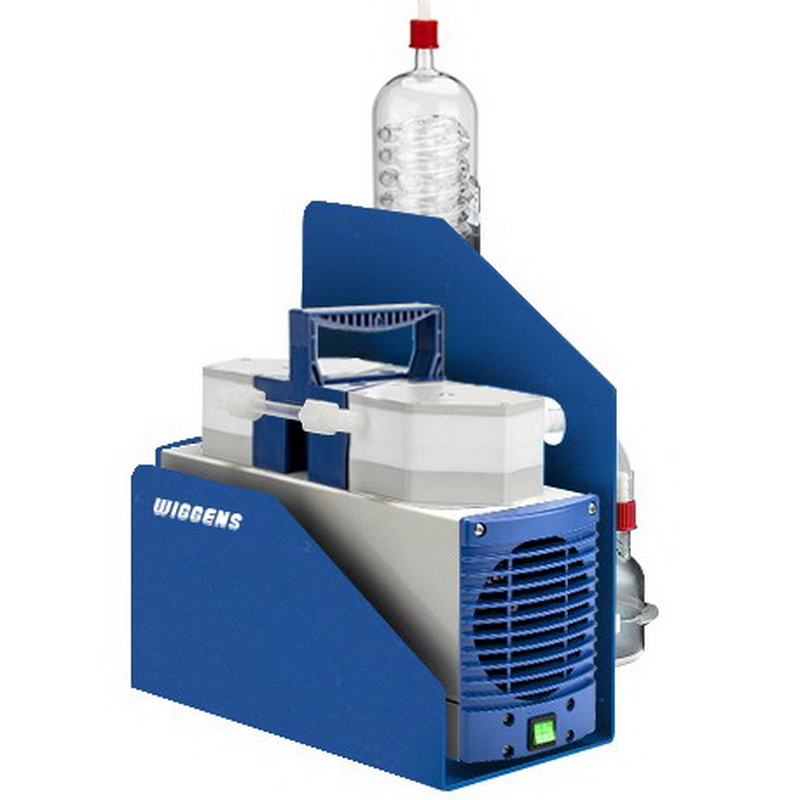 Key Features
Highly efficient recovery even at low vacuum minimises solvent waste
Compact design with chemically-resistant diaphragm vacuum pump that operates quietly and with minimal vibration
Pump is gas-tight, 100% oil- and maintenance-free
Maximum vacuum of 13 mbar and maximum flow rate of 25 L/min
Ambient operating temperature of +5°C to +40°C
Buffer bottle prevents particles from damaging the vacuum pump
Pump overload protection
Description
The CSH 610 solvent recovery system provides a highly efficient and optimal method for recovering waste solvents. The system is compact and includes a C610 diaphragm vacuum pump that operates with minimal vibration and noise.
Condensable components are separated out using the high performance condenser and collected in a glass flask attached to the condenser flange. Condensation temperature is maintained by running cold water or recirculation coolant through the condenser.
The CSH 610 can generate a maximum vacuum of 2 mbar and a maximum flow rate of 34 L/min.
Additional information
The following components are included with the purchase of the CSH 610 solvent recovery system:
Chemically-resistant diaphragm vacuum pump (C610 model)
Pump base plate and mounting mechanism
Separator
Glass flasks
Condenser
Tubing
Specifications
| | |
| --- | --- |
| Manufacturer | Wiggens |
| Model number | CSH 610 |
| Built-in pump type | C610 diaphragm vacuum pump |
| Ambient operating temperature | +5°C to +40°C |
| Power | 245 W |
| Maximum vacuum | 2 mbar |
| Maximum continuous pressure | 1 bar |
| Maximum flow rate | 34 L/min |
| Outlet size (outer diameter) | 10 mm |
| Weight | 20.1 Kg |
| Power requirements | 230 VAC: 50 Hz |
About Us
Advance Scientific Products Pty Ltd is based in Queensland and is focused on delivering high-quality products and service to our customers in the life, chemical and analytical sciences across Australia.
The company was established in 2013 by experienced instrumentation specialists to provide full distribution and customer support capability to manufacturers seeking to expand their activities in Australia without having to create their own sales and marketing infrastructure.
Contact
PO Box 746
Moffat Beach, QLD, 4551, Australia