167240-22 | BioVac 240 portable aspirator pump with 3 L suction bottle for waste liquid removal, maximum flow rate 40 L/min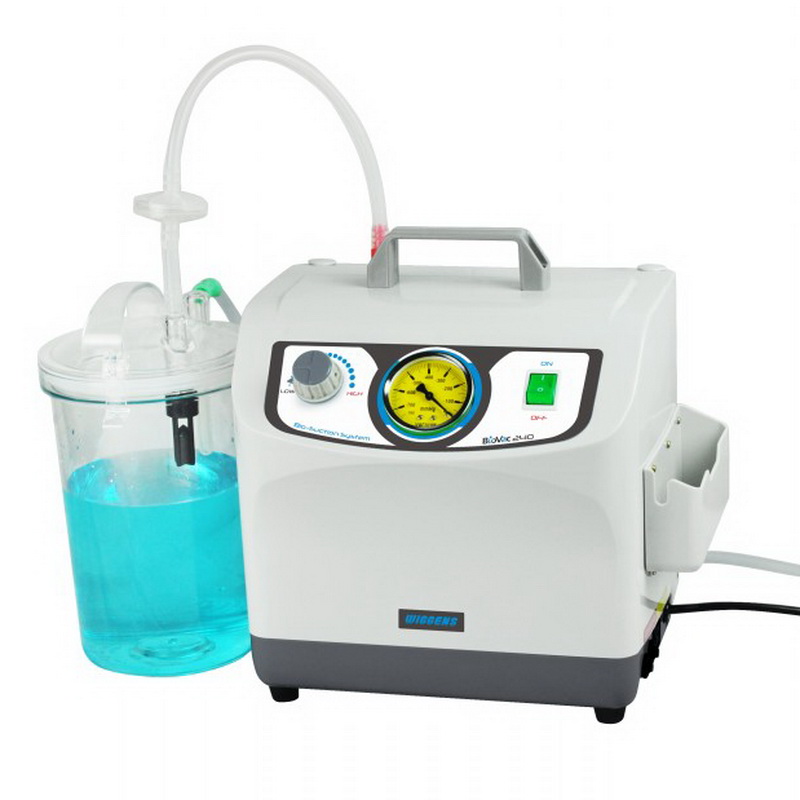 Key Features
Ideal for a wide range of industrial or laboratory waste liquid removal applications
Vacuum generation by a twin diaphragm low noise piston pump that is wear-resistant, non-polluting and maintenance-free
Maximum vacuum of 80 mbar and maximum flow rate of 40 L/min
Double overflow protection
ABS and aluminium construction
Autoclavable 3 L suction bottle and disc filter
Description
The BioVac 240 portable aspirator pump from Wiggens is ideal for a wide range of waste liquid removal applications in both industrial and laboratory environments. A maximum vacuum of 80 mbar is created by a twin diaphragm low noise piston pump that is wear-resistant, non-polluting and maintenance-free that can generate flow rates up to 40 L/min.
The BioVac 240 is double-protected by a built-in float switch and a 0.2 μm PTFE hydrophobic disc ­filter located between the suction bottle and the pump that prevents fluids and solid contaminants from entering the pump.
The aspirator pump is constructed of ABS and aluminium alloy for easy cleaning and the suction bottle and disc filter are autoclavable.
Purchasing Information
The BioVac 240 is supplied with a 1 x 3000 mL suction bottle and a single branch suction head.
Specifications
| | |
| --- | --- |
| Manufacturer | Wiggens |
| Model | BioVac 240 |
| Vacuum creation method | Piston pump |
| Power | 200 W |
| Maximum vacuum | 80 mbar |
| Maximum flow rate | 40 L/min |
| Weight | 12 Kg |
| Dimensions | 540 mm x 260 mm x 350 mm |
| Suction bottle | 1 x 3000 mL |
About Us
Advance Scientific Products Pty Ltd is based in Queensland and is focused on delivering high-quality products and service to our customers in the life, chemical and analytical sciences across Australia.
The company was established in 2013 by experienced instrumentation specialists to provide full distribution and customer support capability to manufacturers seeking to expand their activities in Australia without having to create their own sales and marketing infrastructure.
Contact
PO Box 746
Moffat Beach, QLD, 4551, Australia