MEBM20 | Electro blot system for up to 20 blots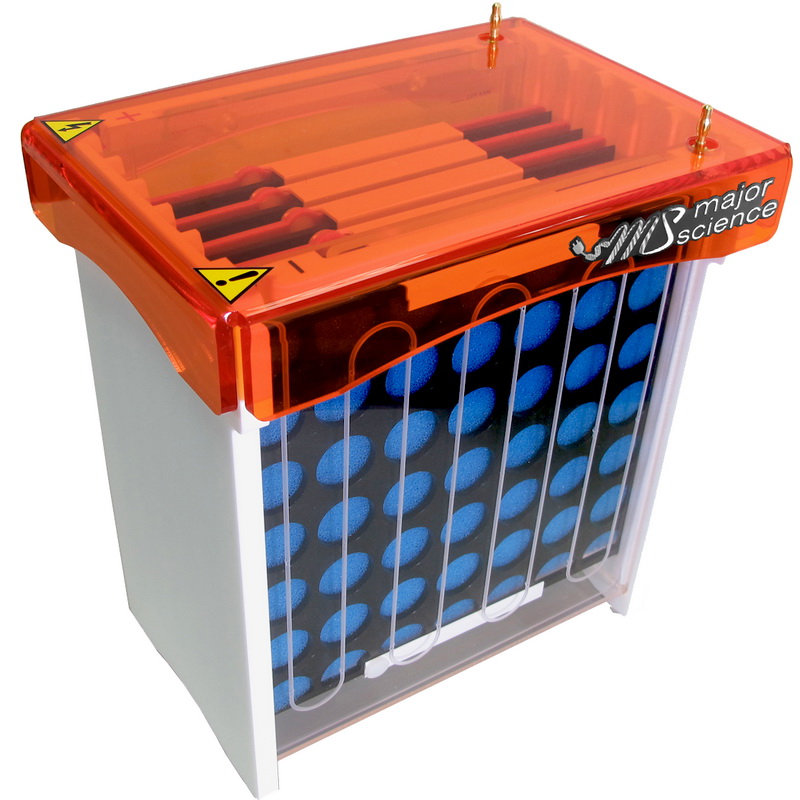 Key Features
Ideal for wet electroblotting of proteins
Hinged cassettes for added convenience
Accommodates gel thicknesses from 0.25 mm to 3 mm
Description
The MEBM20 Maxi electro blot system from Major Science has been primarily developed for wet electrophoresis of proteins. Its large capacity allows up to five gel blot cassettes to be processed at a time.
The MEBM20 creates an electric field through a high intensity coiled electrode that creates uniform transfer across the blot surface. The cassette's open architecture and rigid construction ensures that contact between the gel and membrane is retained throughout the blot and that an even pressure is maintained.
This unit is compatible with magnetic stirrers to aid heat dispersal and prevent pH drifts in the buffer due to incomplete buffer mixing. The MEBM20 is supplied with a cooling pack to further enhance transfer efficiency by removing excess heat.
More Information
The MEBM20 is sold with the following components:
Electro Blot Maxi system including tank and lid
5 x cassettes
1 x cooling pack
12 x fibre pads
Specifications
| | |
| --- | --- |
| Manufacturer | Major Science |
| Catalog number | MEBM20 |
| Dimensions (W x D x H) | 240 mm x 160 mm x 260 mm |
| Gel dimensions (W x D) | 200 mm x 200 mm |
| Maximum number of samples | 5 blots: 200 mm x 200 mm | 20 blots: 100 mm x 100 mm |
| Gel thickness range | 0.25 mm - 3 mm |
| Buffer volume | 4300 mL - 6000 mL |
| Ice cooling pack | Yes |
| Cassette type | Hinged |
| Safety | Tank lid can only be fastened in one way on tank. Power disconnects from buffer chamber when lid removed. |
About Us
Advance Scientific Products Pty Ltd is based in Queensland and is focused on delivering high-quality products and service to our customers in the life, chemical and analytical sciences across Australia.
The company was established in 2013 by experienced instrumentation specialists to provide full distribution and customer support capability to manufacturers seeking to expand their activities in Australia without having to create their own sales and marketing infrastructure.
Contact
PO Box 746
Moffat Beach, QLD, 4551, Australia