MV-20WAVESYS | Vertical gel electrophoresis system for up to four gels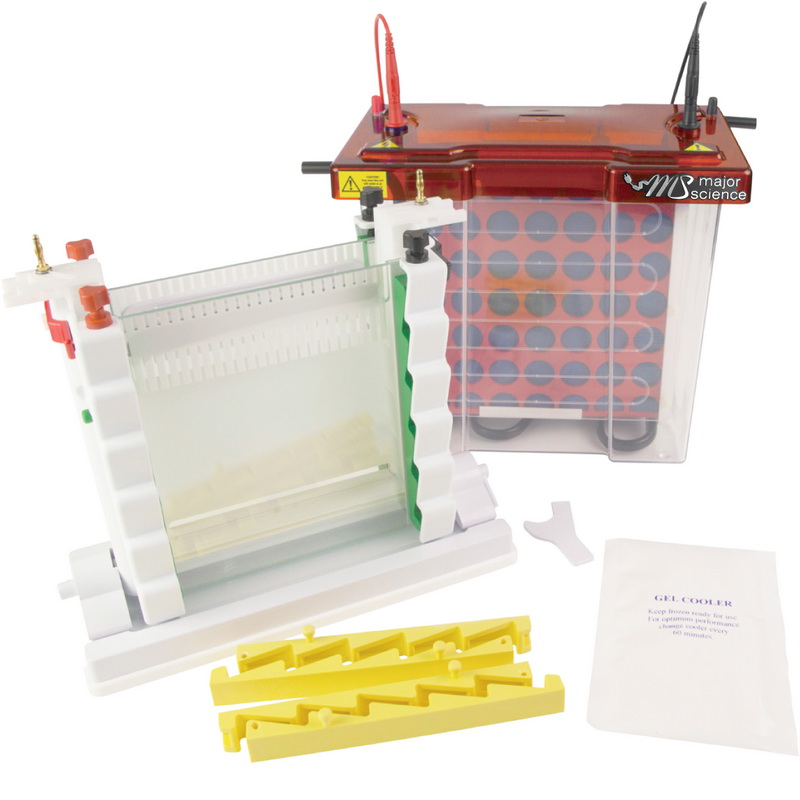 Key Features
Run 2 to 4 gels simultaneously. Wide selection of combs allows separation of up to 192 samples.
Customise your system for second-dimension runs with 180 mm IPG strips and gels using the IEF conversion kit
Utilise the same universal tank and lid to extend the application of your standard WAVE unit to create a complete 2-D or blotting system by using modular inserts
Vertical screw clamps distribute pressure evenly along the height of the gel to prevent plate bowing and gel compression
Glass plates compress gently against a flat, level gasket to prevent current leakage from the inner buffer chamber during electrophoresis
Detachable inner cooling coil connects to the laboratory water supply or a recirculating chiller to provide uniform, smile-free electrophoresis while allowing runs to be performed at higher voltage
Deep gel tank with adequate clearance beneath the glass plates to allow a magnetic stirrer to maintain buffer recirculation and uniform pH
Dual purpose PAGE insert eliminates time-consuming transfer of glass plates between separate casting and running modules
Ground glass plates with bonded injection-moulded spacers consistent with comb thickness ensure "clean" well formation as well as the correct alignment for leak-free casting. Also eliminates the need for spacer aligners.
Ultra-soft silicone mat within cam-caster compensates for glass plate misalignment to ensure leak-free casting
Asymmetric lid design and colour-coded screw pins in PAGE insert prevent polarity reversal
Description
The Maxi WAVE vertical electrophoresis system from Major Science has been specifically developed for large format vertical gel electrophoresis. It is designed to perform a variety of separations including first and second dimension SDS-PAGE, native, preparative, gradient and high-resolution nucleic acid electrophoresis, plus capillary tube gel IEF and electroblotting.
The highly versatile MV-20WAVESYS features innovative vertical screw-clamp technology within the PAGE insert. This gives the MV-20WAVESYS the advantage of a much shorter set up time compared to other competitive products. In addition the system's vertical screw-clamp configuration distributes pressure evenly along the height of the gel rather than in the centre to eliminate plate bowing and gel compression while still maintaining a leak-proof seal during casting.
Ordering Information
| | |
| --- | --- |
| Part Number | Description |
| MV-20WAVESYS | Complete Maxi WAVE Vertical Gel Electrophoresis Apparatus, Maxi WAVE 200x200mm Dual, sets of glass plates with 1mm thick bonded spacers, 2x24 sample, 1mm thick combs, cooling coil, dummy plate and casting base |
Specifications
| | |
| --- | --- |
| Manufacturer | Major Science |
| Catalog number | MV-20WAVESYS |
| Dimensions (W x D x H) | 300 mm x 180 mm x 270 mm |
| Plate dimensions (W x D) | 200 mm x 200 mm x 4 mm |
| Gel dimensions (W x D) | 160 mm x 175 mm |
| Maximum number of samples | 192 samples, 48 samples per gel |
| Total buffer volume | 4800 mL - 5300 mL |
| Total volume (inner buffer chamber) | 640 mL |
| Cooling method | Cooling coil |
| Dummy plate and casting base | Yes |
| Tank construction | Injection-moulded construction. Durable and leak-proof. |
| Safety | Tank lid can only be fastened in one way on tank. Power disconnects from buffer chamber when lid removed. |
About Us
Advance Scientific Products Pty Ltd is based in Queensland and is focused on delivering high-quality products and service to our customers in the life, chemical and analytical sciences across Australia.
The company was established in 2013 by experienced instrumentation specialists to provide full distribution and customer support capability to manufacturers seeking to expand their activities in Australia without having to create their own sales and marketing infrastructure.
Contact
PO Box 746
Moffat Beach, QLD, 4551, Australia