MV-10WCBS | Vertical gel electrophoresis and blotting system with three or four blot capacity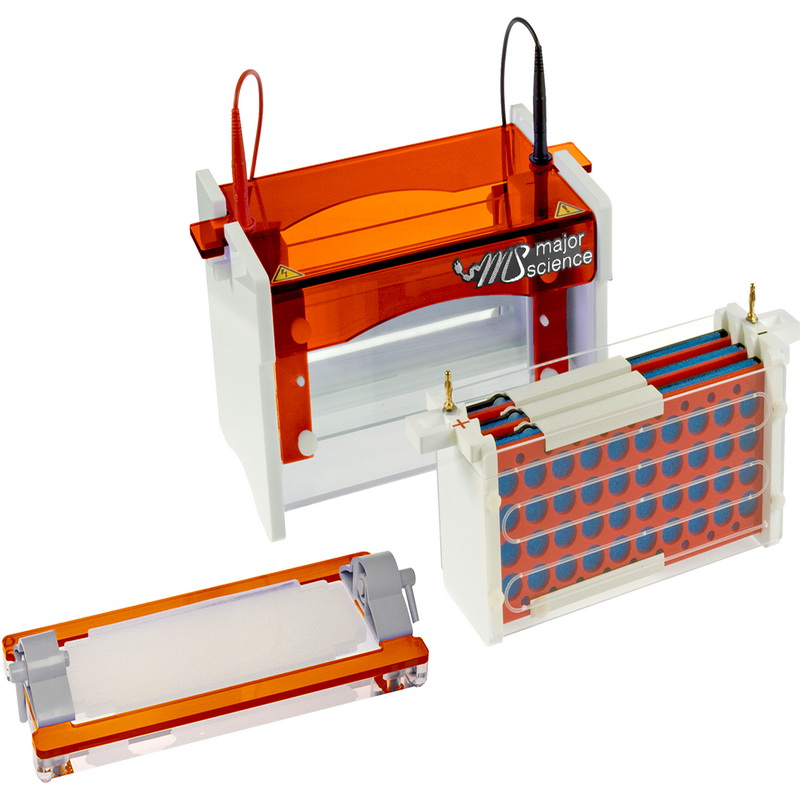 Key Features
Interchangeable modules for slab gel and electroblotting using a single universal buffer tank
Hinged cassettes
High intensity electrodes
3 or 4 blot capacity
Rapid set-up cooling
Description
The MV-10WCBS from Major Science includes modules and accessories for a complete gel electrophoresis and electroblotting system. The electroblotting module includes three inter-locking cassettes and six fibre pads and a high intensity current is generated by coiled platinum electrodes. These features, in conjunction with the advanced cooling system, allow for rapid electroblotting in as little as one hour.
More Information
The complete MV-10WCBS system for vertical electrophoresis and blotting comprises:
1 wide vertical electrophoresis unit including:
2 mm x 4 mm thick notched glass plates
2 mm x 4 mm thick plain plates with 1 mm thick bounded spacers
1 x dummy plate
2 x combs for 24 samples, 1mm thick
1 x casting base
1 x silicone mat
1 x cooling pack
1 electroblotting module including:
1 x internal electroblotting module
4 x Compression cassette for gel size up to 200 mm x 100 mm
16 x fibre pads
About Us
Advance Scientific Products Pty Ltd is based in Queensland and is focused on delivering high-quality products and service to our customers in the life, chemical and analytical sciences across Australia.
The company was established in 2013 by experienced instrumentation specialists to provide full distribution and customer support capability to manufacturers seeking to expand their activities in Australia without having to create their own sales and marketing infrastructure.
Contact
PO Box 746
Moffat Beach, QLD, 4551, Australia