UVIsave Q9 | UVIsave Q9 gel imaging system with 3 megapixel scientific grade camera and HD touchscreen control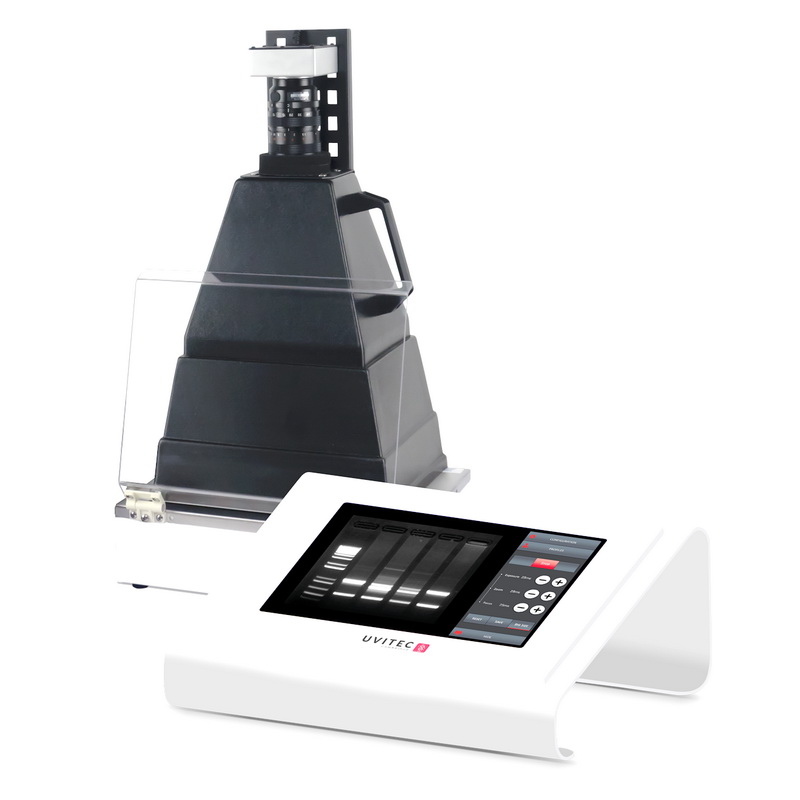 Key Features:
3 megapixel scientific grade camera with 16-bit sensor
65,535 gray scales provides a wide dynamic range for accurate gel analysis
Camera-equipped hood can be positioned on any standard transilluminator
Intuitive system interface with 31cm HD touchscreen for ease of image acquisition
License-free UVITEC 1D image and acquisition software provided for unlimited users and computer installations
Description
The new UVIsave Q9 gel imaging system from UVITEC features a 3 megapixel scientific grade camera mounted on a light-tight hood. Image acquisition is controlled through a 31 cm HD interface which is connected to the camera by a USB cable.
Post-acquisition annotation and analysis of captured images is handled by the license-free UVITEC-1D software that is included with the UVIsave Q9 and which can be installed on as many computers as required. TIFF images of gels can be transferred from the HD interface to a USB memory stick for transfer to an external computer for analysis.
The UVIsave Q9 system includes a light-tight hood, camera, HD touchscreen interface and image acquisition and analysis software. It also includes a 590 nm filter mounted in the hood that is ideal for imaging Ethidium Bromide and other fluorophores that emit at a similar wavelength. Filters can be easily accessed and interchanged by the end-user.
UVIsave Q9 systems can be configured with or without a transilluminator and we have an extensive range available.
Specifications
| | |
| --- | --- |
| Manufacturer | UVITEC |
| Model number | UVIsave Q9 |
| Camera | 3 megapixel scientific grade camera with 16-bit sensor and 65,535 grey scales for wide dynamic range |
| Camera control | External interface with 31 cm HD touchscreen connected to camera by USB cable |
| Hood material | Acrylonitrile butadiene styrene (ABS) |
| Filter | 590nm (other optional filters available) |
| Post acquisition and analysis | License-free UVITEC-1D software |
| Power | 220 V / 50 Hz |
| Hood dimensions (with camera) | 280 mm x 240 mm x 570 mm (W x D x H) |
| External controller dimensions | 400 mm x 290 mm x 155 mm (W x D x H) |
| Weight (hood and camera) | 3.8 Kg |
About Us
Advance Scientific Products Pty Ltd is based in Queensland and is focused on delivering high-quality products and service to our customers in the life, chemical and analytical sciences across Australia.
The company was established in 2013 by experienced instrumentation specialists to provide full distribution and customer support capability to manufacturers seeking to expand their activities in Australia without having to create their own sales and marketing infrastructure.
Contact
PO Box 746
Moffat Beach, QLD, 4551, Australia