MUV26-312 | UV transilluminator for gel imaging and band cutting, 312 nm, with 26 cm x 21 cm sample viewing area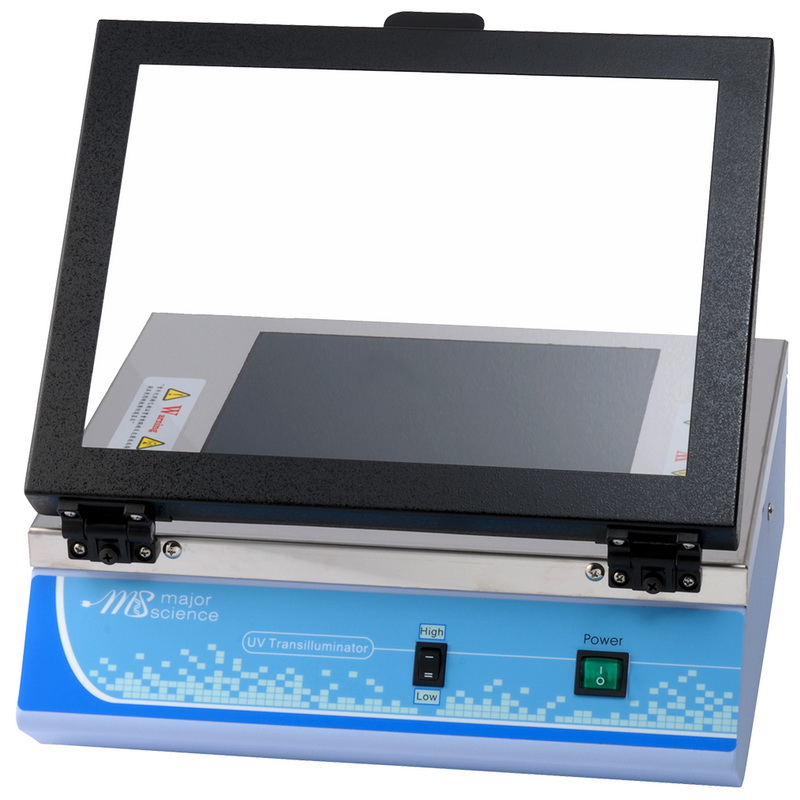 Key Features
Uniform and intense source of ultraviolet light
Starter system immediately illuminates all tubes with no blinking
High efficiency reflector and long-life filter
312 nm emission wavelength
26 cm x 21 cm sample area
Adjustable UV protection cover for easy access to transilluminator surface
UV intensity can be set at 70% or 100% of total output
Description
This compact, high quality UV transilluminator has been developed to emit uniform and intense light at 312 nm. The starter system ensures immediate illumination by all tubes simultaneously and the high efficiency reflector ensures that light is directed towards the sample.
The transilluminator has a 26 cm x 21 cm sample area and an adjustable UV protection cover to allow easy access to the transilluminator. UV intensity can be set at either 70% or 100% of total output.
Specifications
| | |
| --- | --- |
| Wavelength | 312 nm |
| Sample area | 26 cm x 21 cm |
| Light source | 6 x 8W tubes |
| Dimensions | 34 cm x 29.5 cm x 10 cm (W x D x H) |
| Power | 100V-240V: 50-60 Hz |
| Weight | 7.5 Kg |
About Us
Advance Scientific Products Pty Ltd is based in Queensland and is focused on delivering high-quality products and service to our customers in the life and analytical sciences across Australia.
The company was established in 2013 by experienced instrumentation specialists to provide full distribution and customer support capability to manufacturers seeking to expand their activities in Australia without having to create their own sales and marketing infrastructure.
Contact
PO Box 746
Moffat Beach, QLD, 4551, Australia