6411 1081 1 | UVILink ultraviolet crosslinker, short wave, 254 nm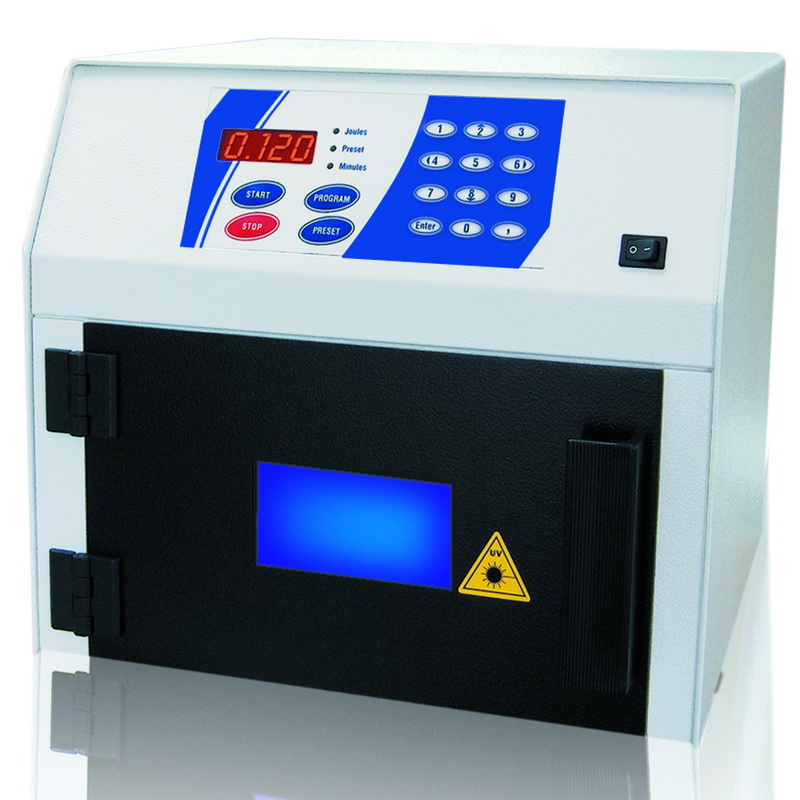 Key Features
Programmable microprocessor control
Stainless steel irradiation chamber
UV energy monitored automatically
UV-blocked observation window and safety interlock
Membrane keypad operation and clear LED display
Can be used at other wavelengths by changing UV bulbs to a different emission frequency
Description
The UVIlink CL-508 crosslinker from UVITEC is a fully microprocessor-controlled irradiation system that emits UV at 254 nm and has been specifically designed to give the best possible results when binding nucleic acids to membranes. The optimum ultraviolet level can be set using the membrane switch keypad in either energy units (Joules) or time (seconds). There are nine possible pre-sets for energy exposure and nine pre-sets for time exposure as well as manual user selection.
The CL-508 is a compact unit with a safety interlock on the access door to prevent the door from being opened during operation. The door also contains an observation window that is UV-blocked for operator protection. The ultraviolet energy generated by the unit is continuously monitored by a photo-feedback system which compensates for variation in output from the UV sources. In this way consistency of operation and maximum efficiency are maintained.
Optional sets of UV tubes emitting at 312 nm and 365 nm are also available. Please contact Advance Scientific for details and pricing.
Specifications
| | |
| --- | --- |
| Manufacturer | UVITEC |
| UV source | 5 x 8 W bulbs emitting at 254 nm |
| Time exposure (max.) | 999.9 minutes |
| Energy exposure (max.) | 99.99 Joules |
| Measurement ranges | 0 - 9.999 Joules and 0 - 99.99 Joules |
| Control | Pre-set or manual controls for both energy and time exposure. Nine presets for both energy and time exposure. |
| Dimensions (internal) | 260 mm x 330 mm x 145 mm (W x D x H) |
| Dimensions (external) | 350 mm x 360 mm x 305 mm (W x D x H) |
About Us
Advance Scientific Products Pty Ltd is based in Queensland and is focused on delivering high-quality products and service to our customers in the life, chemical and analytical sciences across Australia.
The company was established in 2013 by experienced instrumentation specialists to provide full distribution and customer support capability to manufacturers seeking to expand their activities in Australia without having to create their own sales and marketing infrastructure.
Contact
PO Box 746
Moffat Beach, QLD, 4551, Australia