MB-21 | Maestrogen UltraBright UV transilluminator for gel imaging and band cutting, 302 nm, with 26 cm x 21 cm sample viewing area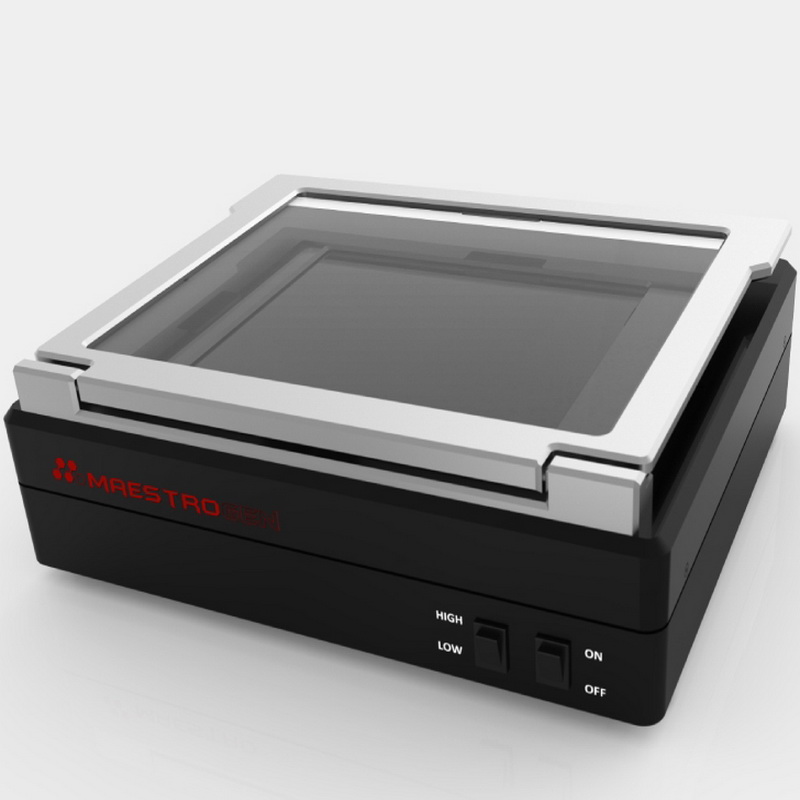 Key Features
Uniform design with ultra-high contrast
UV blocking cover adjustable to different angles for easy access to transilluminator surface
Ultrasafe UV cover blocks 99.9% of the UV transmittance
Strong aluminium alloy frame and shield design prevents UV shield breakage
Adjustable intensity from 50% to 100%
Description

This Maestrogen UV transilluminator is ideal for cutting gels stained with fluorescent dyes such as EtBr, SYBR® Safe, SYBR® Gold, SYBR® Green I & II, SYPRO® Ruby, SYPRO® Orange, Coomassie Fluor™ Orange stains, GelGreen, GelRed and Lumitein™ Protein Gel Stain.
The adjustable transilluminator cover blocks almost all UV light and is adjustable to provide optimal access to the transilluminator surface.
Gels illuminated with the UltraBright transilluminators are significantly brighter than those illuminated by conventional transilluminators.
Specifications
| | |
| --- | --- |
| Sensitivity (ng) | EtBr: 0.4/ SYBR Safe: 0.4/ GelGreen: 0.4/ Gel Red: 0.2 |
| Dimensions | 34 cm x 28 cm x 8 cm (W x D x H) |
| Viewing area | 26 cm x 21 cm (W x D) |
| Wavelength | 302 nm |
| Power | 100V-240V: 50-60 Hz |
| Weight | 4.3 Kg |
About Us
Advance Scientific Products Pty Ltd is based in Queensland and is focused on delivering high-quality products and service to our customers in the life and analytical sciences across Australia.
The company was established in 2013 by experienced instrumentation specialists to provide full distribution and customer support capability to manufacturers seeking to expand their activities in Australia without having to create their own sales and marketing infrastructure.
Contact
PO Box 746
Moffat Beach, QLD, 4551, Australia