LB-16 | Maestrogen UltraBright LED blue light transilluminator for gel imaging and band cutting, 470 nm, 20 cm x 16 cm sample viewing area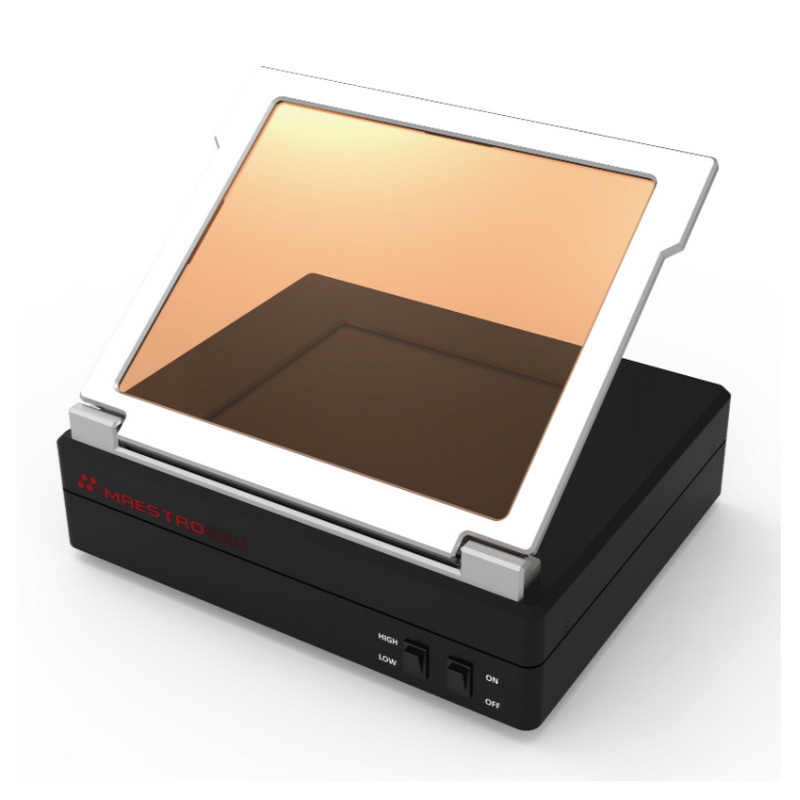 Key Features
Uses blue LED light instead of UV so no danger to lab personnel
Does not damage DNA - no photonicking
Adjustable intensity from 50% to 100%
Compact and portable
Suitable for viewing gels up to 20 cm x 16 cm
High sensitivity down to 0.1 ng
Ideal for gel cutting. No need to wear amber glasses.
Uniform light generated by 224 high intensity LEDs with 5% CV across the full filter area
Description
The Maestrogen UltraBright LED is a new generation of blue light transilluminator. The unit has two side-mounted high intensity LED arrays. This produces uniform and bright excitation at 470 nm making it suitable for excitation of a wide range of dyes. This includes GelGreen, GelRed, SYBR Green, SYBR Gold, SYBR Safe, UltraSafe Blue as well as Ethidium Bromide-stained DNA gels.

Gels up to 20 cm x 16 cm can be viewed. The use of special filter material in the lid of the UltraBright LED transilluminator greatly enhances the contrast of bands and provides ideal viewing conditions for image capture and band cutting.
Specifications
| | |
| --- | --- |
| Viewing surface | 20 cm x 16 cm |
| LED wavelength | 470 nm |
| LED lifetime | ~50,000 hours |
| Sensitivity | Down to 0.1 ng |
| Uniformity | 5% CV |
| Dimensions | 34 cm x 28 cm x 8 cm (W x D x H) |
| Power | 24 VDC, 1.67 A power adapter |
| Weight | 3 Kg |
About Us
Advance Scientific Products Pty Ltd is based in Queensland and is focused on delivering high-quality products and service to our customers in the life and analytical sciences across Australia.
The company was established in 2013 by experienced instrumentation specialists to provide full distribution and customer support capability to manufacturers seeking to expand their activities in Australia without having to create their own sales and marketing infrastructure.
Contact
PO Box 746
Moffat Beach, QLD, 4551, Australia