L079-DW | Thermo shaker for deep well plates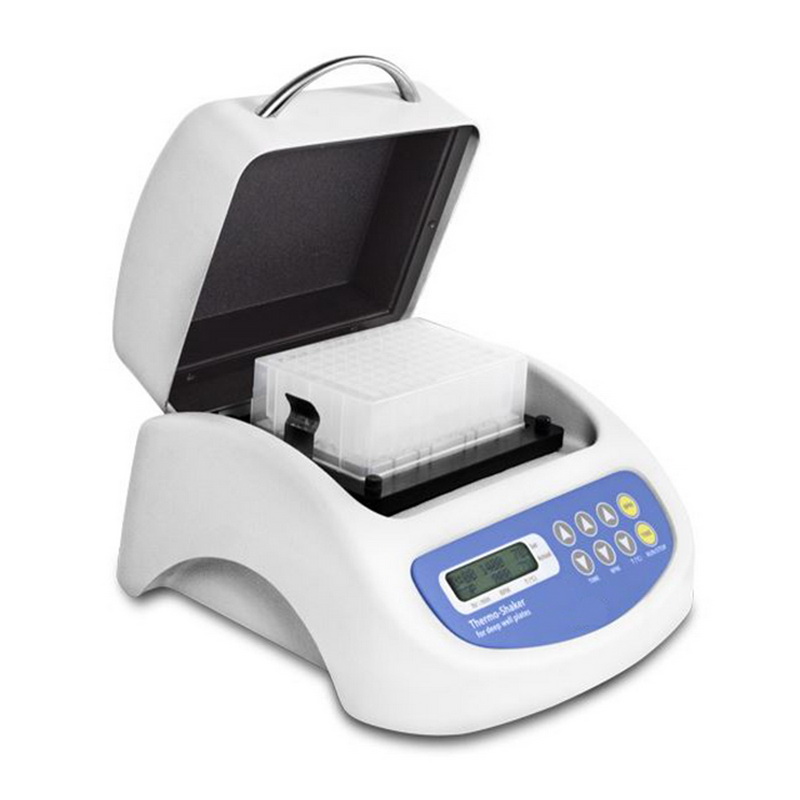 Key Features
The L079-DW can be used as an incubator, plate shaker or thermo shaker
Ideal for use under general laboratory conditions as well as in cold rooms and incubators
Heat transfer to samples from plate platform and heated lid guarantees excellent temperature stability and low evaporation
LCD displays both set and actual temperature along with shaking speed and shaking time
Description
The Biosan L079-DW thermo shaker has been designed to shake, heat or shake and heat deep well plates so that it can operate as an incubator, a plate shaker or a thermo shaker. The shaking speed can be varied between 250 rpm and 1,200 rpm with a shaking orbit of 2 mm and a heating range of +25ºC to +100ºC adjustable in 0.1ºC increments.
The L079-DW transfers heat to samples from both the platform and the heated lid. This heating from both sides guarantees excellent temperature stability and low evaporation. The L079-DW also features an LCD display and a 96 hour timer.

Block Options
| | |
| --- | --- |
| Part Number | Description |
| L079-DW-B-2E | Block for Eppendorf 100 uL deep well plates |
| L079-DW-B-2S | Block for Sarstedt Megablock 2200 uL deep well plates |
Specifications
Speed range

250 rpm - 1400 rpm | adjustable in 10 rpm increments

Shaking orbit

2 mm

Timer range

1 min to 96 hours | adjustable in 1 min increments

Temperature range

+25ºC to +100ºC | adjustable in 0.1ºC increments

Operating range

Ambient temperature from +4ºC to +40ºC in a non-condensing atmosphere and maximum relative humidity of 80% up to 31ºC decreasing linearly to 50% relative humidity at 40ºC

Average heating speed
(+25ºC to +100ºC)

4ºC/min

Temperature stability (at +37ºC)

±0.1ºC

Display

LCD: 16 x 2 symbols

Dimensions

240 mm x 260 mm x 160 mm

Weight

5 Kg

Power (external power supply)

100-240 VAC: 50-60Hz | 12 VDC output

About Us
Advance Scientific Products Pty Ltd is based in Queensland and is focused on delivering high-quality products and service to our customers in the life and analytical sciences across Australia.
The company was established in 2013 by experienced instrumentation specialists to provide full distribution and customer support capability to manufacturers seeking to expand their activities in Australia without having to create their own sales and marketing infrastructure.
Contact
PO Box 746
Moffat Beach, QLD, 4551, Australia