UP-X898MD | SONY UP-X898MD A6 analogue and digital black and white thermal printer for ultrasound, catheterisation and other medical and research applications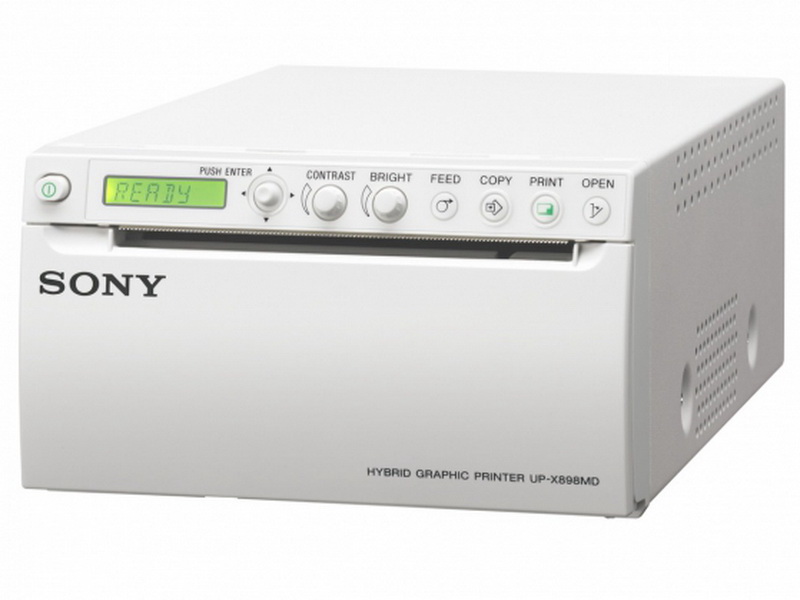 Key Features
High quality image output using direct thermal printing
Dual modes of operation with both digital and analogue signal input options
LCD display panel
Compact instrument design allows for easy integration into busy clinical environments
A6 image prints in less than two seconds
Images can be stored to USB flash drive
Uses readily available print roll media (please click here for details)
Wide PC compatibility
Quick instruction guides for different print operations can be selected via the front control panel
Description

The SONY UP-X898MD is a compact A6 medical grade black and white digital printer that can accept analogue video as well as digital USB signal inputs. This printer is designed to be integrated into a wide range of compatible medical imaging environments such as ultrasound, mobile C-arm or cardiac catheterisation laboratories and its small footprint allows it to be easily mounted on a medical cart.
The advanced thermal print engine of the UP-X898MD can produce near-photo quality prints of still images captured by medical imaging systems for use in patient records and referrals. Images can also be stored to a connected USB flash drive.
The UP-X898MD is capable of delivering high-quality black & white prints in under two seconds onto a choice or readily available print roll media (please click here for details).
Specifications
| | |
| --- | --- |
| Printing Method | Direct thermal printing |
| Compatible thermal paper | UPP-110S: UPP-110HD: UPP-110HG |
| Resolution | 325 dpi |
| Gradations | 8 bits (256 levels) processing |
| Paper Size | Width of 110 mm |
| Printing Time | High-speed mode: Approx. 1.9 seconds/image (at standard setting) | Normal speed mode: Approx. 3.3 seconds/image (at standard setting) |
| Interface | USB |
| Power Requirements | 240 VAC, 50 Hz |
| Weight | 2.5 Kg |
About Us
Advance Scientific Products Pty Ltd is based in Queensland and is focused on delivering high-quality products and service to our customers in the life, chemical and analytical sciences across Australia.
The company was established in 2013 by experienced instrumentation specialists to provide full distribution and customer support capability to manufacturers seeking to expand their activities in Australia without having to create their own sales and marketing infrastructure.
Contact
PO Box 746
Moffat Beach, QLD, 4551, Australia