UP-DF750 | SONY UP-DF750 high resolution multi-format diagnostic DICOM film imager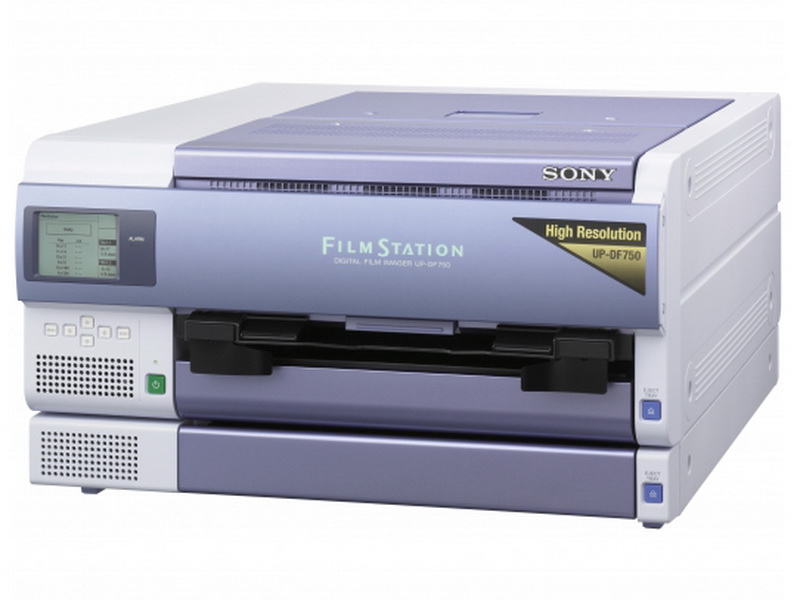 Key Features
Compact design with vertical installation option
Compatible with a range of high quality blue thermal film sizes (please click here for details) for various radiology modalities including mammography, MRI, CT, digital radiography and computed radiography.
Two trays fit all compatible blue thermal film sizes
Multiple design and cleaning processes prevent contact between dust and other particles and the printing head and film
Large 3.8-inch LCD display
Superior image reproduction
Dust-resistant mechanism
Large effective print area and edge-to-edge-like printing
Rapid warm-up time (2 minutes)
Description
The SONY UP-DF750 high resolution multi-format diagnostic DICOM film imager features a workflow-friendly, space-saving design and small footprint that provides a vertical installation option if needed. This is a key operational advantage when compared to large centralised film imagers.
Superior diagnostic image clarity and accuracy are key features of the UP-DF750 and are created by combining proven SONY thermal printing technology with a newly -developed thermal printing head and an improved Picture Quality Control (PQC) feature. This combination reproduces high resolution images at 604 dots per inch, 14 bit greyscale and a maximum optical density of 3.8+ which makes this printer particularly suitable for mammography imaging.
The UP-DF750 is compatible with multiple blue thermal film sizes (please click here for details) which makes it ideal for a range of other imaging modalities such as MRI, CT, digital radiography and computed radiography.
The UP-DF750 features a front-mounted control panel and large 3.8" LCD display that provides critical information to the end-user. A simple menu setting allows the LCD display to be rotated so that it can be easily read if the printer is installed vertically.
A unique print-feed mechanism firmly holds each sheet of film between multiple belts during the printing process. This mechanism ensures that even if the unit is installed vertically the printing process remains stable and each sheet is fed with precision.
The UP-DF750 is equipped with a DICOM 3.0 interface that enables it to be connected to a hospital imaging network in accordance with worldwide medical imaging communications standards. All network settings can be set easily via the front panel.
The UP-DF750 has been designed so that the electronics and mechanical compartments are completely separated from the printing compartment so that film is completely protected from dust particles and other foreign matter drawn in through cooling fans. The area of contact between the thermal head and film is also totally isolated from air flows. To further prevent foreign matter from damaging prints the film remains inside the printer until the printing process is completed. Additional cleaning rollers as well as dust cleaning rollers clean the surface of the film before printing.
Specifications
| | |
| --- | --- |
| Printing system | Direct thermal printing |
| Resolution | 604 dpi |
| Gradations | 16384 level processing (14 bits) |
| Print size | 346.7 x 415.3 using UPT-517BL |
| Picture elements (W x H) | 8,256 x 9,888 dots using UPT-517BL |
| Throughput | Approx. 75 prints per hour for 14 x 17 inch film | Approx 90 prints per hour for 8 x 10 inch film |
| Film supply | 2 trays |
| Tray capacity | 125 sheets |
| Interface | DICOM |
| Power requirements | 240 VAC:50 Hz |
| Dimensions (W x H x D) | 600 mm x 316 mm x 686 mm |
| Weight | 67 Kg |
About Us
Advance Scientific Products Pty Ltd is based in Queensland and is focused on delivering high-quality products and service to our customers in the life and analytical sciences across Australia.
The company was established in 2013 by experienced instrumentation specialists to provide full distribution and customer support capability to manufacturers seeking to expand their activities in Australia without having to create their own sales and marketing infrastructure.
Contact
PO Box 746
Moffat Beach, QLD, 4551, Australia