SP001 | SonoPlot high precision picoliter microplotter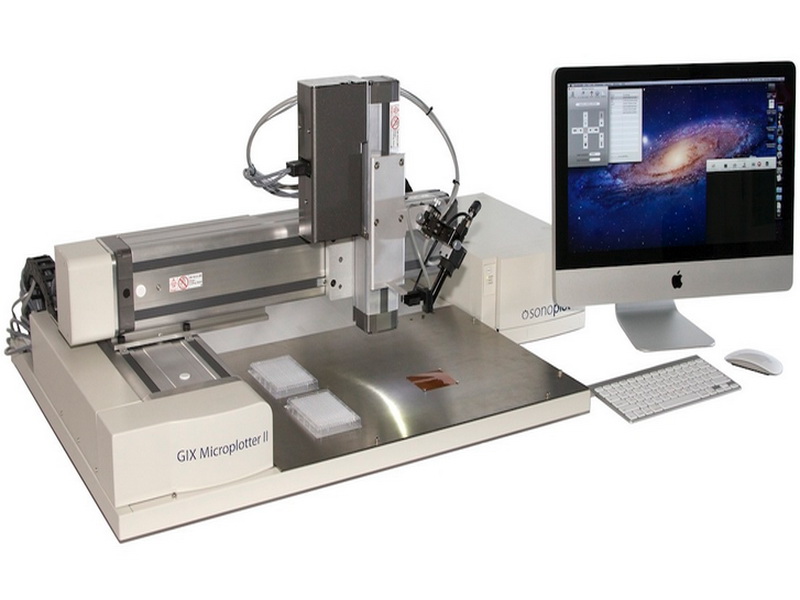 Key Features
Non-contact deposition using advanced ultrasonics
Features size range from 5 μm - 200 µm
Viscosities up to 450 cP
True contiguous lines, arcs and bends
Microstructure fabrication
Consistent spot size and shape with coefficients of variability as low as 10%
3-axis positioning with 5 μm resolution
Integrated digital video capture
Automated surface calibration
Description
The SonoPlot Microplotter II is a precision picoliter fluid dispensing system for the life science microarray, polymer, electronics, nanotechnology and nanofabrication markets with significant advantages over existing products in deposited feature size and type, regularity of volumes dispensed, and flexibility for the user. Key applications include:

Rapid prototyping
Graphene/ carbon nanotube printing
Additive repair
Polymer microstructure fabrication
pOLED printing
High-density protein microarrays
Patterning of live cells
The Microplotter II utilizes innovative ultrasonic technologies to deposit fluid in a non-contact manner to form single droplets or contiguous lines, arcs or bends. These are uniform elements and are not constructed from overlapping droplets like other technologies. This makes this microplotter particularly well-suited to the polymer electronics field. The Microplotter II offers consistent spot size and shape with coefficients of variability as low as 10% and 3-axis positioning with 5 μm resolution.
The ultrasonic dispensing heads of the Microplotter II are attached to a digital video camera so that the complete printing process can be captured. Attached to the dispensing heads are microcapillaries of different tip sizes from which solutions with even high viscosities can be ejected in a continuous fashion onto a substrate. Pre-pulled microcapillaries are readily available and replacement of microcapillaries on the dispensing heads is a straightforward process.
Custom HEPA enclosures are available for those applications requiring stringent printing conditions. A specially developed vacuum chuck (please see below) can be added to the deck of the microplotter to increase printing stability on flimsy materials.
About Us
Advance Scientific Products Pty Ltd is based in Queensland and is focused on delivering high-quality products and service to our customers in the life and analytical sciences across Australia.
The company was established in 2013 by experienced instrumentation specialists to provide full distribution and customer support capability to manufacturers seeking to expand their activities in Australia without having to create their own sales and marketing infrastructure.
Contact
PO Box 746
Moffat Beach, QLD, 4551, Australia