PGB-030 | Solid glass beads, 200 um-300 um diameter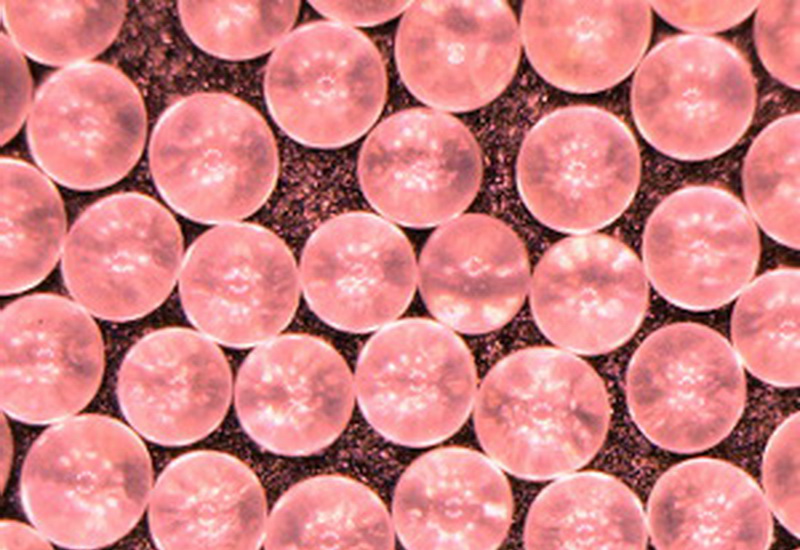 Description
These 200 um-300 um solid glass beads are designed for applications where inorganic beads with high density are required. The beads are manufactured from highly purified raw materials and have a homogeneous, smooth and shining surface. They contain no air bubbles and are free from foreign particles, glass fragments and other impurities such as lead oxide (PbO).
These beads have broad application as grinding media in many areas including the cosmetics and pharmaceutical industries.
More Information
Please contact Advance Scientific to request a quotation for bulk quantities of this product.
The image associated with these glass beads is used for illustrative purposes only and is not representative of the physical characteristics of these glass beads.
Specifications
| | |
| --- | --- |
| Supplier | Kisker Biotech |
| Bead diameter | 200 um-300 um |
| Quantity | 100 g pack |
| Bead composition | 72% SiO2, 13% Na2O and 9% CaO |
| Density | 2.5 gm/cm³ |
| Beads per gram (nominal) | 95,000 |
About Us
Advance Scientific Products Pty Ltd is based in Queensland and is focused on delivering high-quality products and service to our customers in the life and analytical sciences across Australia.
The company was established in 2013 by experienced instrumentation specialists to provide full distribution and customer support capability to manufacturers seeking to expand their activities in Australia without having to create their own sales and marketing infrastructure.
Contact
PO Box 746
Moffat Beach, QLD, 4551, Australia