TE-01XL | Qlicksmart SnapIT multi-use safety ampoule opener, trolley version, extra large size, blue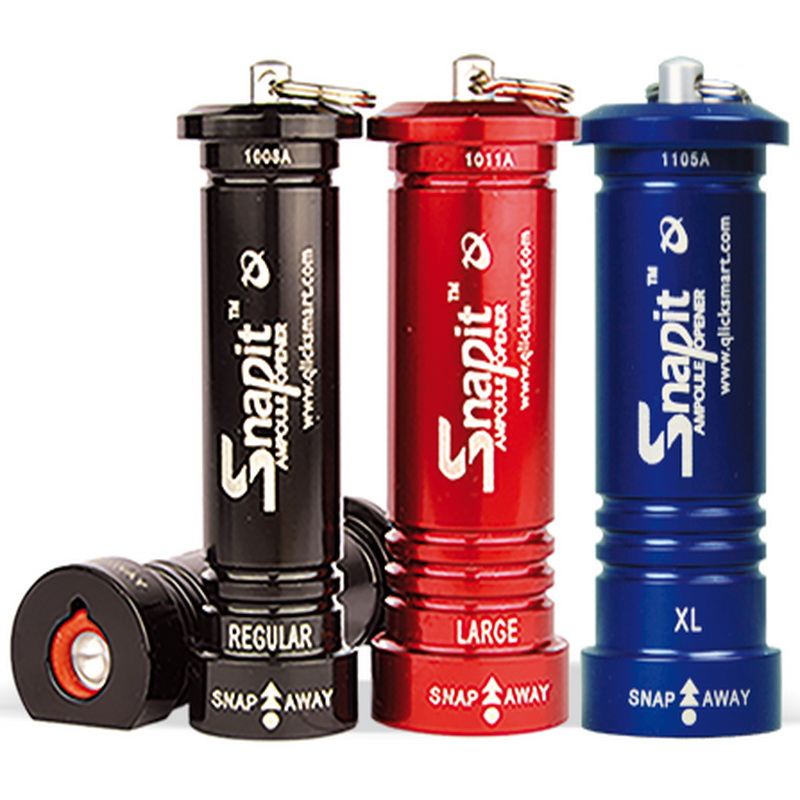 Key Features
SnapIT system offers a safer way to open glass ampoules
Minimizes the risk of sharps injuries and infections caused by opening ampoules by hand
Reduces the costs and down-time associated with ampoule injuries to personnel and from the wastage of expensive medication
Opens 20 ml - 30 mL ampoules
Hexagonal anti-roll collar
Retains the ampoule lid until you are ready to eject it into a sharps container
Robust plastic casing that is easy to clean
Lightweight for adding to a lanyard
Complies with WPHS standards
Description
Ampoule sharps injuries are painful, distressing, susceptible to blood borne pathogens such as HIV, hepatitis B and hepatitis C, and deep cuts can even require suture, microsurgery and extensive rehabilitation. The SnapIT easy-to-use multi-use ampoule opener from Qlicksmart in Australia significantly reduces the risks associated with opening ampoules by hand.

Here's how it works:
INSERT the ampoule lid into the multi-use SnapIT
SNAP open the ampoule
EJECT the ampoule lid directly into a sharps container
More Information
Please contact Advance Scientific to request pricing for bulk quantities of this SnapIT.
Specifications
| | |
| --- | --- |
| Manufacturer | Qlicksmart |
| Compatible ampoule sizes* | 20 mL - 25 mL and 25 mL - 30 mL |
| Dimensions | 80 mm x 25 mm |
| Weight | 66 grams |
| GMDM code | 10098 |
| Material | Plastic body: Stainless steel keyring & spring: Silicon O-ring |
| Latex | No |
| DEHP | No |
| Sterile | No |
| Reusable | Yes: O-ring can be replaced if lost or broken. |
*Compatibility depends on the ampoule's geometry and the diameter of the ampoule lid. Ampoules of the same size can have different configurations and lid diameters. The ampoule size in mLs is only given as a guideline.
About Us
Advance Scientific Products Pty Ltd is based in Queensland and is focused on delivering high-quality products and service to our customers in the life and analytical sciences across Australia.
The company was established in 2013 by experienced instrumentation specialists to provide full distribution and customer support capability to manufacturers seeking to expand their activities in Australia without having to create their own sales and marketing infrastructure.
Contact
PO Box 746
Moffat Beach, QLD, 4551, Australia