SW-01 | SlimWhite white light panel for colorimetric (visible light) gel imaging, 275 mm x 170 mm viewing area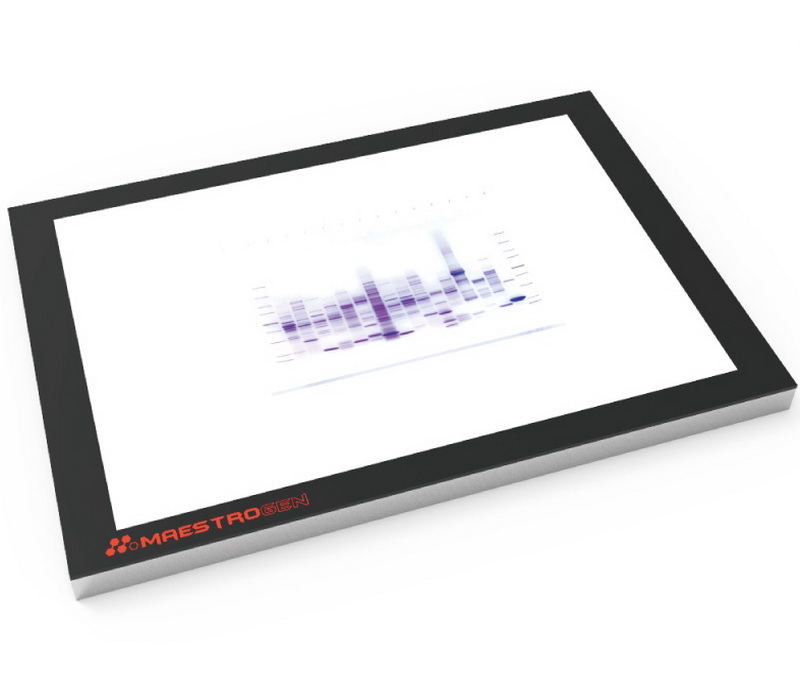 Key Features
Light guide plate with diffuser creates uniform LED illumination across the white light panel
No need to convert potentially harmful UV to obtain white light source
Ideal in conjunction with a gel imaging system or as a stand-alone unit for viewing protein gels stained with Coomassie Blue or Silver Stain
Description
The compact SW-01 SlimWhite white light illuminator from Maestrogen is an excellent source of white light that can be used as a stand-alone instrument or in conjunction with a gel imaging system. The unique light guide and diffuser creates a uniform light source (CV ~5%) which makes it ideal for high quality imaging of protein gels stained with Coomassie Blue or Silver Stain.
The key benefit of the SlimWhite is that there is no need to use a converter screen to convert potentially harmful UV to white light and the LED light source will provide ~50,000 hours of use.
Specifications
| | |
| --- | --- |
| Manufacturer | Maestrogen |
| Model number | SW-01 |
| Light source | White LED |
| Illumination area (W x D) | 275 mm x 170 mm |
| Uniformity | CV <5% |
| Dimensions (W x D x H) | 305 mm x 210 mm x 15 mm |
| LED lifetime | ~50,000 hours |
| Power requirements | 12 VDC, 0.5 A power adapter |
| Weight | 1.3 Kg |
About Us
Advance Scientific Products Pty Ltd is based in Queensland and is focused on delivering high-quality products and service to our customers in the life, chemical and analytical sciences across Australia.
The company was established in 2013 by experienced instrumentation specialists to provide full distribution and customer support capability to manufacturers seeking to expand their activities in Australia without having to create their own sales and marketing infrastructure.
Contact
PO Box 746
Moffat Beach, QLD, 4551, Australia