PSI-0.07COOH | Silica microparticles, carboxyl-modified surface, 70 nm diameter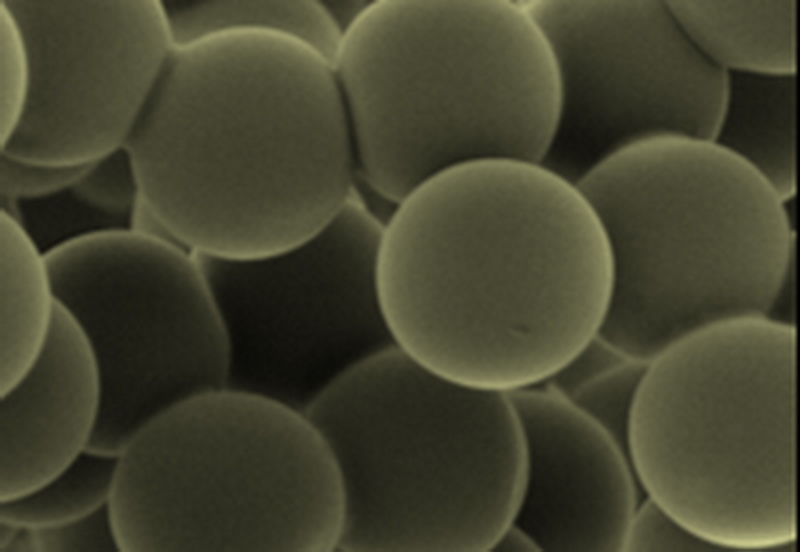 Description
These 70 nm diameter carboxyl-modified silica particles have broad application for ligand separation. They are stable in aqueous buffers and organic solvents and are easy to isolate or re-suspend.
More Information
Many of our silica particles can also be provided in powdered form. Please contact Advance Scientific to see if this product is available as a powder or to request a quotation for bulk quantities of this product in either format.
Silica microparticles up to 1.5 µm are monodisperse and non-porous. Microparticles larger than 1.5 µm are porous and have a wider size distribution.
The image associated with this microparticle is used for illustrative purposes only and is not representative of the physical characteristics of these silica microparticles.
Specifications
| | |
| --- | --- |
| Supplier | Kisker Biotech |
| Mean particle diameter | 70 nm |
| Surface chemistry | Carboxyl-modified |
| Quantity | 10 mL |
| Concentration | 25 mg/mL |
| Density | 2.0g/cm³ |
| Refractive index | 1.45 ± 0.02 measured at 589 nm |
| Stable | Aqueous buffers and organic solvents |
| Non-stable | Hydrofluoric acid and strong basic media |
| Storage | Room temperature |
| Temperature resistance | Highly resistant up to 1000ºC |
| Product form | Supplied in deionised water |
About Us
Advance Scientific Products Pty Ltd is based in Queensland and is focused on delivering high-quality products and service to our customers in the life and analytical sciences across Australia.
The company was established in 2013 by experienced instrumentation specialists to provide full distribution and customer support capability to manufacturers seeking to expand their activities in Australia without having to create their own sales and marketing infrastructure.
Contact
PO Box 746
Moffat Beach, QLD, 4551, Australia