70119000 | Hain Lifescience Q-Cycler 96 thermal cycler for single or integrated multi-unit operation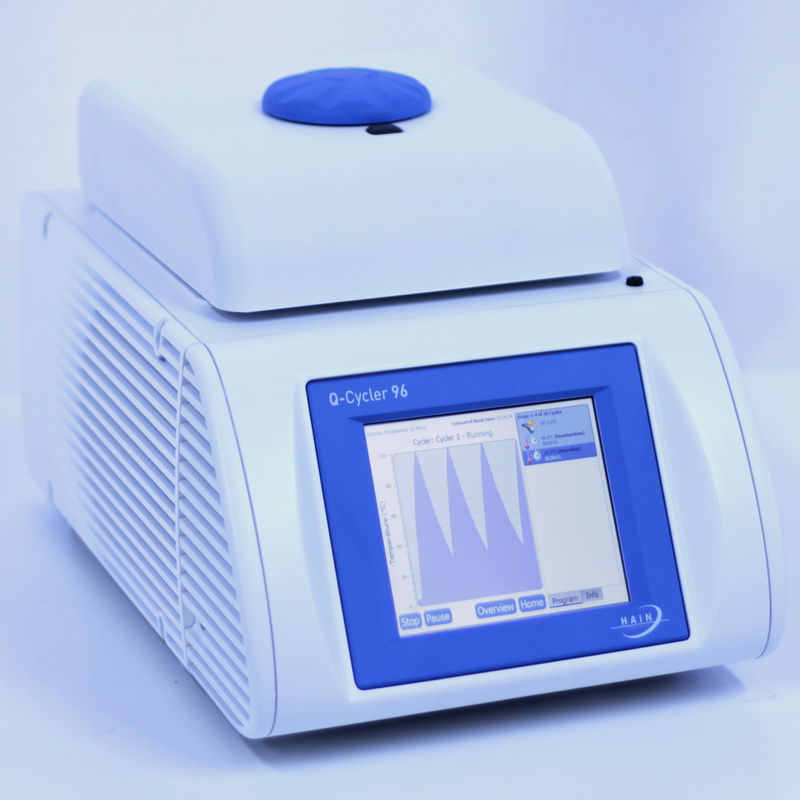 Key Features
High performance thermal cycler for use with 96- and 384-well blocks
Unit can be operated in stand-alone mode, controlled from an external PC through the thermal cycler control software included with the instrument, or integrated into a network with up to three satellite thermal cyclers that are controlled through the Q-Cycler 96
Software access through intuitive 6.4 inch TFT colour touch screen for rapid programming and runs
Choice of five user-interchangeable blocks. Blocks are sold separately from the thermal cycler.
Internal auto validation prior to each program start and thermal engine validation function
Storage in individual user directories for >10,000 programmes
User file protection for programmes and reports
Inbuilt OQ testing and GLP reporting
Block/simulated consumable control modes
File organization using Windows Explorer format
Intelligent protocol creation wizard
Ramp rate of up to 6.0ºC/s for heating and up to 3.0ºC/s for cooling
Fully adjustable heated lid
Programme resume/abandon function in the event of a power failure
USB connectivity
Description
The Hain Lifescience Q-Cycler 96 is a high performance thermal cycler driven by the latest Peltier-based thermal engine. It can be used in stand-alone mode, controlled by a PC through the software supplied with the instrument, or as part of a simple USB plug and play network in combination with up to three satellite thermal cyclers. These satellite cyclers can be any combination of 24, 48 or 96 well block systems that are controlled by the Q-Cycler 96 and each unit can be programmed to run its own individual protocol.
Data can also be entered into the instrument through the 6.4 inch TFT colour touch screen or through an external keyboard and mouse or from a bar code scanner. Actual and set block temperatures are shown on the graphical display in real-time along with data from the unit's sensors. Data pertaining to every experiment performed is recorded in a unique electronic GLP file to ensure full laboratory traceability and experimental validation.
Blocks for the Q-Cycler 96 are sold separately from the thermal cycler base unit and are manufactured from anodized aluminium or gold-coated silver. Each block contains four sensors and can be installed or interchanged within seconds with no requirement for any calibration or any skilled training on the part of the operator. Lid pressure can be adjusted to give high or low pressure depending upon whether microplates or tubes are being used.
Specifications
| | |
| --- | --- |
| Manufacturer | Hain Lifescience |
| Temperature range of block | 4°C to 99.9°C with simulated volume-dependent control algorithm |
| Sample volume range | 5 - 100 uL |
| Sample accuracy | ±0.4°C (20 - 99°C) and ±1°C (4 - 20°C) |
| Sample homogeneity | ±0.4°C |
| Operating temp. range | 10°C - 30°C |
| Relative humidity | 0% to 95% |
| Max. heating rate | Up to 6°C/sec |
| Max. cooling rate | Up to 3°C/sec |
| Sample overshoot | <1°C |
| Block traceability | Calibration using UKAS-traceable standards |
| Communication interfaces | 4 USBs in front and 3 in rear |
| Lid temperature | 112°C |
| Lid pressure | Manually adjustable for tubes and microplates |
| Program storage | No limit |
| Power supply | 85 - 275 VAC: 48-62 Hz |
| Dimensions (W x D x H) | 34 cm x 42 cm x 26 cm |
| Weight | ~12 Kg |
| Warranty | 2 years |
About Us
Advance Scientific Products Pty Ltd is based in Queensland and is focused on delivering high-quality products and service to our customers in the life and analytical sciences across Australia.
The company was established in 2013 by experienced instrumentation specialists to provide full distribution and customer support capability to manufacturers seeking to expand their activities in Australia without having to create their own sales and marketing infrastructure.
Contact
PO Box 746
Moffat Beach, QLD, 4551, Australia