70119015 | Q-Cycler 24 stand-alone thermal cycler with block for 24 x 0.2 mL tubes or tube strips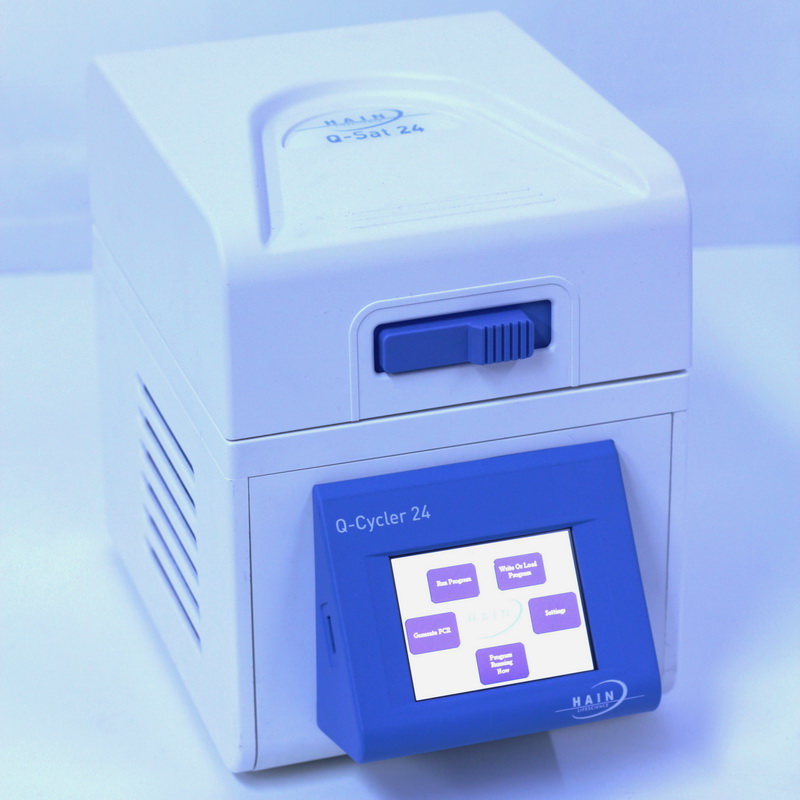 Key Features
Compact, quiet, stand-alone personal thermal cycler
Low power consumption for field (remote) operation
90 mm colour touch screen interface
Anodized aluminium block with 2 sensors for 24 x 0.2 mL tubes in a 3 x 8 format. Also suitable for 8-tube strips.
Intuitive user interface for rapid programming and operation
Intelligent wizard protocol generation software
Heating rate of up to 2.5ºC per second
Automatic heated lid
2 year warranty
Description
The Q-Cycler 24 is an innovative high performance stand-alone thermal cycler designed for simplicity and robustness. It has a compact footprint and is driven by an easy to operate intuitive touch screen interface. Data can also be entered using an external keyboard and mouse or from a bar code scanner. Its low power consumption makes it ideal for field work.

The compactness of the Q-Cycler 24 enables it to fit on even the most crowded bench. The minimalist design and silent running understates a powerful device delivering maximum thermal performance including heating rates of up to 2.5ºC per second and sample homogeneity of ±0.4ºC. A full thermal cycling protocol can be set up on its touch screen in seconds. Actual and set block temperatures are shown on the graphical display in real-time.

The Q-Cycler 24 is capable of running even the most complex thermal cycling protocols employing time and temperature increments, hot starts and touchdown and its comprehensive run logs provide permanent peace of mind.
Specifications
Manufacturer

Hain Lifescience

Model number

Q-Cycler 24

Temperature range of block
4°C to 99.9°C
Sample volume range
5 - 100 uL
Sample accuracy
±1°C (4 - 20°C)
±0.4°C (20 - 99°C)

Sample homogeneity
±0.4°C
Max. heating rate
Up to 2.5°C/sec
Max. cooling rate
Up to 2.0°C/sec
Sample overshoot
<1°C
Block traceability
Calibration using UKAS-traceable standards
Block supplied
24 well anodized aluminium block (8 x 3 format)
User interfaces
90 mm colour TFT touch screen
Communication interfaces
1 x USB in front
Lid temperature
112°C
Lid pressure range
Pre-set and fixed
Pre-run sample cooling
Yes at 4°C
Program storage
100
Power supply
100V - 240V: 48 - 62 Hz
Dimensions (W x D x H)
190 mm x 235 mm x 175 mm
Weight
4 Kg
Power consumption
150W
Warranty
2 years
About Us
Advance Scientific Products Pty Ltd is based in Queensland and is focused on delivering high-quality products and service to our customers in the life and analytical sciences across Australia.
The company was established in 2013 by experienced instrumentation specialists to provide full distribution and customer support capability to manufacturers seeking to expand their activities in Australia without having to create their own sales and marketing infrastructure.
Contact
PO Box 746
Moffat Beach, QLD, 4551, Australia