MO-ARK | Laboratory incubator with rocking motion and rotisserie function, 20 litre capacity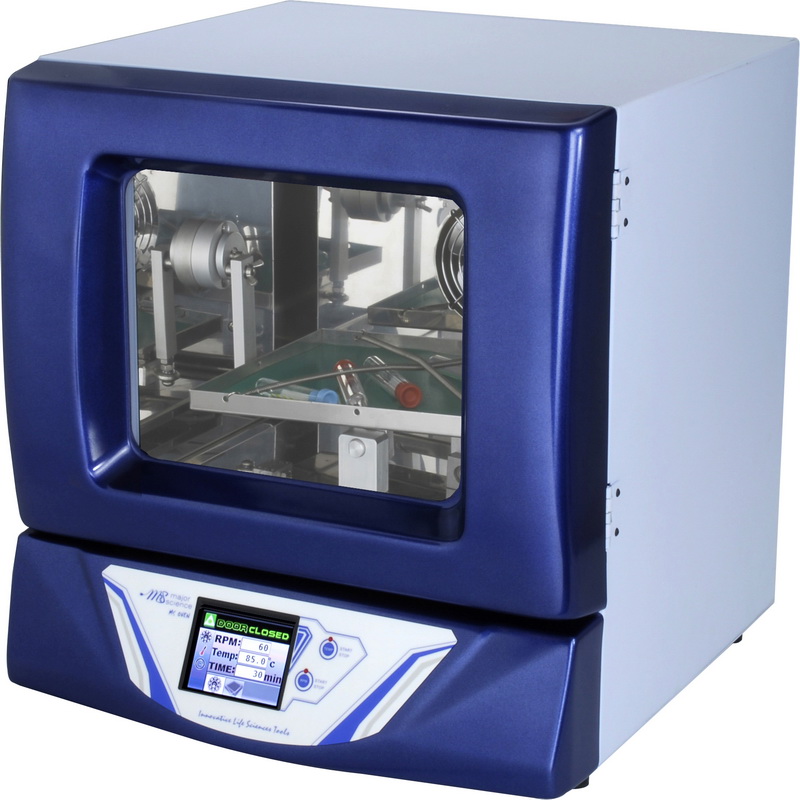 Key Features
90 mm touch screen and graphical control interface
Rotisserie function built into incubator
Rocking motion
User temperature calibration
Wide temperature control range
Timer with alarm function
Multiple safety features
Full range of optional accessories available (please see below)
Description

The MO-ARK laboratory incubator features advanced design that includes a 90 mm touch screen and graphical control interface. Superb temperature accuracy and uniformity allows users to perform precision mixing and incubation.
The MO-ARK generates a see-saw rocking motion and a rotisserie function is built into the instrument for use with optional rotisseries (please see below). The MO-ARK offers a wide temperature control range from ambient to 85°C as well as a timer with alarm function.
Multiple safety systems are incorporated into the incubator to protect end-users and samples.
Optional accessories
The optional accessories listed below are available for this oven:
| | |
| --- | --- |
| Part Number | Description |
| MO-SEESAW | Rocking shaker platform for MO-ARK |
| MO-FH-125 | 125 mL flask holder, 1 each* |
| MO-FH-250 | 250 mL flask holder, 1 each* |
| MO-FH-500 | 500 mL flask holder, 1 each* |
| MO-HY-24RT | Rotisserie for 24 x 15 mL conical tubes |
| MO-HY-16RT | Rotisserie for 16 x 50 mL conical tubes |
| MO-HY-8RT | Rotisserie for 8 x 40 mm diameter tubes |
*Oven platforms are supplied pre-drilled to allow all sizes of flask holder to be attached.
Specifications
Manufacturer

Major Science

Model number
MO-ARK
Display
90 mm 64K TFT display
Controller
32 bit microprocessor
Control Interface
Touch screen & graphical interface
Rotisserie function
Built-in but rotisseries sold separately (please see below)

Rotisserie speed / Increment
5-100 rpm / 1 rpm
Timer
1 - 9999 minutes with alarm or continuous operation
Shaker motion
Rocking (seesaw)
Shaker speed
5 - 100 rpm
Temperature control range
Ambient to 85°C
Temperature increment
0.1°C
Temperature uniformity
± 0.2°C at 37°C
Temperature accuracy
± 0.2°C at 37°C
User temperature calibration
Yes
Inner chamber dimension

340 mm x 225 mm x 260 mm
(W x D x H)

Inner chamber volume
20 L
Overall dimensions

442 mm x 462 mm x 452 mm
(W x D x H)

Platform dimensions

270 mm x 200 mm
(W x D)

Data logging
RS-232
Weight
29 Kg
Rated voltage
110/220 VAC ~ 50/60Hz (selectable)
Construction
Painted iron metal: ABS front door
Safety device
Safety door switch
Thermal safety switch
Auto shut off upon fan failure
Power failure auto recovery
About Us
Advance Scientific Products Pty Ltd is based in Queensland and is focused on delivering high-quality products and service to our customers in the life, chemical and analytical sciences across Australia.
The company was established in 2013 by experienced instrumentation specialists to provide full distribution and customer support capability to manufacturers seeking to expand their activities in Australia without having to create their own sales and marketing infrastructure.
Contact
PO Box 746
Moffat Beach, QLD, 4551, Australia