L079-100 | High temperature thermo shaker for two standard microplates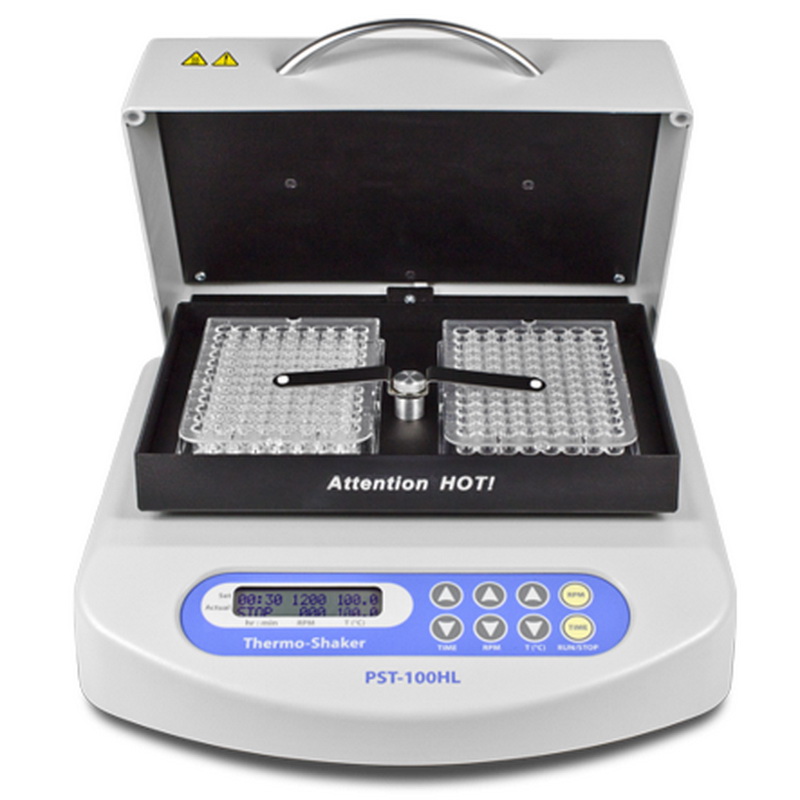 Description
The PST-100HL microplate shaker from Biosan combines both shaking and heating. It can either shake or heat, or shake and heat, two standard SBS microplates at a time. Shaking speed can be varied between 250 and 1,200 rpm with a 2 mm amplitude.

Heat is transferred to the samples from both the platform and the heated lid. This heating from both sides guarantees excellent temperature stability and low evaporation. Temperature can be regulated from room temperature up to 100°C. All electronic functions, including the 96 hour timer, are microprocessor-controlled.
Specifications
| | |
| --- | --- |
| Manufacturer | Biosan |
| Model number | PST-100HL |
| Speed | Variable from 250 rpm to 1,200 rpm |
| Shaking orbit | 2 mm |
| Temperature range | Room temperature up to 100°C |
| Weight | 6.5 Kg |
| Dimensions (W x D x H) | 270 mm x 260 mm x 125 mm |
| Power | External power supply, 12 V, 4.16 A |
About Us
Advance Scientific Products Pty Ltd is based in Queensland and is focused on delivering high-quality products and service to our customers in the life, chemical and analytical sciences across Australia.
The company was established in 2013 by experienced instrumentation specialists to provide full distribution and customer support capability to manufacturers seeking to expand their activities in Australia without having to create their own sales and marketing infrastructure.
Contact
PO Box 746
Moffat Beach, QLD, 4551, Australia