1041 2110 1 | FireReader TLC thin layer chromatography documentation system with 6 megapixel scientific grade camera and 21 CFR Part 11 compliance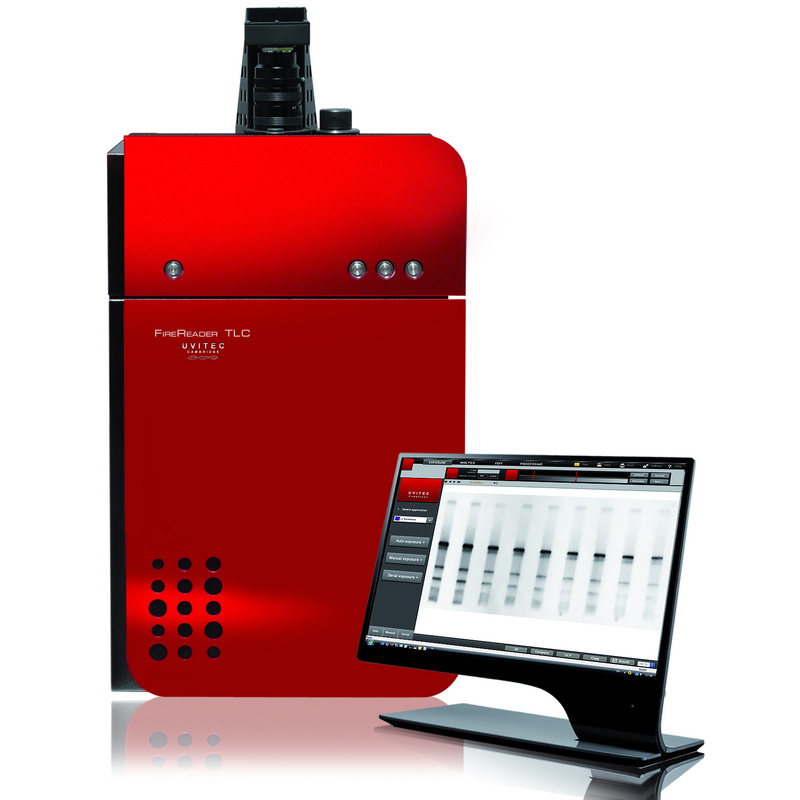 Key Features
6 megapixel scientific grade camera with 65536 gray scales
Ideal for capturing images of TLC/HPTLC plates
f/1.2 aperture fully automated lens (zoom and focus) provides superb sensitivity for low signal plates
254 nm, 365 nm and white light illumination sources
Stainless steel construction with epoxy coating for increased chemical resistance
Slide-out sample table with positioning clip
16 bit pixel depth and 4.0 OD dynamic range
21 CFR Part 11 compliance
Saturation control
Post-acquisition editing and annotation of captured images
Image comparison
Full GMP compatibility
An unlimited free license (with free upgrades) for the UVI 1D image acquisition and analysis software is included with the imager
2 year full manufacturer's warranty
Description
The FireReader TLC from UVITEC is a powerful, fully automated TLC documentation system with direct UV 254 nm, UV 365 nm and white light illumination. The 6 megapixel 16 bit scientific grade camera is features a highly sensitive, fully automated lens that provides superb sensitivity for TLC/HPTLC plates.
The FireReader TLC is 21 CFR Part 11 compliant which makes it ideal for a pharmaceutical or biotechnology environment. The 21 CFR mode is a closed system which ensures data security and integrity using the following processes:
The image data is saved in a document which contains all the actions taken to obtain this image
The saved image document is in a proprietary file format which can be opened only with appropriate software set in 21 CFR mode
Data is saved with the user security of the signed-in user
Records created on a 21 CFR 11 system cannot be opened on a non-21 CFR 11 system
The complimentary FireReader 1D software is easy to use yet sophisticated enough to allow ultra-precise optimization when capturing an image. The software is designed to minimize saturation of the image to ensure that all bands in the captured image are quantifiable. The FireReader 1D software also offers a full suite of image manipulation, annotation, archiving and analysis tools.
A "compare" function incorporated into the FireReader 1D software makes it possible for several images to be compared in a single view. This allows, for instance, a 254 nm UV image from a TLC plate to be directly compared with the 365 nm UV image from the same plate or two images from different plates to be viewed simultaneously. The software also makes it possible to combine two different images (e.g. an image of the 254 nm bands with an image of the 365 nm bands) into one image and use pseudo colour to distinguish the different bands.
Specifications
| | |
| --- | --- |
| Manufacturer | UVITEC |
| Model number | FireReader TLC |
| Resolution | 6 megapixels |
| Aperture | f/1.2 |
| Lighting | 254 nm, 365 nm and white light illumination sources |
| Dynamic range | 4.0 orders of magnitude |
| Pixel depth | 16 bit |
| Intensity range | 65536 grey scales |
About Us
Advance Scientific Products Pty Ltd is based in Queensland and is focused on delivering high-quality products and service to our customers in the life, chemical and analytical sciences across Australia.
The company was established in 2013 by experienced instrumentation specialists to provide full distribution and customer support capability to manufacturers seeking to expand their activities in Australia without having to create their own sales and marketing infrastructure.
Contact
PO Box 746
Moffat Beach, QLD, 4551, Australia