MP-510 | Electrophoresis power supply, 5V - 500V output voltage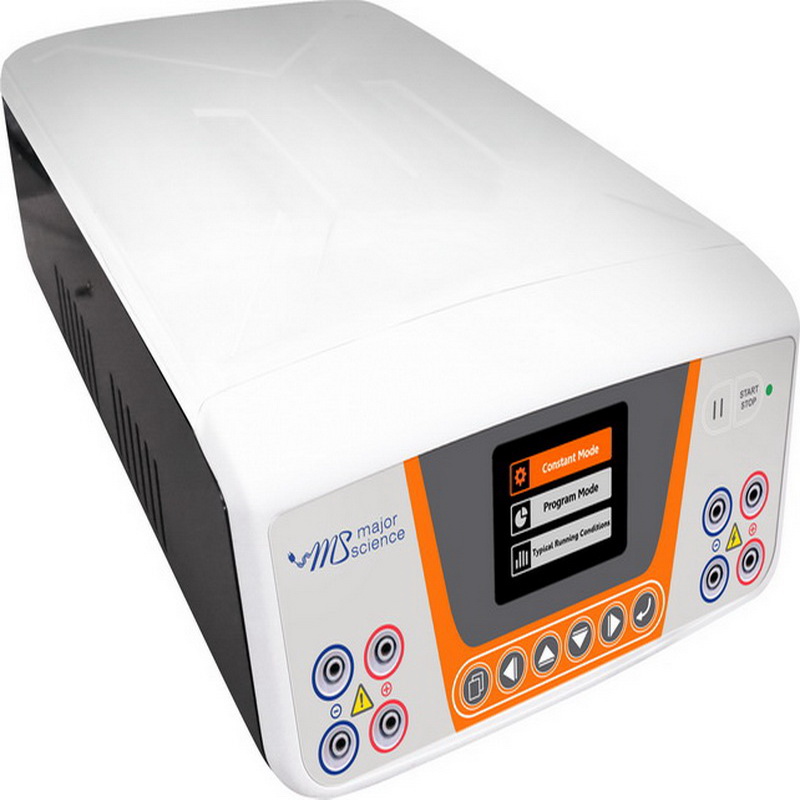 Key Features
Four pairs of outlet terminals
Timer with alarm
Constant voltage/current/power modes
Programmable
TFT LCD colour display
Description
The MP-510 electrophoresis power supply from Major Science is ideal for horizontal and vertical electrophoresis as well as two dimensional SDS-PAGE electrophoresis. The instrument features a 60 mm TFT LCD colour display that shows all set and operating parameters while running.
The MP-510 has four pairs of outlet terminals and a timer with alarm as well as constant voltage/current/power modes. The unit can be run in continuous or timed modes and the end-user is able to pause and resume a run at anytime without resetting the timer.
The MP-510 can operate in fully programmable mode with up to six steps (V, mA, W, time) and a number of programmes incorporating typical running conditions have been pre-programmed into the instrument. The MP-510 has been designed with numerous safety features to ensure the safety of lab personnel.
More Information
Please click here for details on our extensive range of compatible systems for blotting and for nucleic acid and protein electrophoresis.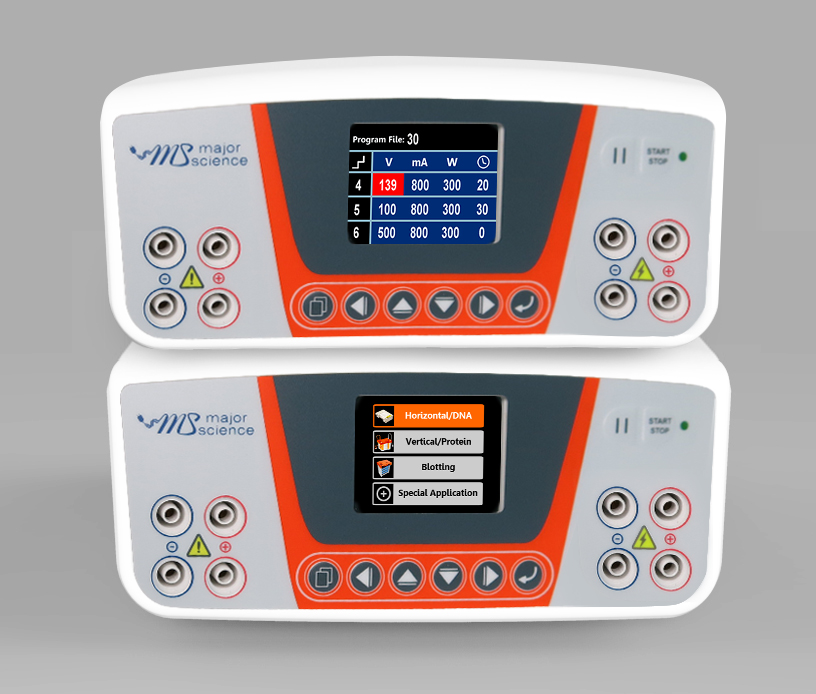 Specifications
| | |
| --- | --- |
| Manufacturer | Major Science |
| Display | 60 mm TFT LCD colour display |
| Output voltage/ increment | 5V - 500V/ 1V |
| Output current/ increment | 1mA - 800mA/ 1mA |
| Output power/ increment | 300W |
| Output type | Constant voltage/ current/ power |
| Timer | Constant mode: 9999 minutes with alarm/ continuous |
| | Programmable mode: 999 minutes with alarm/ continuous |
| Rated voltage | 100V - 240V |
| Programme | Pre-setting: up to 6 steps (V, mA, W, time) | 30 programmed files |
About Us
Advance Scientific Products Pty Ltd is based in Queensland and is focused on delivering high-quality products and service to our customers in the life, chemical and analytical sciences across Australia.
The company was established in 2013 by experienced instrumentation specialists to provide full distribution and customer support capability to manufacturers seeking to expand their activities in Australia without having to create their own sales and marketing infrastructure.
Contact
PO Box 746
Moffat Beach, QLD, 4551, Australia