EC-02 | Maestrogen eCooler portable cooling system for PCR microtubes and microplates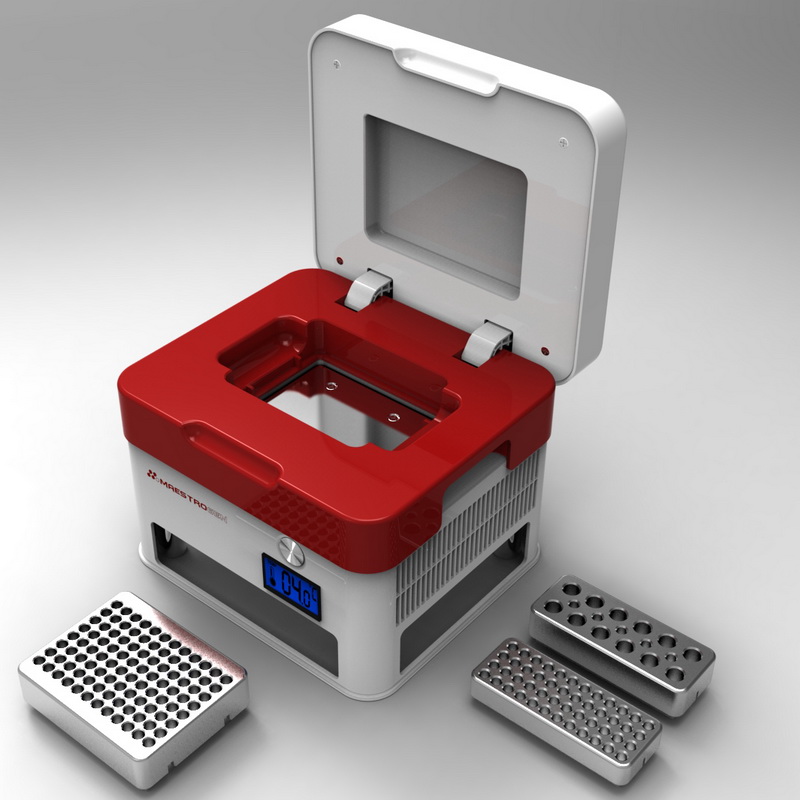 Key Features:
Efficient: consists of a Peltier-controlled cooling unit with removable sample compartment and user-interchangeable sample blocks
Ideal for PCR and cellular applications; compact for use in biological safety cabinets and fume hoods
Highly flexible: designed for cooling 96 well PCR plates, 0.2 mL and 1.5 mL microcentrifuge tubes, and tube strips without ice
Rapid cooling: takes less than 10 min to cool from ambient temperature to below 4oC
Portable: Removable sample compartment maintains temperature below 4oC for more than 25 minutes without cooling unit
Quiet operation: noise level 19 dB(A)
Reduced environmental impact: uses 80% less energy compared to making equivalent amount of ice required for similar cooling capability
Improves sample management and integrity: samples are organized in blocks and not in contact with wet ice.
Description
The Maestrogen eCooler portable cooling system makes ice a thing of the past for PCR set up and cellular applications. Just turn it on and the Peltier-controlled cooling unit will rapidly cool the sample compartment to less than 4oC in under 10 minutes.
The sample compartment holds blocks for individual 0.2 mL or 1.5 mL microcentrifuges, tube strips or PCR microplates and can be removed from the cooling unit and used anywhere on your bench or in a fume hood or workstation.
The eCooler is simple and quiet to use. Just press the ON button and the unit will begin the cool-down process. The dry cooling process improves sample integrity as samples and reagents are not in contact with wet ice and the use of sample blocks improves sample management.
More Information
When you purchase the eCooler system (EC-02) the Peltier-controlled cooling unit and the following items are included:
| | |
| --- | --- |
| Part Number | Description |
| EC-02-S | Sample compartment to hold EC-01-15, EC-01-02 and EC-02-96 sample blocks |
| EC-02-96 | Sample block for 96 well PCR microplates* |
| EC-01-15 | Sample block for 12 x 1.5 mL/5 x 0.2 mL microcentrifuge tubes |
| EC-01-02 | Sample block for 48 x 0.2 mL microcentrifuge tubes |
*This sample block fits most 96 well PCR plates except full-skirted 96-well PCR plates.
Specifications
Manufacturer

Maestrogen

Cooling device

Two Peltier chips

Power supply

12 VDC adapter

Steady state temperature

-0.5 ±0.5oC

Temperature accuracy

±1oC

Cooling speed

10 min from RT to below 4oC

Temperature maintenance
(without cooling module)

<4oC for >25 minutes

Noise

19 dB(A)

Temperature display

LCD

Dimensions (W x D x H)

170 mm x 220 mm x 190 mm

Weight

2.2 Kg without sample blocks

About Us
Advance Scientific Products Pty Ltd is based in Queensland and is focused on delivering high-quality products and service to our customers in the life and analytical sciences across Australia.
The company was established in 2013 by experienced instrumentation specialists to provide full distribution and customer support capability to manufacturers seeking to expand their activities in Australia without having to create their own sales and marketing infrastructure.
Contact
PO Box 746
Moffat Beach, QLD, 4551, Australia