MC-0203 | Dry block cooler with interchangeable blocks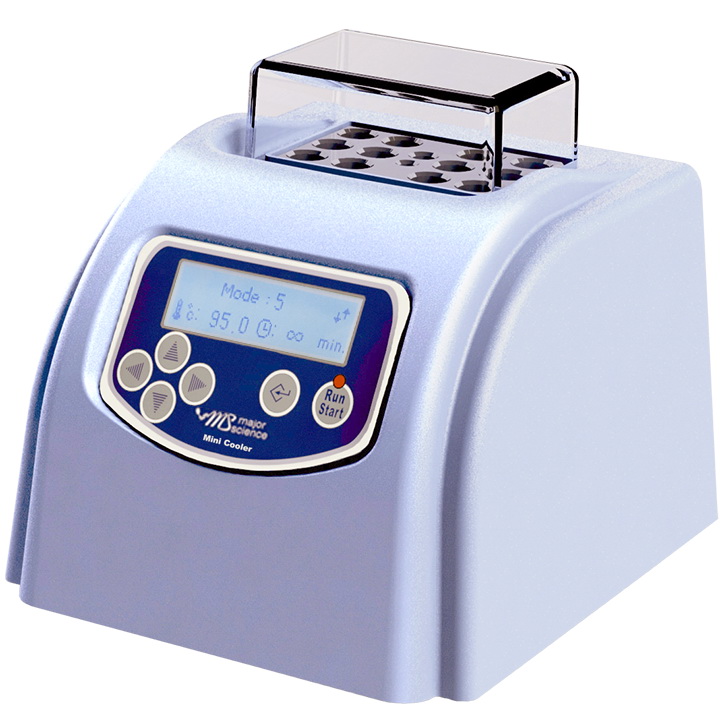 Key Features

Moulded aluminium alloy construction
Clear polycarbonate lid for increased temperature stability
Rapid Peltier-controlled cooling rates
Can also be used as a water bath or bead bath
Temperature calibration (blocks include thermometer well)
Timer function with audible alarm
Bright LCD display
Compact size
Seven interchangeable aluminium alloy blocks with block lifter for easy and quick block exchange (please see options below)
Molded aluminium block chamber ensures even heating and no leakage
PTFE coating for stain resistance and easy cleaning
Adapter for use in a mobile lab
USB and Bluetooth port for easy data logging
Description
The MC-0203 from Major Science is a robust and compact dry block cooler that uses a range of interchangeable alloy blocks for cooling samples in tubes and tube strips. The MC-0203 has a moulded aluminium block chamber that ensures even heating and no leakage so that the instrument can also be used as a water bath or bead bath.
The MC-0203 features a PTFE coating for stain resistance and easy cleaning and a clear polycarbonate lid for increased temperature stability. Peltier cooling systems provide rapid cooling and the unit has a bright LCD display with a touch control panel and a timer function with audible alarm.
The MC-0203 is ideal for remote use as it can be powered from a vehicle using the vehicle adapter. The unit incorporates USB and Bluetooth ports for easy data logging.
Blocks and other options
These precision-machined aluminium alloy blocks allow for highly efficient cooling of samples. They have a block lifting well to assist in removing the block from the instrument and a well to allow the insertion of a thermometer.
| | |
| --- | --- |
| Part Number | Description |
| MD-MINI-B01 | Block with 32 wells for 0.2 mL PCR tubes or 4 x 8 tube strips | Well dimensions: 6.35 Ø x 19 mm depth |
| MD-MINI-B05 | Block with 12 wells for 0.5 mL tubes | Well dimensions: 8.0 mm Ø x 25 mm depth |
| MD-MINI-B07 | Block with 12 wells for 0.5 mL tubes | Well dimensions: 10.9 mm Ø x 30 mm depth |
| MD-MINI-B02 | Block with 12 wells for 1.5 mL tubes | Well dimensions: 10.8 mm Ø x 28.5 mm depth |
| MD-MINI-B06 | Block with 12 wells for 1.5 mL or 2.0 mL tubes | 11 mm Ø x 30 mm depth |
| MD-MINI-B03 | Block with 6 wells for 15 mL tubes | 17.3 mm Ø x 70 mm depth |
| MD-MINI-B04 | Block with 2 wells for 50 mL tubes | 29.2 mm Ø x 72 mm depth |
| MS-BL95-E | Block lifter with E-type retaining rings | Length: 9.5 cm |
| MD-MINI-LID | Polycarbonate block lid |
| MD-MINI-CAR-ADAPTER | Vehicle adapter with 1.5 m cable |
Specifications
Manufacturer

Major Science

Temperature control range

30°C below ambient (minimum -10°C) in 0.1°C increments

Cooling rate

Max. 5.5°C/min.

Temperature uniformity at 37°C

± 0.2°C

Temperature accuracy at 37°C

± 0.25°C

Timer

1 min - 99 hours 59 mins

Power

40W

Voltage

100 - 240V

Dimensions (excluding lid)

18.5 cm x 15.2 cm x 13.4 cm
(W x D x H)

About Us
Advance Scientific Products Pty Ltd is based in Queensland and is focused on delivering high-quality products and service to our customers in the life and analytical sciences across Australia.
The company was established in 2013 by experienced instrumentation specialists to provide full distribution and customer support capability to manufacturers seeking to expand their activities in Australia without having to create their own sales and marketing infrastructure.
Contact
PO Box 746
Moffat Beach, QLD, 4551, Australia