L020-GC | Biosan UV workstation for nucleic acid decontamination and PCR set up (standard length version)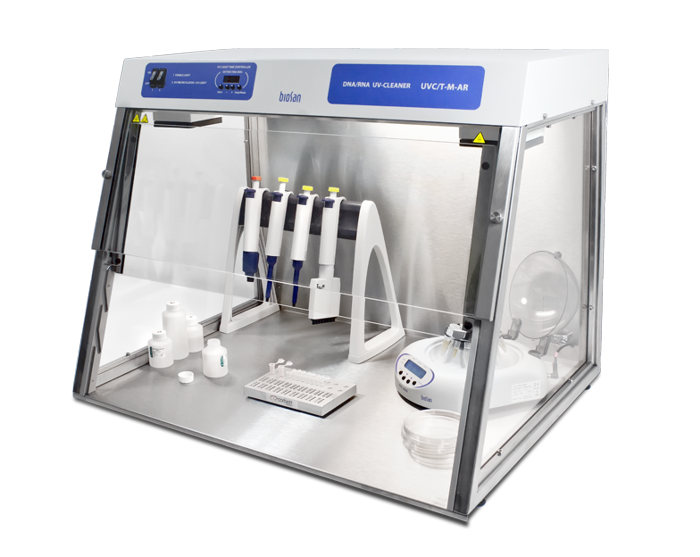 Key Features
UV-resistant glass panels
1 x 25 watt UV lamp emitting at 254 nm
1 x 15 watt white light lamp
1 air cleaner that circulates the air along a UV lamp emitting at 254 nm for continuous denaturation
Lower part of the front panel lifts up for access to the cabinet interior
UV safety interlock is built into the cabinet that turns off the UV light if the cabinet door is opened
Port in back of unit allows cables from vortexers and other equipment to be plugged into external sockets
Description
The L020-GC UV workstation from Biosan has been designed to decontaminate reagents and equipment of nucleic acids prior to PCR set up. The powerful 25 watt UV light emitting at 254 nm denatures nucleic acids in 5-30 minutes making them unsuitable for amplification and therefore eliminating any possible cross contamination.
The UV workstation is equipped with a white lamp for illumination. The 10 mm thick clear glass panels act as efficient shields against beta-radioactive emissions. The workstation stands on an easy to clean stainless steel tray.
Specifications
| | |
| --- | --- |
| UV lighting | 1 x 25 W UV lamp emitting at 254 nm |
| White lighting | 1 x 15 W lamp |
| UV cleaning lamp | 1 x UV lamp emitting at 254 nm |
| External dimensions (W x D x H) | 690 mm x 535 mm x 555 mm |
| Weight | 32 Kg |
About Us
Advance Scientific Products Pty Ltd is based in Queensland and is focused on delivering high-quality products and service to our customers in the life and analytical sciences across Australia.
The company was established in 2013 by experienced instrumentation specialists to provide full distribution and customer support capability to manufacturers seeking to expand their activities in Australia without having to create their own sales and marketing infrastructure.
Contact
PO Box 746
Moffat Beach, QLD, 4551, Australia