MO-MINI | Laboratory incubator, 17 litre capacity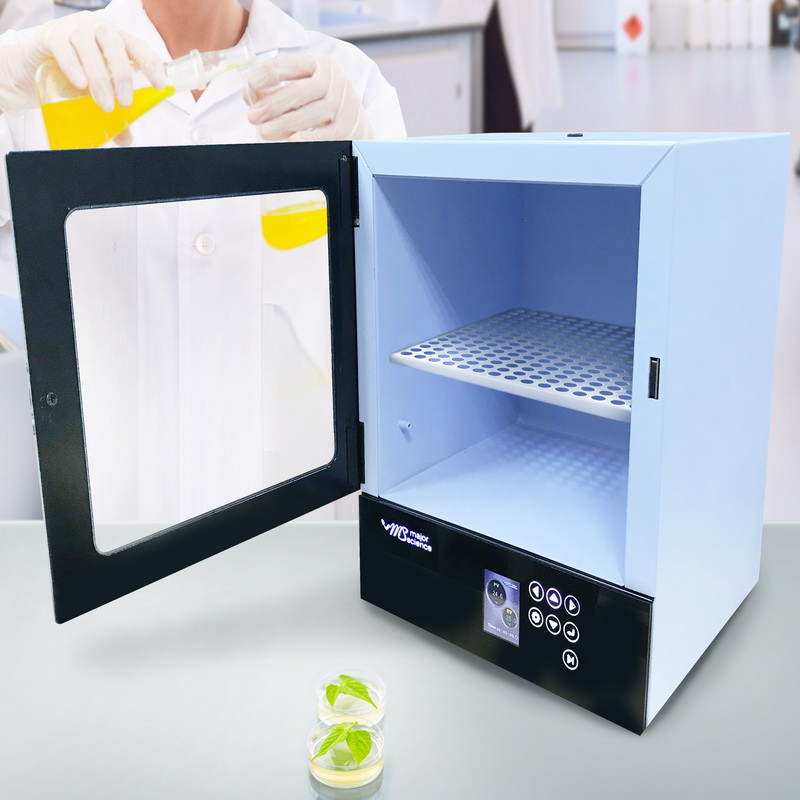 Key Features
Ideal for many lab applications in areas such as microbiology and haematology
Colour control panel with backlit LED display
Temperature range from ambient plus 5°C to 70°C
Corrosion-resistant metal housing
Glass door with large viewing area
Rear port allows electrical cables to be routed to the exterior so that instrumentation can be used in the interior of the cabinet
Optional control software available to record temperature and provide log file
Compact footprint
Description
The MO-MINI compact laboratory incubator from Major Science features a broad temperature range that makes it suitable for many applications in areas such as microbiology and haematology. The incubator housing and door frame are manufactured from corrosion-resistant metal and a large glass window in the door offers full visibility of the incubator interior.

Incubator control is achieved via a colour touch panel with a vivid and intuitive user interface and a backlit LED for added brightness. Also available for the MO-MINI is an optional control software package and USB cable (MO-MINI-SW) that allows for real-time data recording through a PC. A log file of the real-time data is also generated. Please contact Advance Scientific for pricing.

The microprocessor system incorporated into the MO-MINI ensures even and stable heating and precise temperature control over a range from ambient plus 5°C to 70°C. A thermometer port on the top of the unit allows the user to monitor incubator temperature. The incubator also has a port in the rear of the instrument so that an electrical cord can be routed to the exterior. This allows instrumentation such as stirrers to be located in the interior of the incubator if needed.

The MO-MINI has the capacity for two stainless steel shelves and one is included with the purchase of the incubator. An optional second shelf (MO-SH2524) can be purchased from Advance Scientific.
Specifications
| | |
| --- | --- |
| Manufacturer | Major Science |
| Model number | MO-MINI |
| Display | Backlit LED |
| Temperature range | Ambient plus 5°C to 70°C |
| Capacity | 17 L |
| Exterior dimensions (W x D x H) | 310 mm x 306 mm x 380 mm |
| Interior dimensions (W x D x H) | 261 mm x 255 mm x 255 mm |
| Weight | 13 Kg |
| Power | 100V-240V: 50Hz/60Hz |
| Cabinet and door frame material | Corrosion-resistant metal |
| PC connection | USB 2.0 Type B |
About Us
Advance Scientific Products Pty Ltd is based in Queensland and is focused on delivering high-quality products and service to our customers in the life, chemical and analytical sciences across Australia.
The company was established in 2013 by experienced instrumentation specialists to provide full distribution and customer support capability to manufacturers seeking to expand their activities in Australia without having to create their own sales and marketing infrastructure.
Contact
PO Box 746
Moffat Beach, QLD, 4551, Australia