MI-01 | Maestrogen gel imaging system with 18.5 megapixel digital camera and LED blue light and UV light sources (MI-01 Mini-Imager)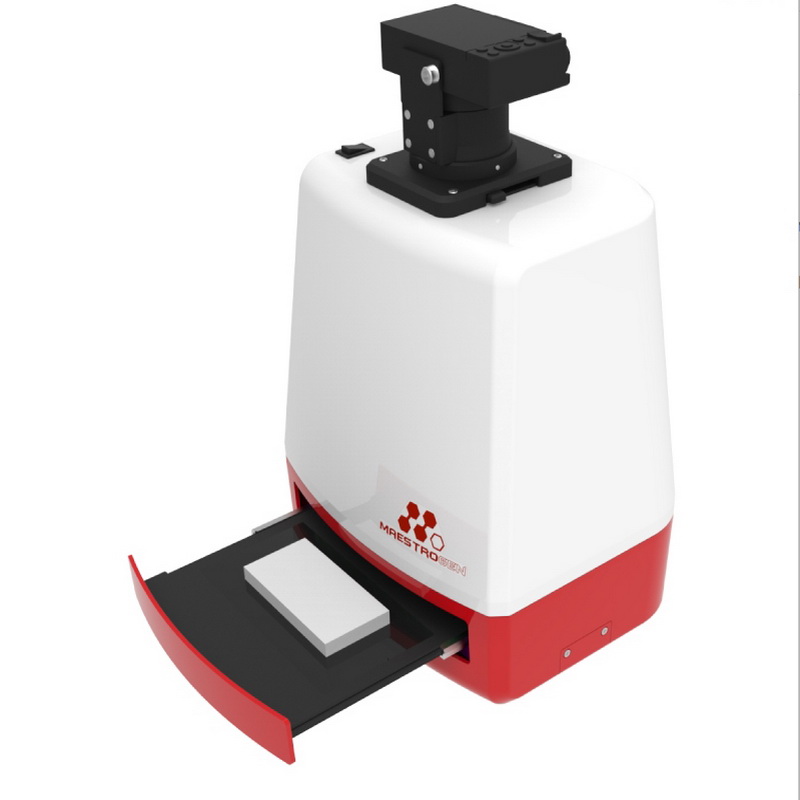 Key Features

18.5 megapixel Canon M-series digital camera
Embedded LED blue light (470 nm) and UV light sources (302 nm)
Switchable UV and blue light amber filter
3 inch TFT colour LCD
WiFi and USB (2.0) interface for data transfer as well as SD/SDHC memory card
Small footprint and light enough to easily move around your lab
JPEG image format
Description
This compact, economical and portable gel imaging system from Maestrogen is ideal for routine image capture from gels stained with UV dyes such as Ethidium Bromide or blue light-sensitive fluorescent dyes such as GelRed, GelGreen, SYBRSafe and SYBR Green that are excited in the 470 nm range.
The darkroom contains embedded LED blue light (470 nm) and UV light sources (302 nm) that conserve space compared to transilluminators. The imaging system includes an 18.5 megapixel digital camera that is incorporated into the hood. It also includes a switchable filter holder that allows switching between UV and blue LED light sources.
Captured images can be sent by USB (2.0) or wirelessly to a suitable device or stored on the camera's SD/SDHC memory card in JPEG format.
Specifications
Manufacturer

Maestrogen

Darkroom dimensions
(external & with camera)

203 mm x 250 mm x 364 mm (W x D x H)

Light source

UV-B (302 nm) & LED blue light (470 nm)

Viewing area

150 mm x 80 mm

Compatible gels

50 mm x 60 mm: 105 mm x 60 mm: 125 mm x 60 mm

Weight (darkroom & camera)

~ 8 Kg

Power

12VDC: 2A: 30W adapter

Camera




Camera make

Canon M-series

Resolution

18.5 megapixels

Display

76 mm TFT colour LCD

Lens

15 mm ~ 45 mm: F1.8 (wide) - F11.0 (telephoto)

Camera modes

Manual, program, aperture priority and shutter priority

ISO

Auto, 100, 200 ~12800

Shutter speed (s)

1/4000~30 seconds

Interface

WiFi transfer or USB (2.0)

Storage media

SD/SDHC memory card

Storage format

JPEG (ExifVer 2.3), RAW

Video output

NTSC / PAL selectable (HDMI)

About Us
Advance Scientific Products Pty Ltd is based in Queensland and is focused on delivering high-quality products and service to our customers in the life and analytical sciences across Australia.
The company was established in 2013 by experienced instrumentation specialists to provide full distribution and customer support capability to manufacturers seeking to expand their activities in Australia without having to create their own sales and marketing infrastructure.
Contact
PO Box 746
Moffat Beach, QLD, 4551, Australia