L015-K | Combi dry block heater with capacity for 49 microtubes of various sizes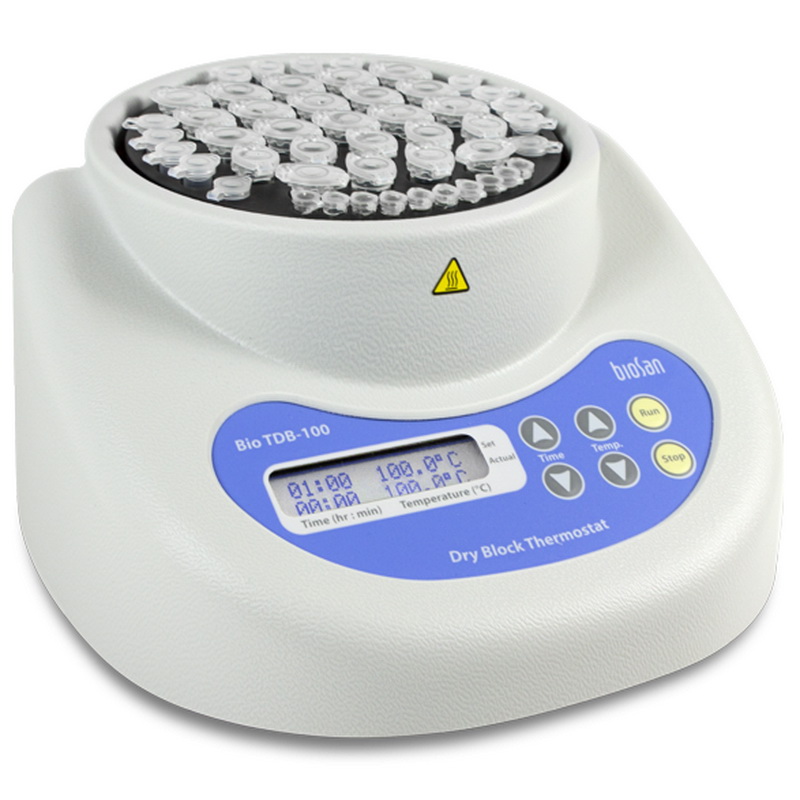 Key Features
Block capacity for 49 microtubes of various sizes
Can be used with 0.2, 0.5, 1.5 mL and 2.0 mL microtubes
LCD temperature display and timing range up to 96 hours
Cycle completion signal
Description
The Bio TDB-100 dry block heat bath from BioSan provides capacity for up to 49 microtubes of various sizes and is ideal for extended operation up to 96 hours. The aluminium block can hold 10 x 0.2 mL, 15 x 0.5 mL and 24 x 1.5 mL or 24 x 2.0 mL tubes.
The heating range for the Bio TDB-100 is from 5°C above ambient to 100°C and the actual and set temperatures are shown on the LCD display. The unit features a timer and an audible signal at the end of a timed run.
Specifications
Manufacturer

BioSan

Model number

Bio TDB-100

Temperature setting range

25°C to 100°C

Temperature setting resolution

0.1°C

Temperature control range

5°C above ambient to +100°C

Temperature stability

±0.1°C

Temperature uniformity at 37°C

±0.1°C

Heating times
From +25°C to +37°C | 4 minutes
From +25°C to +100°C | 15 minutes

Timer range

1 minute to 96 hours in increments of 1 minute or continuous

Block tube capacity

10 x 0.2 mL, 15 x 0.5 mL and 24 x 1.5 mL or 24 x 2.0 mL tubes

Block dimensions (Ø x Depth)

130 mm x 45 mm

Instrument dimensions (W x D x H)

210 mm x 230 mm x 115 mm

Display

LCD

Weight

2.8 Kg

Power

230 V: 50/60 Hz

About Us
Advance Scientific Products Pty Ltd is based in Queensland and is focused on delivering high-quality products and service to our customers in the life, chemical and analytical sciences across Australia.
The company was established in 2013 by experienced instrumentation specialists to provide full distribution and customer support capability to manufacturers seeking to expand their activities in Australia without having to create their own sales and marketing infrastructure.
Contact
PO Box 746
Moffat Beach, QLD, 4551, Australia