DB-NGC3000-EU | Generator for analytical grade air with ultralow hydrocarbon levels, maximum flow rate 3 litres per minute (GC Series)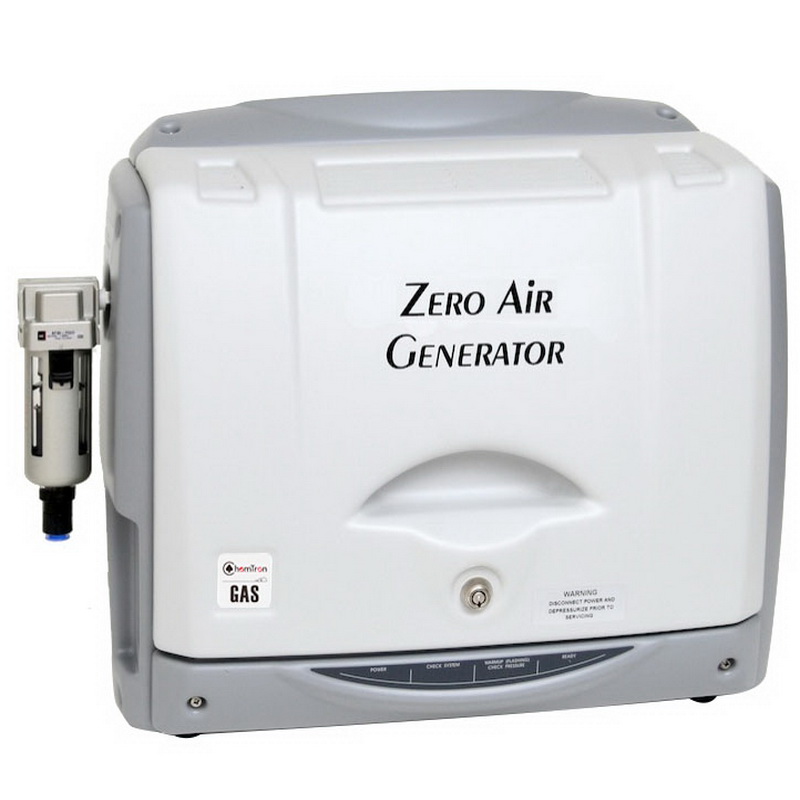 Key Features
Specifically designed to supply analytical grade air with ultralow hydrocarbon levels for gas chromatography applications such as GC-FID, GC-NPD and GC-FPD and for generating fuel gas for total hydrocarbon analysers
Utilises platinum catalytic oxidation technology to reduce hydrocarbon and carbon monoxide levels in output gas to <0.1 ppm
Maximum flow rate of 3 litres per minute
Inlet gas pressure up to 10 bar
Product Description
The GC series of generators have been specifically developed to provide analytical grade air with ultralow hydrocarbon levels for applications such as:
Gas chromatography using flame ionisation detection (GC-FID)
Gas chromatography using nitrogen phosphorous detection (GC-NPD)
Gas chromatography using flame photometric detection (GC-FPD)
Total hydrocarbon analysers
Platinum catalytic oxidation technology reduces hydrocarbon and carbon monoxide levels to <0.1 ppm so that the use of the outlet gas in GC systems results in a flat, stable baseline, increased sensitivity and repeatable analysis.
Specifications
Maximum flow rate per minute
3 litres
Hydrocarbon level (output gas)
<0.1 ppm
Carbon monoxide level (output gas)
<0.1 ppm
Inlet pressure
4.5 bar - 10 bar (65 psi - 145 psi)
Inlet air quality requirement
Clean dry compressed air ISO8573-1:2010 Class 3.2.2

Inlet connection
1/4" compression

Maximum outlet pressure
1 bar (15 psi) drop from inlet pressure
Outlet connection
1/8" compression
Maximum hydrocarbon level
in inlet gas
100 ppm
Maximum carbon monoxide level
in inlet gas
50 ppm
Purification technology
Platinum catalyst
LED indicators
Power on/off : system ready : errors
Warm up time
45 minutes
Power requirements
220-240 VAC: 50 Hz
Power consumption
550 W
Instrument dimensions (W x D x H)
550 mm x 230 mm x 410 mm
Weight
11 Kg
Certification
CE, MET, FCC
About Us
Advance Scientific Products Pty Ltd is based in Queensland and is focused on delivering high-quality products and service to our customers in the life and analytical sciences across Australia.
The company was established in 2013 by experienced instrumentation specialists to provide full distribution and customer support capability to manufacturers seeking to expand their activities in Australia without having to create their own sales and marketing infrastructure.
Contact
PO Box 746
Moffat Beach, QLD, 4551, Australia