MZ001-SP | Heathrow Scientific Sprout centrifuge for microcentrifuge tubes and tube strips, green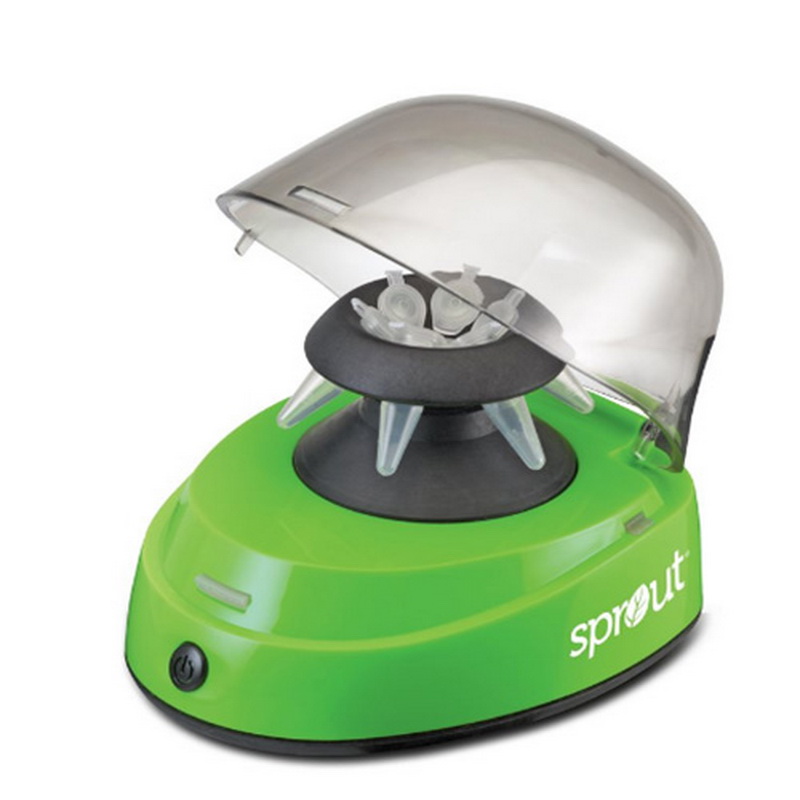 Key Features
Compatible with 6 x 0.2/0.5 mL microcentrifuge tubes, 6 x 1.5/2.0 mL microcentrifuge tubes or 2 strips of 8 x 0.2 mL PCR tubes
Ergonomic lid design with integrated auto start/stop function
Durable, easy to clean ABS cover
Easy change rotor mechanism
Description
The Sprout® centrifuge from Heathrow Scientific is ideal for use with microcentrifuge tubes and tube strips and has a top speed of 6,000 rpm. It features a durable, easy to clean ABS cover with an automated start/stop function integrated into the lid.
The centrifuge comes with the following accessories:
Rotor for 6 x 1.5/2.0 mL tubes
Adapters for 6 x 0.2 mL and 6 x 0.5 mL tubes
Strip rotor for two strips of 8 x 0.2 mL PCR-tubes
Rack for 6 x 0.5 mL, 6 x 1.5 mL and 16 x 0.2 mL tubes for easy sample preparation
Storage box for rotors
Specifications
| | |
| --- | --- |
| Manufacturer | Heathrow Scientific |
| Speed (rpm) | 6,000 (2,000 x g) |
| Dimensions (L x W x H) | 153 mm x 128 mm x 104 mm |
| Weight (grams) | 800 |
About Us
Advance Scientific Products Pty Ltd is based in Queensland and is focused on delivering high-quality products and service to our customers in the life and analytical sciences across Australia.
The company was established in 2013 by experienced instrumentation specialists to provide full distribution and customer support capability to manufacturers seeking to expand their activities in Australia without having to create their own sales and marketing infrastructure.
Contact
PO Box 746
Moffat Beach, QLD, 4551, Australia