QFYGEN | Qlicksmart BladeFLASK automated scalpel blade removal and containment system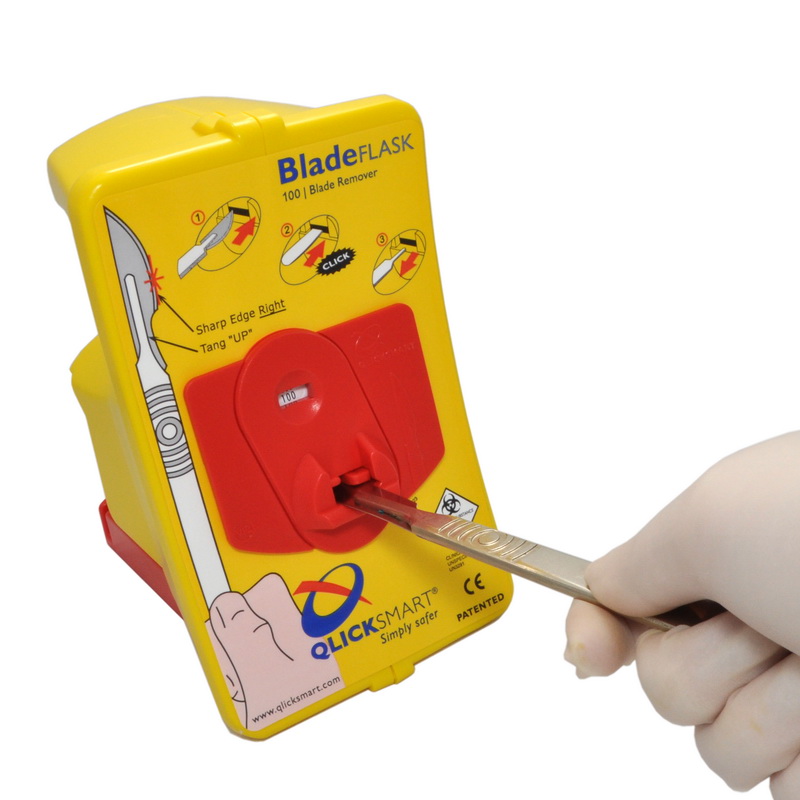 Key Features
Minimizes the risk of injury or infection from manual scalpel blade removal
Dramatically reduces the costs and down-time associated with scalpel blade injuries to personnel
Remove and contain blades single-handedly
Eliminates using fingers, forceps or re-sheathing techniques
Cost-effective - more economical than using disposable scalpels
Automated blade count system prevents over-filling
Can be wall-, bench- or trolley-mounted
Meets Australian safety and disposal standards
Description
Sharps injuries are a serious occupational hazard in healthcare settings as well as many other occupational situations. Cuts associated with manual scalpel blade removal are not only more severe than needle stick injuries but they they are also more likely to happen. These alarmingly common scalpel blade injuries cause pain, emotional distress and potentially fatal infections, and, if severe enough, can cause damage to digital nerves, arteries or tendons requiring microsurgery and extensive rehabilitation.
The BladeFLASK automated scalpel blade removal system from Qlicksmart has been designed to eliminate this injury from the workplace and can be used anywhere that scalpels are used including:
Hospital departments
General practice
Podiatry/Chiropody
Design studios
Schools, colleges and universities
Veterinary clinics
Dental clinics
Pathology and forensics laboratories
Mortuaries
With the BladeFLASK a scalpel blade can now be easily removed safely and risk-free with just one hand so that there is no need to remove the blade by using your fingers or forceps or to re-sheath it. Here's how it works:
Place the scalpel blade on the landing pad with the sharp edge facing to the right
Push the scalpel handle into the BladeFLASK until you hear a click
Remove handle from the BladeFLASK
The BladeFLASK has a built-in counter with a shut-off mechanism that activates automatically after 100 blades have been removed so there is no danger of overfilling. The unit is supplied with a reusable mounting bracket that allows it to be attached to a wall, bench or trolley or at other points of use. This means that you do not have to hold or brace the BladeFLASK when in use.
BladeFLASK meets all essential Australian safety standards and is designated as a puncture-proof sharps container. When it is full the BladeFLASK can be disposed of safely according to your facility's procedures for the disposal of this type of waste without any further exposure to sharps.
More Information
Please contact Advance Scientific to request pricing for bulk quantities of the BladeFLASK automated scalpel blade removal and containment system.
Specifications
Manufacturer

Qlicksmart

Blade capacity

100 blades

Compatible blades & handles

Handles: #3, 3L, 4, 4L, 5, 7, 9, Lawton long handle.
Blades: #10, 10a, 11, 12, 13, etc. up to and including #25a, 27 and 36.

Incompatible blades & handles

Baron, Beaver and disposable handles

Accessories

Mounting bracket

Material

Outer: ABS (acrylonitrile butadiene styrene) Inner: Polyacetal (polyoxymethylene

Latex

No

DEHP

No

Sterile

No

Disposal method

The infectious substance logo on the front label and the correct sharps container colour of the unit allow it to be disposed of as medical waste. Please follow your establishment's procedures for the disposal of medical waste.

Compliance


Adheres to Australia and New Zealand Standards (AS/NZS) 3825, 1998 Procedures and Devices for the removal and disposal of scalpel blades from scalpel handles.

About Us
Advance Scientific Products Pty Ltd is based in Queensland and is focused on delivering high-quality products and service to our customers in the life and analytical sciences across Australia.
The company was established in 2013 by experienced instrumentation specialists to provide full distribution and customer support capability to manufacturers seeking to expand their activities in Australia without having to create their own sales and marketing infrastructure.
Contact
PO Box 746
Moffat Beach, QLD, 4551, Australia