BS-010160-A03 | RTS-1C single position bioreactor for the non-invasive monitoring of cell growth in real-time with a temperature control range of 15°C below ambient to +70°C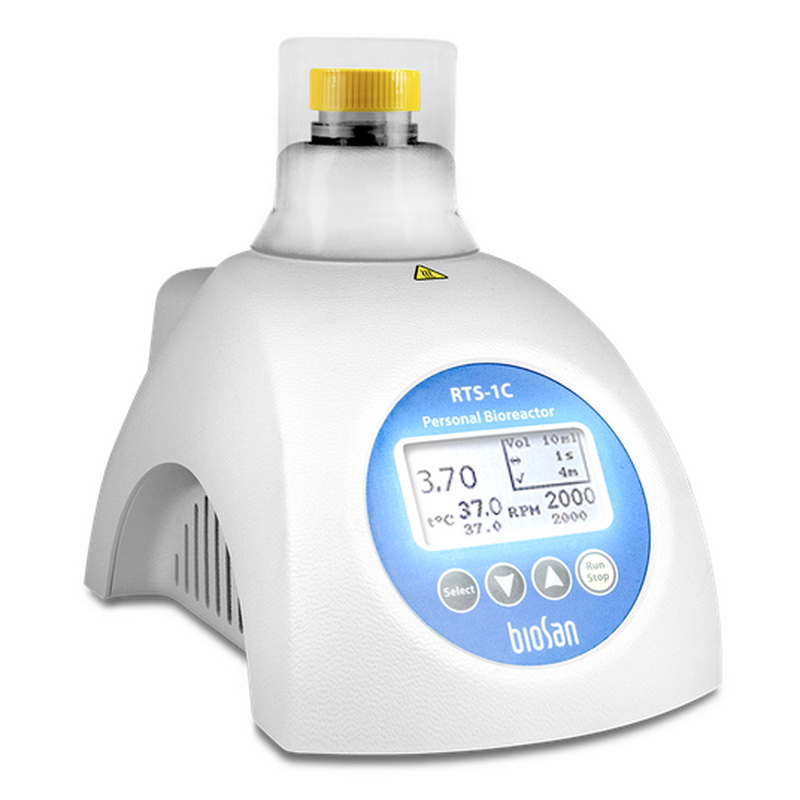 Key Features
Patented Reverse-Spin® technology non-invasively optimises mixing and oxygenation for aerobic cell cultivation
Near-infrared optical system accurately determines OD levels to monitor cell growth kinetics
Utilises 50 mL Falcon tubes with membrane filters to provide a working media volume of 10 mL - 30 mL
Temperature control range from 15°C below ambient to +70°C
Active cooling for rapid temperature control
Real-time cell growth logging
Software included for storage, demonstration and analysis of data in real-time
Up to 10 RTS-1C units can be simultaneously controlled by a PC through the software
Description
The RTS-1C is a single position bioreactor that utilises patented Reverse-Spin® technology to non-invasively optimise mixing and oxygenation for aerobic cell cultivation. With this novel technology a cell suspension in a single use 50 mL Falcon tube with a membrane filter is rotated around its axis in alternating directions to achieve a mass transfer coefficient (kLa (h-1)) of up to 450. This level of mass transfer is ideal for efficient aerobic cell culture.
The RTS-1C features a near-infrared optical system that uses a NIR light diode emitting at 850 nm. Highly accurate measurements of OD can be taken from 1 - 60 times per hour to provide a profile of cell growth in real-time. The temperature control range for the RTS-1C is 15°C below ambient to +70°C.

Key applications for the RTS-1C include:

Fermentation real time growth kinetics
Clone candidate screening
Protein expression
Temperature stress and fluctuation experiments
Media screening and optimisation
Growth characterisation
Inhibition and toxicity tests
Strain quality control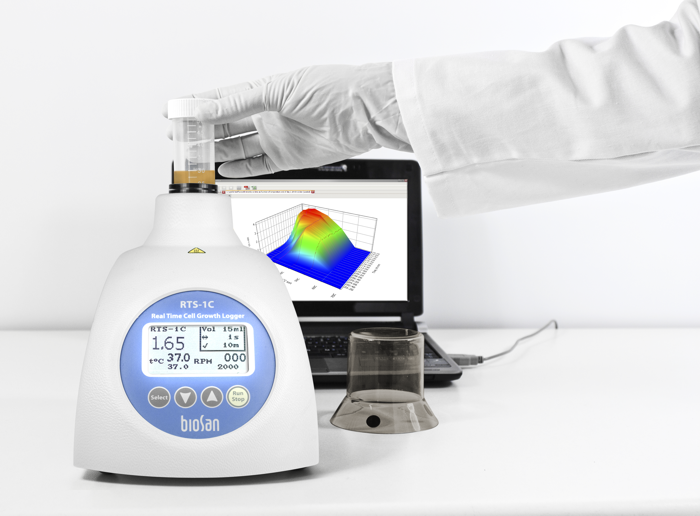 Specifications
Measurement range

0 - 10 OD at 10 - 20 mL volume (0 - 19 OD λ600 nm equivalent)
0 - 8 OD at 20 - 30 mL volume (0 - 15.2 OD λ600 nm equivalent)

Measurement precision

±0.3 OD

Light source

NIR light diode

Measurement wavelength (λ)

850 nm

Measurement periodicity per hour

1 - 60

Culture medium volume

10 mL - 30 mL

Temperature setting range

+4°C to +70°C

Temperature control range

15°C below ambient to +70°C

Temperature stability

±0.1°C

Display

LCD

Speed control range

50 rpm - 2000 rpm

Instrument dimensions (W x D x H)

130 mm x 212 mm x 200 mm

Weight

2.2 Kg

Power supply

Input: 100 - 240 VAC: 50/60 Hz
Output: 12 VDC: 3.3 A: 40 W
About Us
Advance Scientific Products Pty Ltd is based in Queensland and is focused on delivering high-quality products and service to our customers in the life, chemical and analytical sciences across Australia.
The company was established in 2013 by experienced instrumentation specialists to provide full distribution and customer support capability to manufacturers seeking to expand their activities in Australia without having to create their own sales and marketing infrastructure.
Contact
PO Box 746
Moffat Beach, QLD, 4551, Australia