BS-060102-AA4 | Inteliwasher microplate washer for 96-well microplates, microstrips and microrrays on FAST frames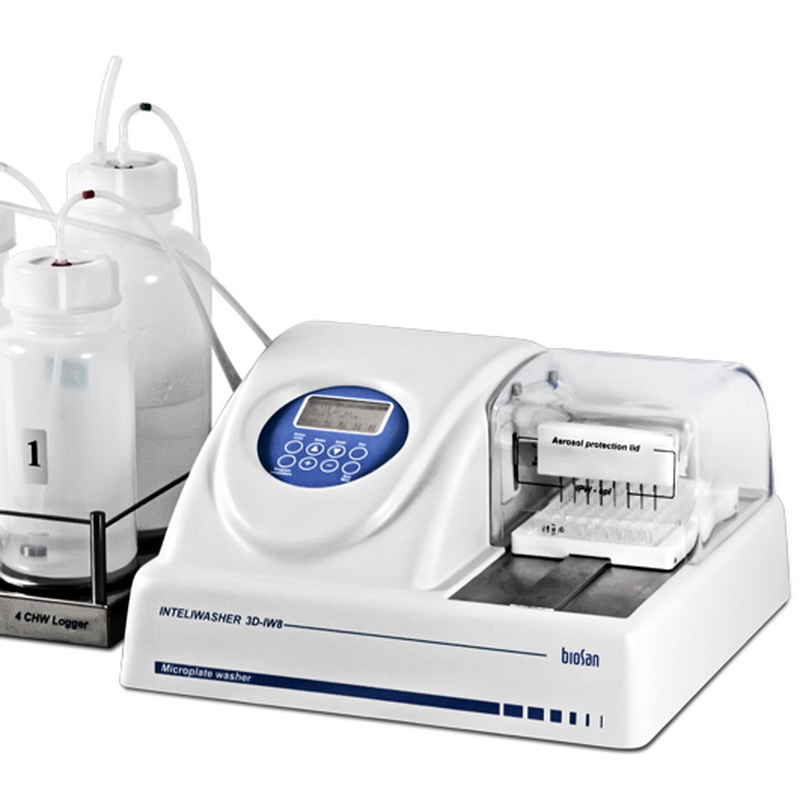 Key Features
Designed for washing standard 96-well microplates, microstrips as well as microarrays in FAST frames (rectangular well shape)
Suitable for washing microplates with flat, U-shape or V-shape well bottoms
Residual liquid volume in plate well of ≤2 μl
Capacity for one waste bottle and three wash bottles with independent dispensing channels
User-programmable with 50 washing protocols pre-installed
Provides washing, rinsing and mixing modes
Automated plate set up. Instrument adjusts to accept different depths of plate wells.
Description
The 3D-IW8 Inteliwasher microplate washer from Biosan has been developed for washing standard 96-well microplates, microstrips and microarrays in FAST frames (rectangular well shape). Microplate well bottoms can be flat, U-shaped or V-shaped.
The 3D-IW8 is fully programmable so that the end-user can create their own customised and automated multi-step protocols. Functionality includes:
Washing mode
Rinsing mode
Mixing mode
Soaking mode
Single point, two point, circular or rectangular path aspiration
Option for additional solution mixing during time gap between two work cycles
Round-bottom plate and microstrip washing mode
The 3D-IW8 is supplied with 50 pre-installed programmes divided into five aspiration categories as follows:

Type 1 (1.0–1.9): IPF96 U/V for round and V-shape microplates: 1 point aspiration
Type 2 (2.0–2.9): IPF96 FLAT-2 for flat-bottom shape microplates: 2 point aspiration
Type 3 (3.0–3.9): IPF96 FLAT-C for rectangular shape microplates: full-circle aspiration direction
Type 4 (4.0–4.9): FastFRAME-2 for multi-slide plate* with rectangular wells
Type 5 (5.0–5.9): FastFRAME-C for multi-slide* plate with rectangular wells

* Compatible with FAST frame multi-slide plates or multi-slide plates from other manufacturers that are designed to hold standard 25 mm x 76 mm glass slides.

Optional Accessories
A 4-channel washing and waste solution weight logger is available that provides automatic feedback of rinsing solution and waste volumes. The washer shows remaining volume for each bottle as a percentage and gives a warning message in case of low solution volume or a full waste bottle.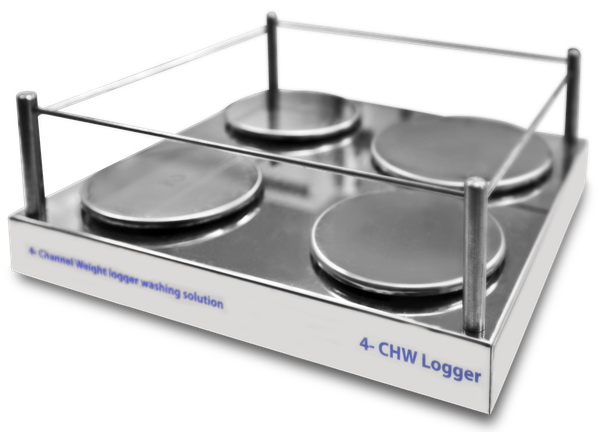 Specifications
Manufacturer

Biosan

Model number

3D-IW8

Minimum dispense volume

25 μl

Maximum dispense volume

1600 μl

Dispense increments

25 μl

Dispensing accuracy

±2.5%

Residual liquid volume in plate well

≤2 μl

Number of wells washed simultaneously

8

Number of washing cycles

1 - 15

Aspiration time

1 second - 3 seconds

Final aspiration time

1 second - 3 seconds

Aspiration/dispensing speed

3 levels

Max. number of channels in a program

2

Washing liquid bottles

3

Waste liquid bottles

1

Soaking time

0 seconds - 300 seconds in 10 second increments

Shaking time

0 seconds - 150 seconds in 5 second increments

Number of washed rows

1 - 12

Time for one plate wash (300 μl well volume)

45 seconds

Number of pre-installed programmes

50

Plate platform and washing head movement

Automated

Display

LCD, 8 line

Ambient temperature operating range

+10°С to +35°С

Relative humidity operating range

Up to 80% at +25°С decreasing linearly to 50% relative humidity at 35°C

Overall dimensions (W × D × H)

375 mm х 345 mm х 180 mm

Weight

9.9 Kg

Input current/power consumption

12 V DC: 1.8 A: 22 W

External power supply

Input AC 100–240 V
50/60 Hz; Output DC 12 V

About Us
Advance Scientific Products Pty Ltd is based in Queensland and is focused on delivering high-quality products and service to our customers in the life, chemical and analytical sciences across Australia.
The company was established in 2013 by experienced instrumentation specialists to provide full distribution and customer support capability to manufacturers seeking to expand their activities in Australia without having to create their own sales and marketing infrastructure.
Contact
PO Box 746
Moffat Beach, QLD, 4551, Australia