MZ004 | Combined centrifuge and vortexer for 96- and 384-well PCR plates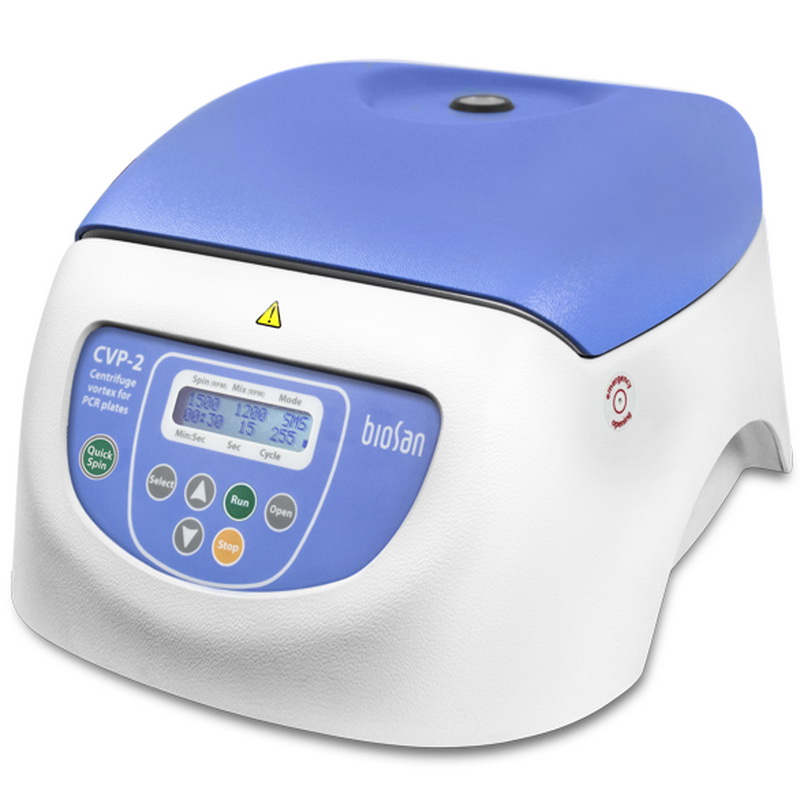 Key Features
Combined centrifuge and vortexer designed for two 96- or 384-well PCR plates
Centrifuge speed range from 300 rpm - 1500 rpm
Vortexing speed range from 300 rpm - 1200 rpm
Timers for centrifuge and vortexer
Adapters for full range of PCR plate formats

Description
The Biosan CVP-2 from Biosan is a combination of centrifuge and vortexer that is ideal for 96- and 384-well PCR plates. The CVP-2 is compatible with non-skirted, semi-skirted and fully-skirted PCR plate formats. The unit has a top centrifuging speed of 1500 rpm and features timers for both centrifuging and vortexing modes.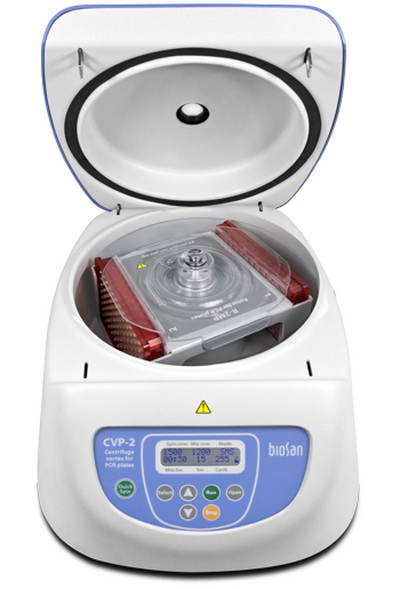 96-well skirted PCR plates, and PCR strips in a frame, can be spun without adapters and other 96-well plate formats and 384-well PCR plates can be spun with the adapters listed below. The AP-96 adapter is included with the purchase of the CVP-2. The adapters are manufactured from Ertacetal® and are autoclavable.
Optional Accessories
| | |
| --- | --- |
| Part Number | Description |
| AP-96 | Adapter for 96-well semi-skirted and non-skirted PCR plates |
| AP-384 | Adapter for 384-well PCR plates |
Specifications
Manufacturer

Biosan

Model number

CVP-2

Display

2 x 16 LCD

Centrifuge speed range

300 rpm - 1500 rpm

Minimum RCF at 1500 rpm

175 x g

Centrifuge timer

0 - 30 minutes (1 second increments to 1 minute and 1 minute intervals to 30 minutes)

Vortex speed range

300 rpm - 1200 rpm in 100 rpm increments

Vortex timer

0 seconds - 60 seconds in 1 second increments

Chamber diameter

210 mm

Instrument dimensions
(W x D x H)

285 mm x 350 mm x 190 mm

Weight

6.15 Kg

External power supply

Input: 240 VAC/ 50 Hz | Output: 12 VDC

About Us
Advance Scientific Products Pty Ltd is based in Queensland and is focused on delivering high-quality products and service to our customers in the life, chemical and analytical sciences across Australia.
The company was established in 2013 by experienced instrumentation specialists to provide full distribution and customer support capability to manufacturers seeking to expand their activities in Australia without having to create their own sales and marketing infrastructure.
Contact
PO Box 746
Moffat Beach, QLD, 4551, Australia