FLB-NH-AS-01 | fillBee Automated Filling System for tubes, microplates, slides and Petri dishes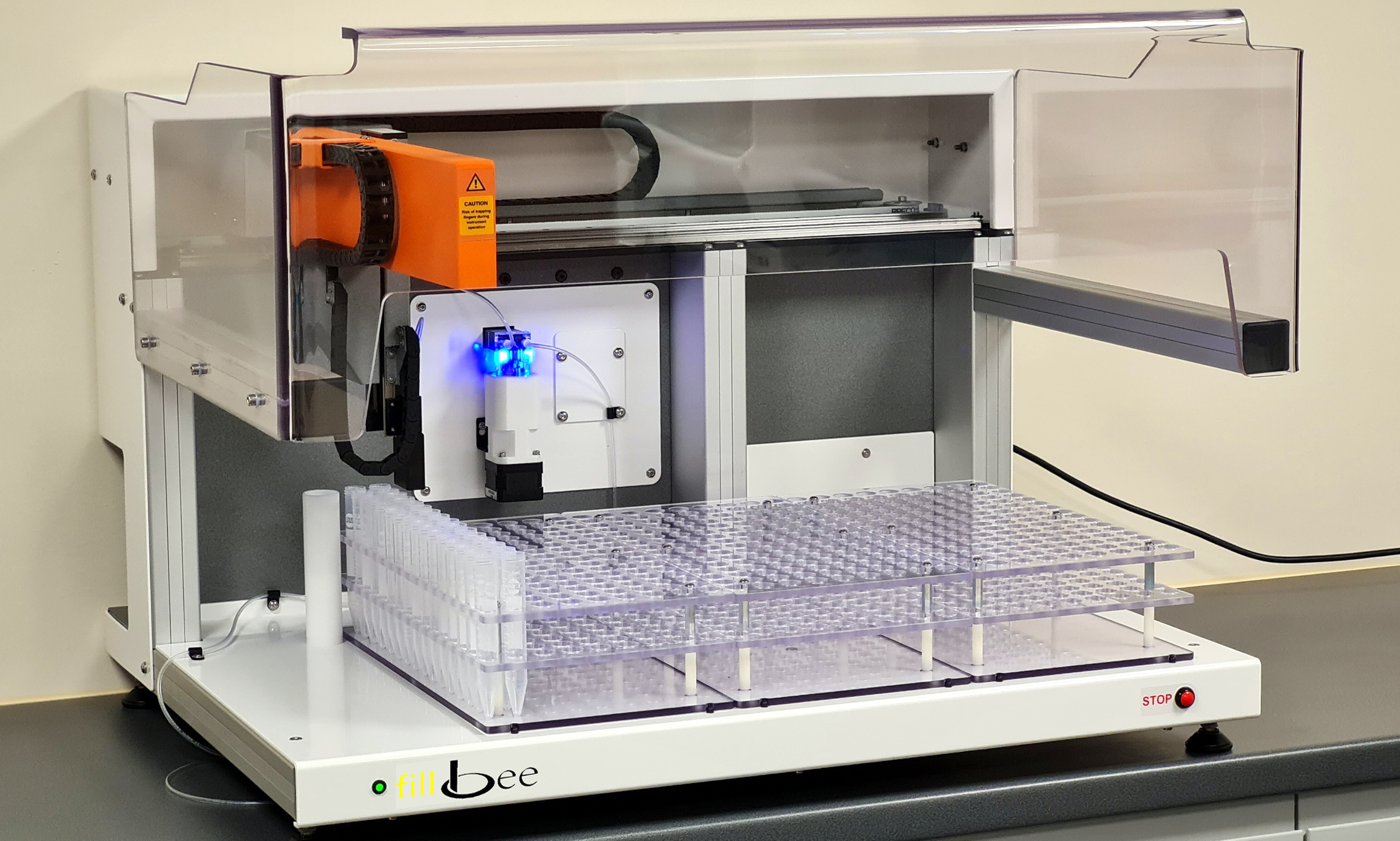 Key Features
Powerful and highly flexible XYZ robotic system for automatically filling a wide range of labware including tubes, microplates, slides and Petri dishes
Computer-controlled via single USB connection using
Single probe filling mechanism
Intuitive, easy to Apollo set-up software
Can hold up to 432 tubes per run in three racks of 144 tubes
Utilises an accurate and maintenance-free piston pump for repeatable volume dispense
Wide range of dispense volumes
Swing-up protective screen to reduce the risk of end-user injury while instrument is in operation
Emergency STOP button with automatic "resume" function
Overfill prevention feature
Automated cleaning routine
Priming trough
Description
The fillBee automated XYZ filling system is a highly flexible alternative to the tedious and error-prone process of filling labware manually. The fillBee utilises a highly accurate and maintenance-free piston pump with a single probe to repeatably fill a wide range of labware including tubes, microplates, slides and Petri dishes.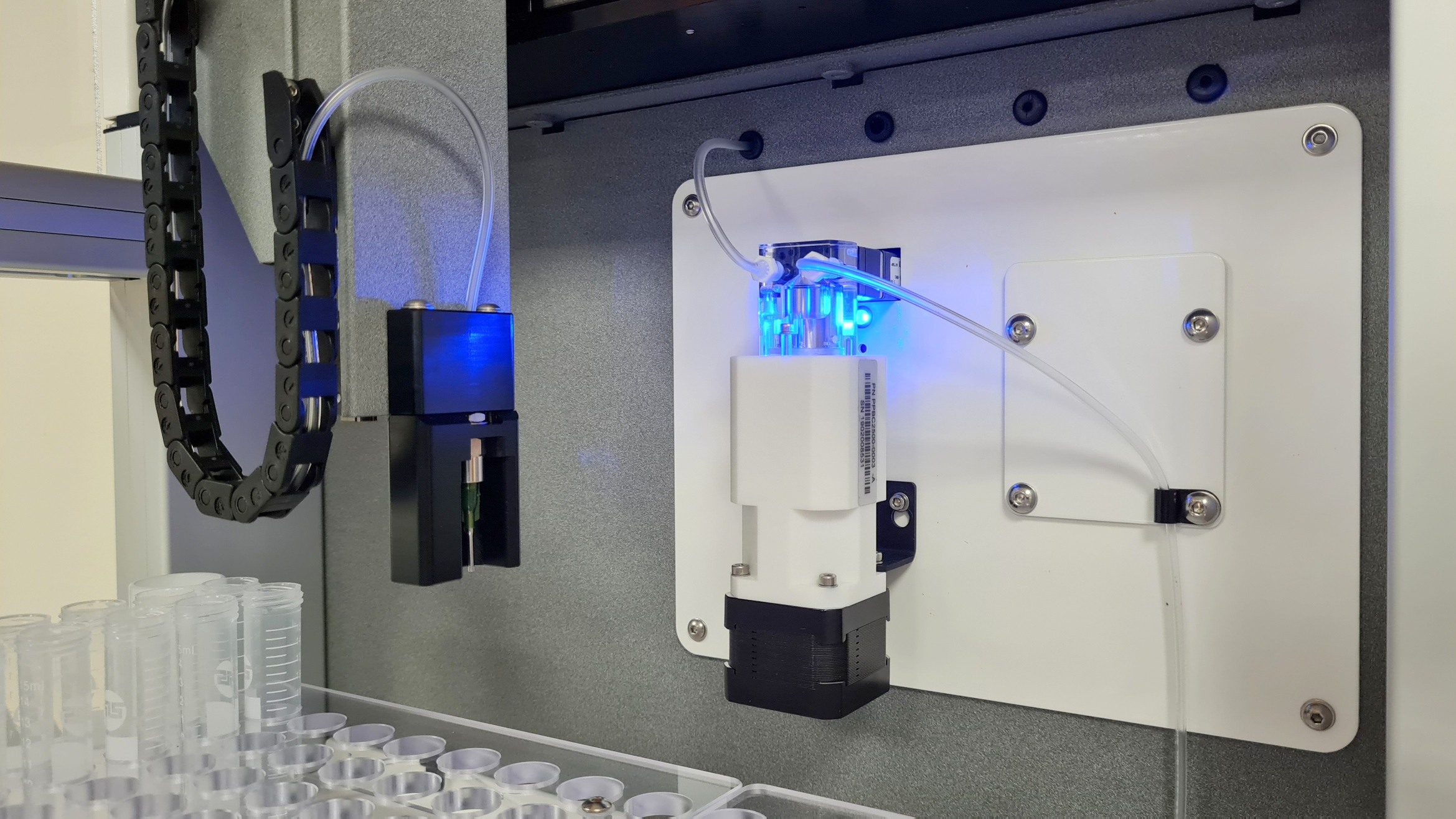 The intuitive and easy-to-use set up and control software allows labware to be filled over a wide range of dispense volumes. Tubes can be filled to a maximum of 60 mL and an overfill feature prevents tubes to be filled past their capacity. A protective screen reduces the possibility of injury to personnel while the instrument is in operation.
More Information
Please click here to watch a video of the fillBee during operation.
Specifications
Manufacturer
Bee Robotics
Model number
fillBee
Processing capability
Up to 3 racks
Processing time
Protocol-dependent but typically 25 minutes for 432 tubes
Dispensing mode and accuracy
Piston pump: ±10%

Pump stroke volume
2.5 mL
Processing volume
(to single tube)
100 µL to 65 mL
Operating temperature range
15ºc to 30ºC
Humidity range
Maximum relative humidity 80% for temperatures up to 31°C increasing linearly to 50% relative humidity at 40°C.

Dimensions (W x D x H)
820 mm x 650 mm x 600 mm
Weight
35 Kg
Power requirements
100 VAC - 240 VAC: 50/60 Hz
Power
200 W
Noise level
<60 dB
About Us
Advance Scientific Products Pty Ltd is based in Queensland and is focused on delivering high-quality products and service to our customers in the life, chemical and analytical sciences across Australia.
The company was established in 2013 by experienced instrumentation specialists to provide full distribution and customer support capability to manufacturers seeking to expand their activities in Australia without having to create their own sales and marketing infrastructure.
Contact
PO Box 746
Moffat Beach, QLD, 4551, Australia