Alliance Q9 Advanced | Alliance Q9 Advanced imaging system with 9.2 megapixel CCD camera for chemiluminescence, fluorescence, blue light, RGB multiplexing, IR/NIR and visible light applications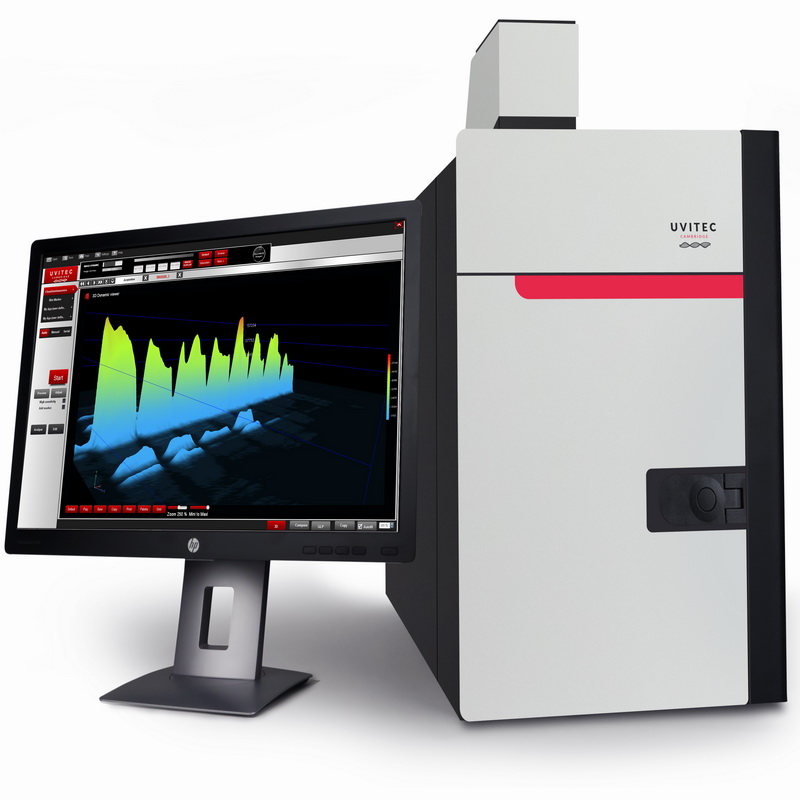 Key Features
9.2 megapixel resolution camera with latest generation CCD sensor, panoramic custom lens (25 mm) and super-wide f0.80 lens aperture for superb signal sensitivity and resolution
Ideal for visible light (colorimetric), blue light, fluorescent, chemiluminescent (ECL: Western Blot), chemifluorescent, bioluminescent, IR/NIR, and multiplexed imaging applications
3 stage regulated Peltier air cooling to -60°C absolute (-80°C below ambient) for increased signal-to-noise ratio
Complete computer control of darkroom lighting and fully-automated control of camera and lens
Full door aperture and roll-out transilluminator for easy darkroom access and sample placement
User-interchangeable plug-and-play transilluminator system with a range of transilluminators available
16-bit pixel depth, 4.8 OD dynamic range and 65535 grey scales
Extra-wide (24 cm x 20 cm) field of view. Closest sample-to-camera distance currently available in an imager.
Biopanel red, green and blue (RGB) lighting panel and epi LED white light included as standard. Optional CHROMAPURE© net-LED epi lighting panels offering UV 365, RGB, IR and NIR available (please see below)
Fully motorised 7 position filter wheel
UV security switch and timer
Robust stainless steel darkroom. Epoxy painted for chemical resistance and easy cleaning.
Wide range of emission filters available
Supplied with unlimited free license (with free upgrades) for NINE-ALLIANCE image acquisition and analysis software
Description

The UVITEC Alliance Q9 Advanced is a unique imaging system based on the latest proprietary optics and a super-cooled 9.2 megapixel, 16-bit pixel depth CCD camera. When combined with an extremely bright lens (f0.80) the Q9's optical system exhibits very low noise, superb sensitivity and resolution, which makes the Alliance Q9 Advanced ideal for visible light, blue light, fluorescence, chemiluminescence (Western blot), chemifluorescence, bioluminescence, IR/NIR and multiplexed imaging applications.
The Alliance Q9 Advanced incorporates an impressive list of features including full computer control of the darkroom, camera and lens, a UV security timer, a motorised 7 position filter wheel and multiple wavelength illumination options.
Software
A wide range of software functions are incorporated into the NINE ALLIANCE image acquisition and analysis software that is supplied with the Alliance Q9 Advanced. These include intuitive menus, buttons that are easy to understand and to operate, and a wide range of automatic settings and protocols to quicken and simplify the image acquisition process. If you prefer a more hands-on approach then plenty of manual functionality has also been incorporated into the Alliance Q9's software. Key features of the software include:
Default and fully-customisable protocols
A range of acquisition modes including auto, manual, serial and preview (live)
Extensive analysis tools for quantification and normalisation, molecular weight and automatic band detection
Image enhancement capabilities including annotation, crop, rotate, background subtraction, artifact correction, and multiplexing
3D visualisation and live 3D acquisition modes
21CFR part 11 ready (21CFR part 11 capability available as an optional add-on)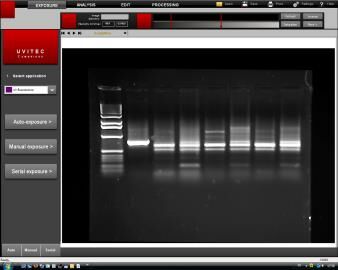 CHROMAPURE© net-LED module technology

The Alliance Q9 Advanced is fitted with the Biopanel LED lighting system as standard. The Biopanel provides powerful red, green and blue LED lighting for multiplexing applications. Also available as an option for multiplexing is the CHROMAPURE© LED lighting system that is equipped with the unique net-LED lighting modules. The net-LED is an epi-illumination module into which super-bright UV, red, green, blue, near infrared or infrared strip lights can be inserted. The CHROMAPURE© is designed to be plug-and-play so it can be inserted into your Alliance system at any time.
Eight different net-LED lighting options are available and the CHROMAPURE© modules can hold up to three lights at a time. The lights are plug-and-play and can easily be interchanged by the end-user.
A net-LED module is attached on each side of the Alliance Q9 Advanced darkroom with adjustable arms and the long-life LEDs are organized in arrays in order to maximize excitation energy on the sample. This unique epi illumination technology gives stronger and more homogeneous light across the entire sample area in contrast to the spot LEDs found in other gel imaging systems that emit a weaker signal and create non-uniform lighting across the sample area.
The net-LED module allows the automatic setting of filters, lens focus and exposure settings to ensure data consistency and ease of use. The module, when fitted with infrared arrays, can be used to image LI-COR and similar infrared dyes.
What also differentiates UVITEC's net-LED technology from other epi lighting systems is that a series of narrow band-pass filters have been developed to complement the net-LED epi lights. Eleven different emission filters are available so you can choose the correct filter to match your fluorescent dye's emission spectra.
System configuration
The following items are included in the purchase of the Alliance Q9 Advanced:
Chemiluminescence ready darkroom and camera with epi white light LED panels and Biopanel RGB LED lighting system
9.2 megapixel CCD camera with f0.80 lens
7 position motorised filter wheel
Unlimited free license for the NINE-ALLIANCE image acquisition and analysis software
Emission filter for use with Ethidium bromide and other fluorophores that emit in the 590 nm range
Chemiluminescence sample plate for Western blot imaging
More Information
Why should I choose an Alliance Q9 gel imaging system for my lab? Please click here to find out.
Specifications
| | |
| --- | --- |
| Resolution | 9.2 megapixels (3380 x 2704) native resolution with 18 megapixel extended resolution |
| Quantum efficiency (QE) peak | >73% |
| Lens | 38 mm |
| Lens aperture | f0.80 |
| Distance to sample | 24 cm |
| Field of view | 24 cm x 20 cm |
| Pixel depth | 16 bit |
| Grey scales | 65535 |
| Dynamic range | 4.8 OD |
| Filter wheel | 7 position motorised |
| Cooling | -80°C compared to ambient |
About Us
Advance Scientific Products Pty Ltd is based in Queensland and is focused on delivering high-quality products and service to our customers in the life and analytical sciences across Australia.
The company was established in 2013 by experienced instrumentation specialists to provide full distribution and customer support capability to manufacturers seeking to expand their activities in Australia without having to create their own sales and marketing infrastructure.
Contact
PO Box 746
Moffat Beach, QLD, 4551, Australia